Did Prince Andrew Really Keep Sarah Ferguson's Wedding Dress?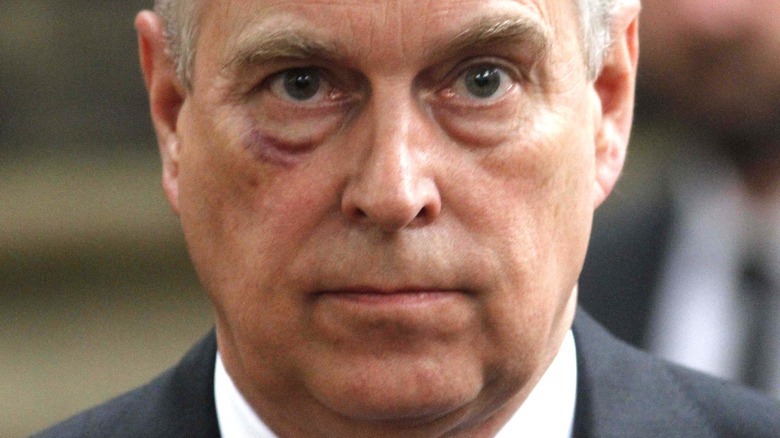 Wpa Pool/Getty Images
Prince Charles' brother, Prince Andrew, was disgraced on the public stage after reports emerged in 2015 that he had participated in a child sex trafficking ring with Jeffrey Epstein and his partner, Ghislaine Maxwell. After a disastrous televised BBC interview in 2019, where the prince stated he didn't regret his friendship with convicted child sex offender Epstein, one of Andrew's alleged victims, Virginia Giuffre, slapped the Duke of York with a sexual assault lawsuit in 2021, asserting that, while she was underage, Epstein forced her to have sex with Andrew on three separate occasions.  Since then, his mother, Queen Elizabeth II, stripped him of his royal titles and war designations, and in early 2022, the former Falkland Islands war hero settled the case with Giuffre out of court for a reported $500,000. The New York Times reported on Prince Andrew's statement at the time of settlement, as the royal asserted he "never intended to malign Ms. Giuffre's character, and he accepts that she has suffered both as an established victim of abuse and as a result of unfair public attacks."
Compare and contrast that with the statements made by former employees of the duke, because according to them, not only did he intentionally malign their own characters, but he was also a "horrible, nasty man." How nasty? His former maid says he shouted and screamed at staffers, he kept a creepy collection of teddy bears, and he even secretly kept ex-wife Duchess Sarah Ferguson's wedding dress well after they'd divorced. You're going to need a minute to digest that before reading on.
Prince Andrew secretly held onto ex wife Sarah Ferguson's wedding dress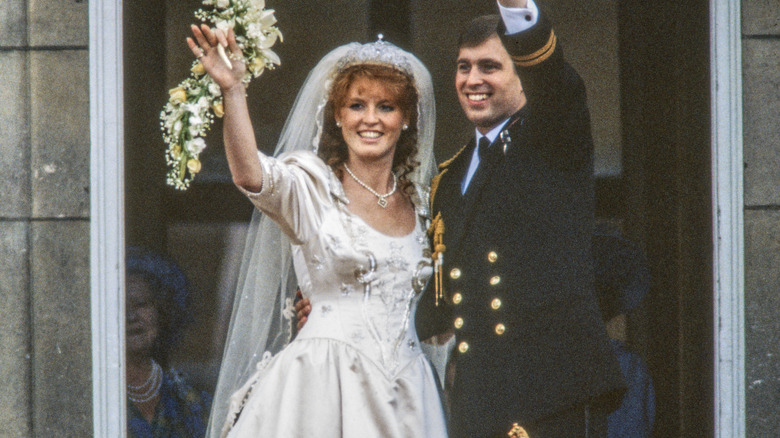 Derek Hudson/Getty Images
Charlotte Briggs, a former Buckingham Palace servant, claimed that the Duke of York, Prince Andrew, was "entitled," spoiled, and downright rude to palace staff. She revealed many details about what Prince Charles' brother was like behind closed doors. In 1996, when Briggs became Andrew's personal maid, she learned just how unpleasant time around the royal could be. One "creepy" anecdote she shared with The Sun highlighted that he inexplicably kept ex-wife Sarah "Fergie" Ferguson's wedding dress in his closet.
The Duke and Duchess of York were married in 1986 and divorced in 1992, but in her exclusive interview, Briggs said, "Her clothes were there. So too were her shoes — and even her wedding dress was still hung up in the wardrobe. It was creepy. It was all laid as if she was there." Briggs added, "I couldn't understand why I was cleaning around it all when she wasn't going to be coming back ... I polished the dressing table every day but I never saw her."
Briggs also told the outlet that all of Fergie's makeup, like her powders and mascaras, were also still strewn about the dressing table, and she had to dust underneath and around them, so as not to disturb them from their place. *cue "Twilight Zone" theme music* According to a separate piece from The Sun, Briggs added that Andrew "was a bad apple and behaved like a spoiled brat."
Prince Andrew would berate staff over small details like curtains or mangoes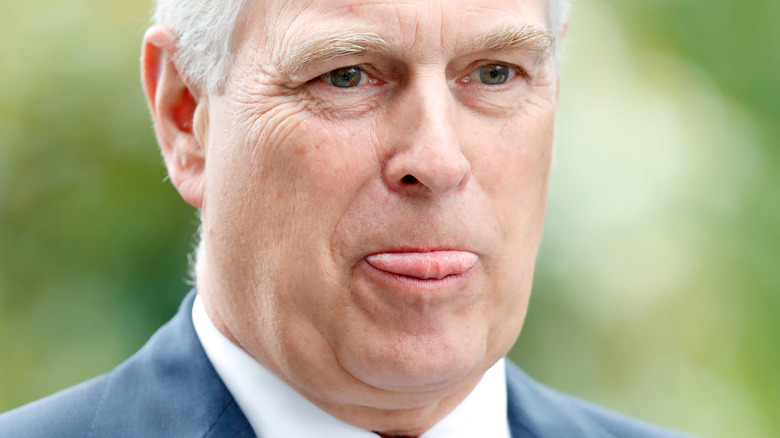 Max Mumby/indigo/Getty Images
In addition to this strange obsession with his ex-wife, Prince Andrew was known for his rude and expletive-laden rants directed at palace staff. As former servant Charlotte Briggs recounted to The Sun, the Duke of York once insisted that staff come to his office to draw the curtains that were "literally behind him." When Briggs and other staff obliged, Andrew blew his lid that there was a small gap between the curtains and screamed, "Can't you f***ing do anything right?" Briggs said she ended up hiding behind said-curtains in tears. 
In another incident reported by Express, former Kensington Palace chef Darren McGrady once had to bear the Duke of York bellowing at him for mangoes. "Andrew would bark, 'Where are my mangoes? I want my mangoes," McGrady stated, noting that once a young Prince Harry witnessed this exchange and grimaced in disgust, as the Duke of Sussex had always been taught by his mother, the late Princess Diana, to be respectful and kind to palace staff. 
Other staffers have spoken out about Andrew's obsession with teddy bears — yes the stuffed animals intended for toddlers — on his bed, which had to be precisely positioned by staff, or else. Former palace guard Paul Page told the Daily Mail that Andrew, "had about 50 or 60 stuffed toys positioned on the bed and basically there was a card the inspector showed us in a drawer and it was a picture of these bears all in situ. The reason for the laminated picture was if those bears weren't put back in the right order by the maids, he would shout and scream." Delightful.