One Thing Kate Middleton Will Have To Do When Prince William Becomes King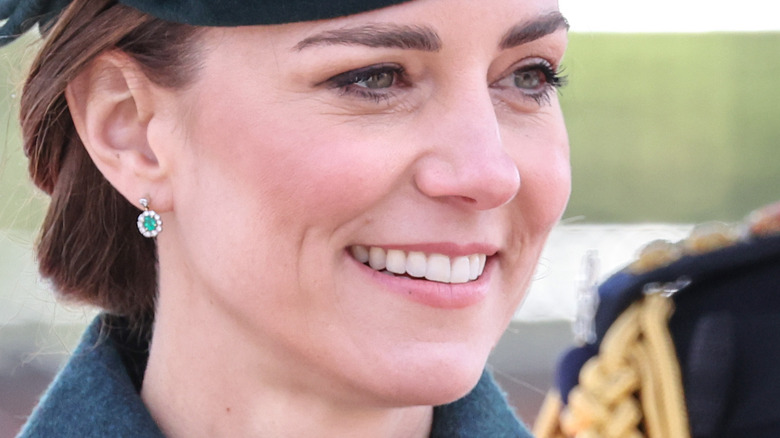 Chris Jackson/Getty Images
Prince William and Kate Middleton's marriage has long been put under a microscope by the press and the public. From their supposed feud with Prince Harry and Meghan Markle to why they can't hold hands while out and about, the Duke and Duchess of Cambridge often find themselves as the topic du jour. Yet, Wills and Kate have so far managed to break the cycle of "troubled royal marriages" within the monarchy, per People, by being supportive of each other and maintaining an equitable personal partnership at home. Royal expert and author Robert Lacey, who spoke to People in 2021, gave credit to Kate for bringing a "pragmatic awareness" to the royal family, all thanks to her own "down-to-earth" upbringing. Speaking of William and Kate's marriage, Lacey said: "They have a solid bond through these last 10 years. If you had scoured the realm you couldn't have got a better pair, frankly."
Even so, there's a very good chance that the dynamic between William and Kate might change the moment he becomes the king of England. The reason? Because Kate, who will take on the title of "queen consort," will be expected to do this one thing while in the presence of her husband.
Kate Middleton will one day have to perform this duty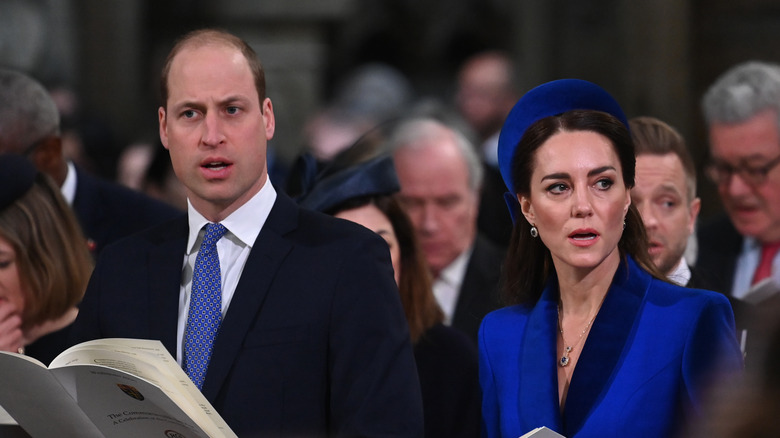 Wpa Pool/Getty Images
Things will slightly change between Prince William and Kate Middleton when her husband takes the throne — or at least in the way Kate will greet her royal man. According to the U.K. Express, Kate will be expected to bow her head to her husband once he is crowned at his future coronation.
However, bowing her head shouldn't be a huge lifestyle change for Kate, as the Duchess of Cambridge has had some experience in this area. As the U.S. Sun noted in April 2021, Kate previously performed this custom during Prince Philip's funeral for an official moment of reflection. It's also a concept she's most likely familiar with by way of being familiar with the traditions of the family she married into. According to the royal family's official guide to bowing and curtsying, women traditionally perform a "small curtsy" as a way to greet the queen or another member of the royal family.
That said, it's also been noted that Kate will enjoy the same rights and privileges as her husband when he becomes the royal sovereign, per Insider. As the outlet pointed out, that means that other members of the royal family — Meghan Markle included — will have to curtsy to the Duchess of Cambridge herself. But then again, just how much bowing and curtsying will occur remains to be seen, considering William and Kate are not your typical royal couple.
Just how formal will William and Kate be in the future?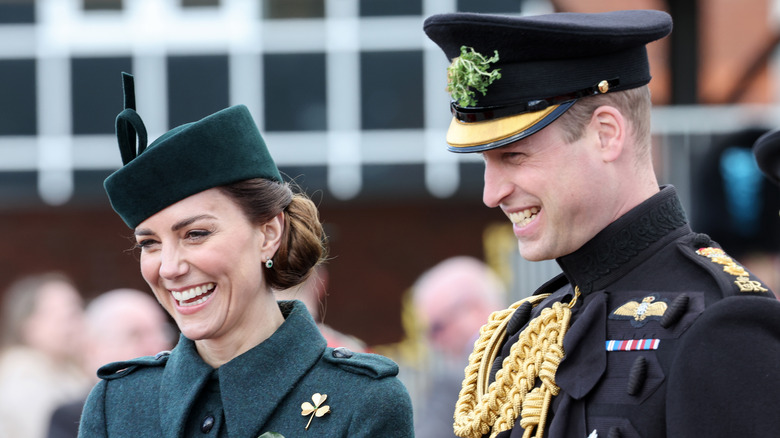 Chris Jackson/Getty Images
In 2020, royal expert Marlene Koening told Insider she believes that, unlike their predecessors, Prince William and Kate Middleton will be less likely to stick to the strict royal rules of the monarchy when William takes the throne. As she told the outlet, "I think it is difficult to predict what her role will be like, but I expect that King William V and Queen Catherine will be far more informal than previous sovereigns and consorts."
With all that said, it's almost inevitable Kate's life will change in other ways when her husband becomes the king of England, bowing aside. While she will be of the same rank as William, the Duchess of Cambridge will not share the same constitutional powers as he will. Additionally, she will be expected to support him in his royal duties and provide him companionship, according to U.K Express. And just like future queen consort Camilla Parker Bowles, Kate will also be crowned alongside her husband at his coronation ceremony, per the U.K. Mirror.