The Surgery Jason Momoa Had A Day Before Walking The Oscars Red Carpet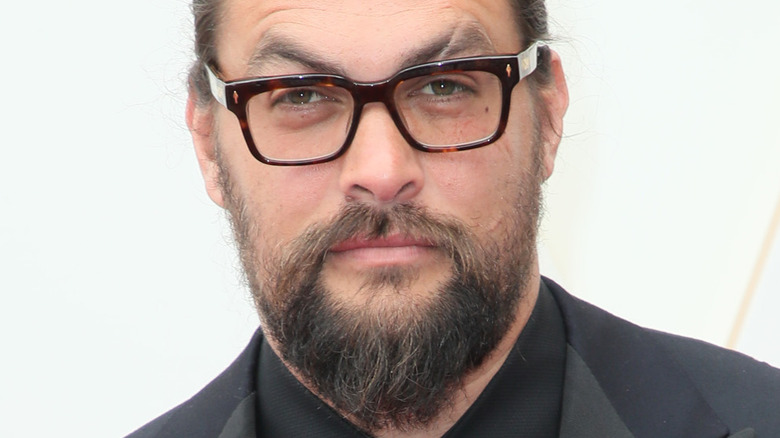 David Livingston/Getty Images
While it may feel like there's nothing else to talk about from the 2022 Oscars ceremony besides Will Smith and Chris Rock's scary altercation on the Dolby stage, there were, in fact, other celebrities there. And many other things happened during the epic event.
One of those things was the appearance of Aquaman himself, Jason Momoa, who was the co-host for the Academy's pre-show "golden hour," according to IndieWire, along with his "Dune" co-star Josh Brolin. In a controversial decision highly criticized by many in the film industry, Brolin and Momoa handed out eight "craft" awards in categories such as sound, editing, production design, hair and makeup, original score, and the film shorts in a 60-minute ceremony that was not televised, nor open to the press. Moments from the pre-show were built into the telecast without any explanation, instead, all in an effort to reduce the run-time of the annual ceremony and hopefully increase viewership (and yet, the 2022 Oscars ran a full 39 minutes over time and was the longest telecast since 2018).
Momoa and Brolin also became part of another controversial moment, as they were pulled into co-host Regina Hall's questionable new COVID-19 procedure, which was both funny and awkward. Hall patted down both actors, treating Momoa a little more gingerly perhaps because she knew what he had gone through to get there. Turns out, Momoa was recovering from surgery.
Jason Momoa needed surgery after filming Aquaman 2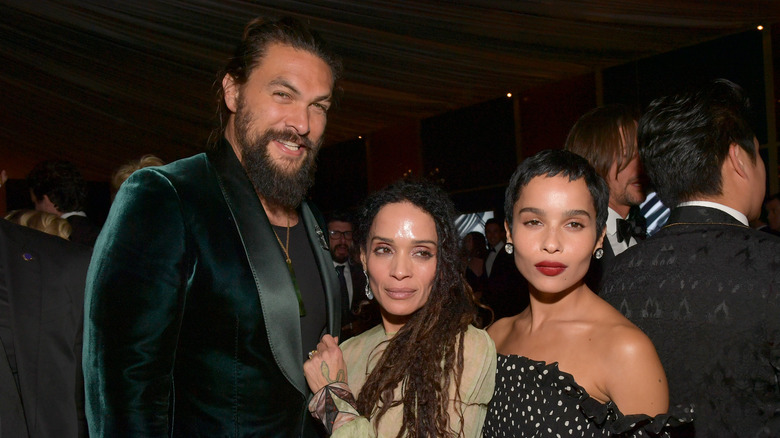 Lester Cohen/Getty Images
In an awkward red carpet interview with Entertainment Tonight, Jason Momoa admitted he was recovering from surgery. After ET's Nischelle Turner complimented him on his appearance, Momoa admitted, "I'm a little sore." When asked what happened, he said, "I had hernia surgery yesterday so I'm a little like..." Turner cut him off, expressing shock that he was there, so he explained, "I've got to present eight amazing awards."
In an interview with People, Momoa said he "just finished" production on the "Aquaman" sequel, where he suffered many injuries from doing his own stunts. He gave that as the reason for needing hernia surgery the day before, stating he had been "throwing bodies around" too much. "I'm gettin' old, bro," he joked.
The "Game of Thrones" star looked quite dashing in his Henry Poole tuxedo, per Us Weekly, which was accented with a blue and yellow pocket square in support of Ukraine. He was also excited to see his stepdaughter, Zoë Kravitz, at the Oscars, and joked about their superhero family. Kravitz, who recently appeared as Catwoman opposite Robert Pattinson's Batman, is the daughter of Momoa's estranged wife, Lisa Bonet, and Kravitz and Momoa have a very strong, loving bond. "I think about it from my kids' point of view," Momoa told ET, referring to his two teen children with Bonet, Lola and Nakoa-Wolf, "that their dad is Aquaman, their sister is Catwoman. It's a trip."