Body Language Expert Unravels Will Smith's Complex Reaction To Amy Schumer's Joke About His Slap - Exclusive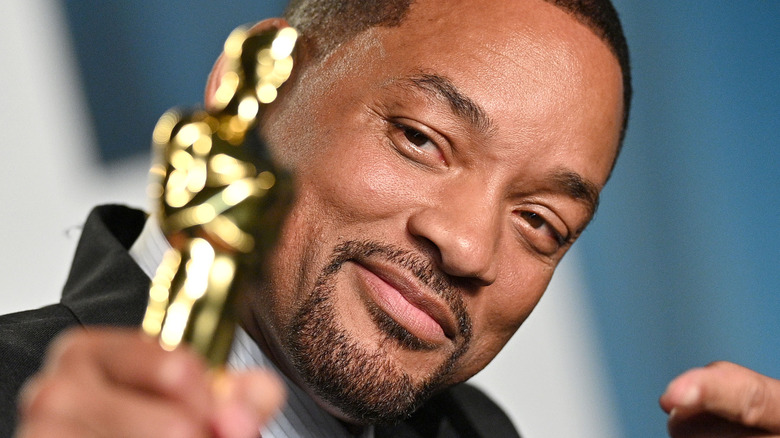 Lionel Hahn/Getty Images
We may receive a commission on purchases made from links.
Amy Schumer seems to know a thing or two about diffusing tension.
At the 2022 Oscars, where the wildly controversial physical altercation between Will Smith and Chris Rock happened, the "I Feel Pretty" actor tried clearing the air with a timely joke. The comedian, who co-hosted the award show alongside Regina Hall and Wanda Sykes, did what she does best to lighten up the mood across the room.
"I've been getting out of that Spider-Man costume. Did I miss anything?" she said, shortly after Smith smacked Rock on live television and cussed him out for making a joke about his wife Jada Pinkett Smith's alopecia. "There's, like, a different vibe in here." She received a fist bump from Tiffany Haddish for the witty comment, and said, "Oh, well. Probably not." Many tuned in to Smith's reaction since he'd returned to his seat after the altercation, and according to what a body language expert exclusively told Nicki Swift, he didn't seem to have taken the joke personally.
Will Smith exhibited a 'hint of shame and relief' over Amy Schumer's joke
Mike Coppola/Getty Images
According to Jess Ponce III, body language expert, communication coach, and author of "A.W.E.S.O.M.E.," Will Smith didn't have any problems with Amy Schumer's well-timed joke at the 2022 Oscars. Ponce said that Smith was able to acknowledge what he had done quickly and simply accepted that it would be the talk of the town from then on.
"Amy's delivery was perfect. She cut the tension, attempting to bring the focus back to the Oscar experience. Some hosts may have simply moved past the altercation as if nothing happened, but she addressed it in a clever way," Ponce exclusively told Nicki Swift. "Playing along, Will accepted his role as the elephant in the room. And at time when nobody knew how he'd react, Will laughed and smiled," Ponce added. "There was a hint of both shame and relief in his eyes — shame for what happened and relief that Amy broke the tension."
Smith felt shame indeed. While he verbally offered an apology in his Best Actor speech later on in the night, he also shared a lengthy statement on Instagram to address what happened. "Violence in all of its forms is poisonous and destructive. My behavior at last night's Academy Awards was unacceptable and inexcusable," he wrote, before adding a direct apology to Chris Rock. "I would like to publicly apologize to you, Chris. I was out of line and I was wrong... There is no place for violence in a world of love and kindness."