Amy Schumer Confirms What We Suspected About Her Controversial Kirsten Dunst Joke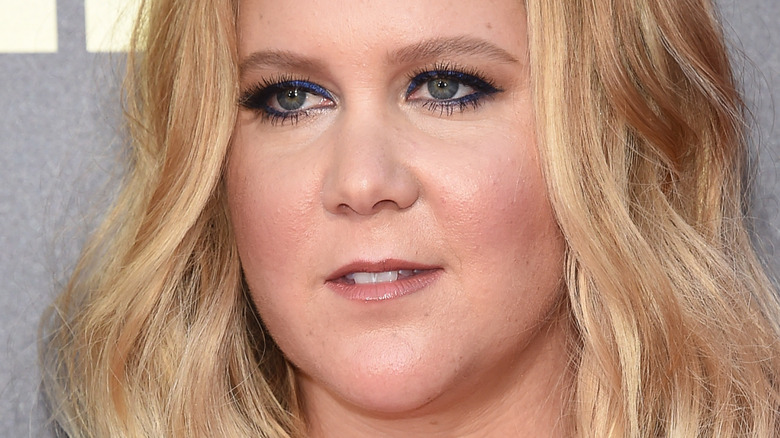 DFree/Shutterstock
Many people focused on the Chris Rock and Will Smith drama during the 2022 Oscars, but Amy Schumer found herself under fire too. On March 28, the day after the Oscars broadcast, Schumer shared an explanation via social media. Will this be enough to settle the drama on this front?
Just after the Smith and Rock drama, Schumer had the awkward job of easing the award show forward. She referenced the incident with Rock and Smith without getting specific and then talked about the team that makes the Oscars happen. She mentioned seat fillers, and this was where Kirsten Dunst was brought into Schumer's line of fire. Schumer walked to the table where "The Power of the Dog" stars Dunst and her fiance Jesse Plemons were sitting. 
As fans know, Plemons and Dunst were both nominated for "The Power of the Dog," although he is still known by many for his work in "Friday Night Lights" and "Breaking Bad." Dunst, of course, has an extensive acting resume and many would argue she's the bigger star of the couple. When Schumer walked over to them, she referred to Dunst as a seat filler, pretending she had no idea who Durst was. Schumer pulled Dunst out of her chair and nudged her aside before sitting and playfully flirting with Plemons. Social media lit up after the bit with criticism of Schumer. It turns out, however, there was more to the setup of this joke.
Amy Schumer prepared this one ahead of time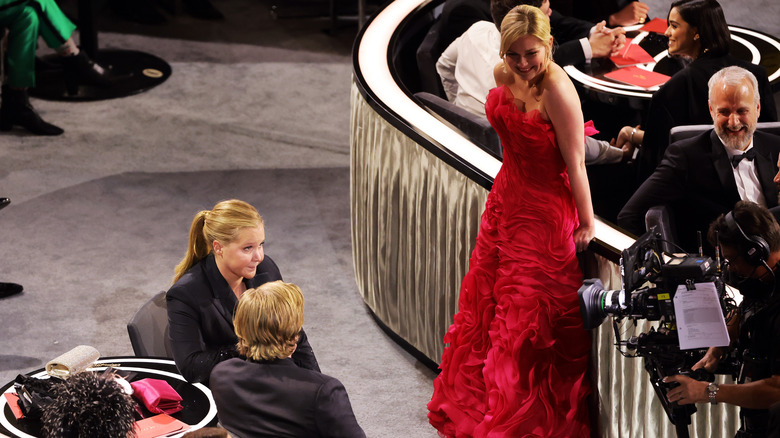 Neilson Barnard/Getty Images
Amy Schumer took to social media on March 28, the day after the Oscars aired, to address the moment involving Kirsten Dunst, according to E! News. In an Instagram story that has since expired, Schumer wrote, "Hey I appreciate the love for Kirsten Dunst. I love her too!" The comedian added, "That was a choreographed bit she was in on." Schumer insisted she "Wouldn't disrespect that queen like that."
Some may have noticed during the broadcast that Plemons couldn't quite keep a straight face as Schumer started this bit. He grinned and chuckled as Schumer approached their table, which seemed to signal he knew what was coming. Durst kept a straight face, however, which may have convinced many viewers she hadn't known what Schumer was going to do. After Schumer sat in Dunst's seat, she gushed over Plemons. He pointed out the woman Schumer pulled away was his "wife," and Schumer replied it was "weird" he was married to a seat filler. 
Luckily, a separate photo snapped during the bit showed Dunst standing just outside the camera frame, chuckling as Schumer played out the chat with Plemons, shared Page Six. Schumer took digs at plenty of celebrities during her hosting moments, but it seemed the Durst bit was the one that really riled up people. Luckily, it was all in good fun, even if Schumer had to temper the flames of criticism.