What's The Real Meaning Of Blick Blick! By Coi Leray And Nicki Minaj? Here's What We Think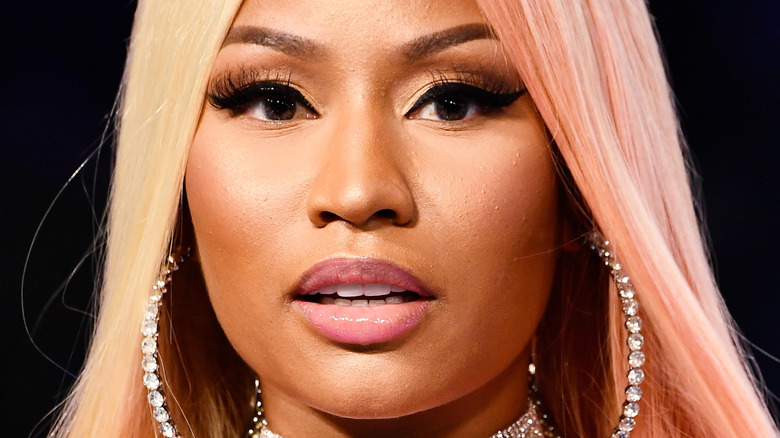 Frazer Harrison/Getty Images
After much controversy over her vaccine comments late last year, Nicki Minaj has started 2022 strong with numerous collaborations and bops. Days before she teamed up with Fivio Foreign for "We Go Up," the self-proclaimed Barbie was also featured on "Blick Blick!" with rising rapper Coi Leray.
Ahead of the song's release, Minaj teased fans with a visual of her alongside Leray in her signature blonde bangs on Instagram, holding a prop gun adorned with a multicolored, fluffy scarf. According to Complex, fans were not expecting the song to be released after Minaj reportedly pulled her verse following a leak by Leray's dad on social media. Minaj later admitted the rumors were true, but that she kept her verse after Leray called her. "I had a private convo w/ Coi & that's what changed my mind. Not the label," Minaj tweeted. "I just felt bad that she was robbed of telling the world in her own way @ her own time. But that's water under the bridge now."
Following the song's release on March 18, Minaj joked that fans wouldn't be able to emulate her verse because of how fast it is, but what exactly is the song about?
Blick Blick! is all about finding your self-worth
In "Blick Blick!" Coi Leray and Nicki Minaj come together to celebrate their autonomy and self-worth. Leray begins the song by saying her suitors need to work hard to get with her, rapping via Genius, "Yeah, want a bad bitch like me? Keep on wishin', baby / Bust it open, first you gotta kiss it, baby ." She then says that she's the one who takes initiative — whether it's in or out of the bedroom. "Yeah, I hop on top and ride that d***, he actin' lazy / Yeah, that p**** soakin' wet, it's drippin' like a navy," Leray raps over a bouncy instrumental. She then tells the person having sex with her to, "Eat the cookie like a Nutter Butter butter / Lick this p**** like just fa la la la."
Minaj comes in with her own perspective later in the song and flaunts her experience in the industry. "Hoes ain't f*****' with Barbie," Minaj begins, before bragging that she has "a whole army" that's willing to defend her every move. She then calls out the fakers, while reminding fans about her wealth (she has a net worth of $100 million, if you were curious!) and her connections throughout the industry, saying she texts "with Jeff Bezos." Minaj then ends her verse by saying that she's "the leader" of the rap game and others are just followers.
And if you're wondering where the phrase "blick blick" comes in, the two rap about it in the chorus.
Blick Blick! is a hit with fans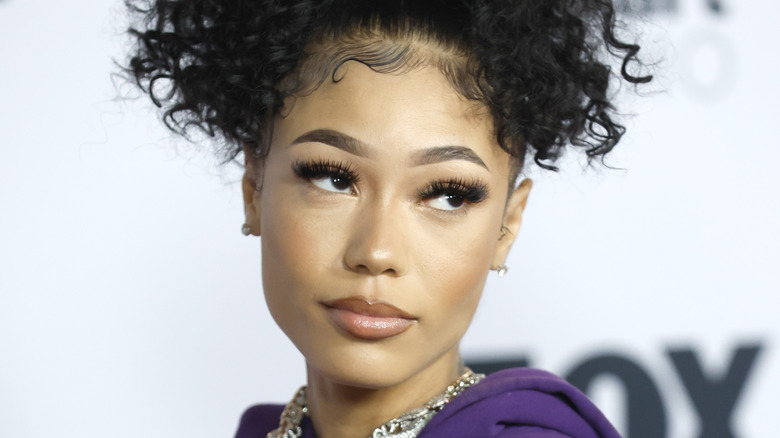 Frazer Harrison/Getty Images
As Nicki Minaj noted in her verse for "Blick Blick!" she has an army known as the Barbz and they have been widely receptive of the song and Coi Leray's rapport with her. "The flow The Bars The looks She gave us it all, When it comes to Nicki she never disappoints," one fan tweeted. Another shared, "Nicki really slid on her verse for 'Blick Blick.'" The song debuted on the Billboard Hot 100 at No. 37 and looks like it will climb the charts in future weeks. Meanwhile, Leray spoke about what it was like working with her idol on Twitter after the song's release.
"Nicki been through a lot !!! she still standing strong, still dropping hits," Leray tweeted. "She basically told me don't let y'all wack ass comments and negative energy stop me now because MORE MONEY AND SUCCESS More problems so THUG THAT SHIT OUT !" Minaj, in return, said Leray is such a "talented, versatile, unique artist in [her] eyes."
If "Blick Blic!" turns out to be a chart-topper, we foresee more collaborations to come from these two rappers.