The NCIS Co-Star That Made Quite An Impression On Sean Murray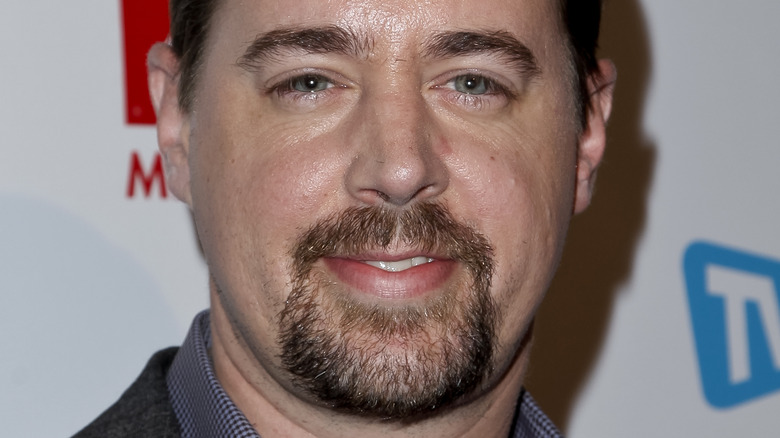 Tibrina Hobson/Getty Images
Sean Murray has a recognizable face — one that has been featured on screens since he was just a kid in the '90s. "Hocus Pocus" fans know him well, but if you're not familiar with what the actor has been up to since, Thackery Binx is all grown up and at this point, he's practically television royalty.
Murray has played Special Agent Timothy McGee for nearly two decades on "NCIS," one of the longest-running CBS programs. As for playing the same character for an unbelievable amount of time, the actor is still having fun. He told the Chicago Tribune in 2021, "McGee started out as this rookie agent but I remember saying, 'I don't want it to be like baby Maggie Simpson where every week you revert to the same character; there has to be growth.' And I think that McGee has probably changed over time more so than any of the other characters on the show."
The character evolution worked out just fine, even with many "NCIS" cast departures over the years. Despite working alongside droves of talented actors on the series, there is one co-star in particular he considers an inspiration.
Sean Murray shares his appreciation for an NCIS icon
Anyone familiar with "NCIS" understands the importance of Special Agent Leroy Jethro Gibbs and the man who plays him, Mark Harmon. Fans were startled by the announcement of Harmon's exit from the show in 2021, but his legacy is forever set. Those who tuned in for the emotional moment during Season 19 Episode 4 will recall that the news was shared with Sean Murray's Timothy McGee. In the most Harmon-like way, he simply told his friend, "I'm not going back, Tim." Cue the waterworks!
Murray has spoken openly about his joy of working alongside the legend. During an interview for "The Love of Acting with Allen Vaysberg," Murray shared that his first time working with Harmon was actually on an episode of "Harts of the West" in the early 1990s. Murray was only in his teens at the time, but after a few scenes together, the influence was clear. "He made a real impression on me ... we talked quite a bit about craft and things," he revealed. Getting the opportunity to act alongside him for all these years was a full-circle moment. "He's been a bit of a mentor to me, whether he knows it or not."
Crediting the success and longevity of "NCIS" to his co-star, Murray told CountryLiving, "Harmon is a very special individual." Without Gibbs on set, Murray has occasionally posted throwback photos on Instagram and kept fans updated with plenty of behind-the-scenes moments in his feed.
Sean Murray is proud of his biggest roles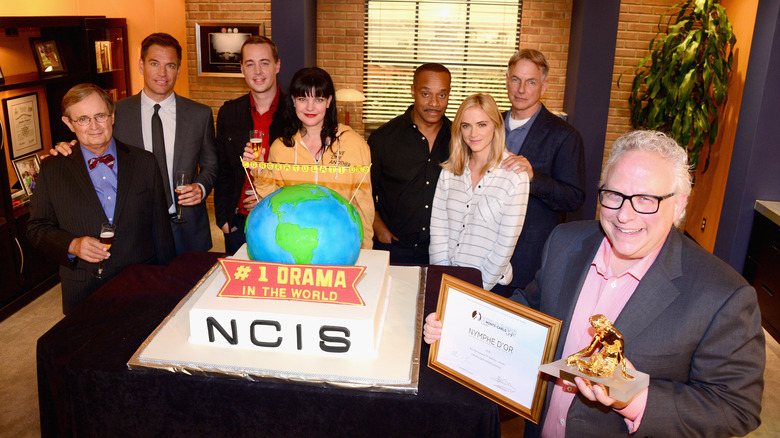 Frazer Harrison/Getty Images
While some actors worry about being remembered only for one specific part or their work as a child star, Sean Murray celebrates the significant standout performances of his career. Playing Thackery Binx in "Hocus Pocus" has paid off in a huge way as the film became a cultural phenomenon. "We need it more than ever!" he expressed to Starry Mag. "It's another one that I am definitely happy I was a part of."
"Hocus Pocus" and "NCIS" are definitely his defining moments, which makes it all the more exciting when the moments seem to stretch on forever. "The fact that I am pretty young (I think) and I've gotten to be a part of two pretty big projects that have become part of the zeitgeist and are really known in pop culture and are celebrated by a lot of people and have a bit of a cult following ... that is kind of unreal."
Murray's career has led him to work with some of the biggest names in entertainment like Leonardo DiCaprio and Robert DeNiro. Every project along the way seemed to feature some of the greats and he only has positive experiences to share, especially when it comes to looking at these heavy hitters as guides like Mark Harmon. He told Icon vs. Icon, "There is a lot to be learned from mentors," and he may just be the perfect one for the next generation.