We Finally Know When Carrie Underwood Will Release Her New Album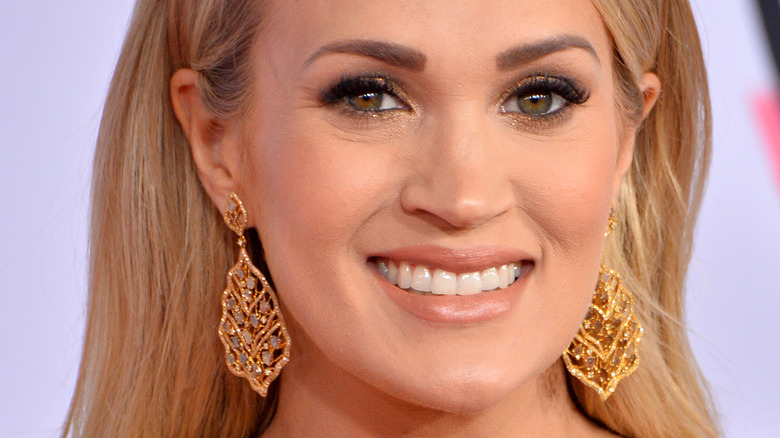 Featureflash Photo Agency/Shutterstock
Singing superstar Carrie Underwood shared exciting news with her fans on April 7. She revealed details regarding the release of her next album, and this one is generating a lot of buzz. The announcement came just days after Underwood's exciting 2022 Grammys experience, where her album "My Savior" snagged the Grammy for Best Roots Gospel Album (per Billboard).
That was her eighth win since she took her Season 4 "American Idol" win in 2005 and turned it into a phenomenally successful music career. Underwood's first Grammys came shortly after her "Idol" win when she took home awards for both Best New Artist and Best Female Country Vocal Performance in 2007. This latest win was a special one for Underwood, and she revealed on Instagram she felt it was "the most important album I have ever made!"
Based on Underwood's reaction to this gospel Grammys win, some fans might think it will be hard for her to top the experience she had with "My Savior." As she told People, she was doing her best not to start crying backstage after the win. "This is one thing that I've wanted to do," she explained. "Literally, my whole career, I've wanted to make this album and I got to." It turns out, Underwood wasn't exactly planning to take time off to relish her big win. She already has another album put together and fans won't have to wait long to hear it.
Carrie Underwood's next album arrives just in time for summer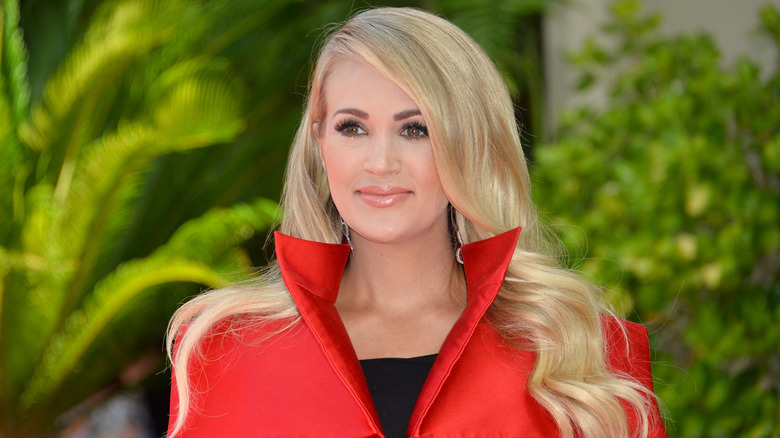 Featureflash Photo Agency/Shutterstock
On April 7, Carrie Underwood delighted her fans with a huge Twitter announcement. "I can't wait any longer!!" she teased. "I have a new album coming June 10!" Underwood revealed the album is titled "Denim & Rhinestones," and pre-orders were about to begin. The post included a photo of the album cover that features Underwood wearing a glam country look. The "American Idol" winner wore a fringed jean jacket and a strapless, fitted dress comprised of denim straps that showcased Underwood's incredibly toned legs. She added in some sparkly jewels and a heavy makeup look for the shot that had her standing in front of a wall of glass beads, or, perhaps, rhinestones.
Underwood debuted the song "Ghost Story" at the recent Grammys ceremony, and CMT noted that it's the first single from this upcoming album. The song "creates a mood and a vibe that is different than anything else I've recorded before," she explained. Fans may wonder if that's a sign of what they can expect from "Denim & Rhinestones." She teased, "It's a very like sing-into-your-hairbrush, in your house, in your room kind of album." Underwood added that her mindset heading into the project was "Let's just have fun and make music we love and see what happens."
The album should give people an experience that's a big shift from "My Savior," and everybody will get their first listen to it in just a few months.