Fans Really Want Keanu Reeves To Date One Former Co-Star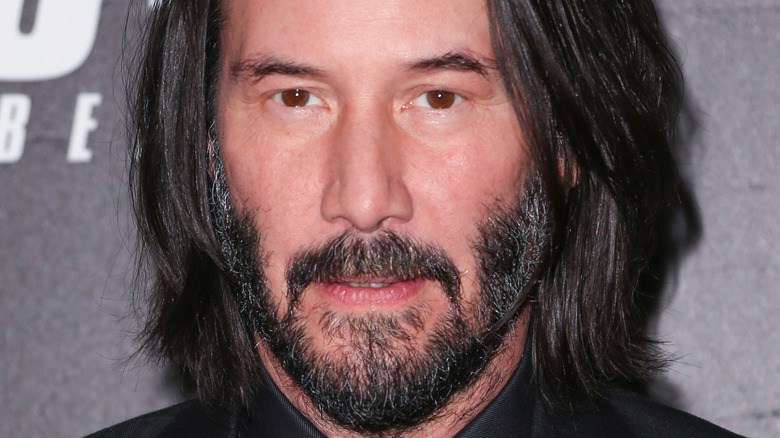 lev radin/Shutterstock
Fans often have serious opinions when it comes to celebrity couplings, especially when it comes to "Matrix" and "Speed" actor Keanu Reeves. Unlike some of his colleagues, Reeves hasn't been one to generate juicy headlines by dating a string of co-stars, and he typically keeps his love life fairly private. It turns out, however, that there is one of Reeves' prior co-stars a lot of fans wish he would officially date. The results of a recent Nicki Swift survey revealed the couple they're still rooting to see.
Reeves has joked about being married to his "Dracula" co-star Winona Ryder, detailed Entertainment Weekly, although they never actually dated. The two filmed a scene for the movie and there was a real Romanian priest involved, but the romance never progressed beyond the characters they played. All jokes aside, Reeves has never been married, according to Life & Style. He dated filmmaker Sofia Coppola back in 1992, and he also dated production assistant Jennifer Syme from 1998 to 2000, detailed The Sun. Sadly, Reeves' relationship with Syme led to multiple heartbreaks. The two lost a child in 1999 when their unborn daughter was delivered stillborn eight months into the pregnancy. Reeves and Syme split soon after, and in 2001, she died in a car accident.
It took until 2019 for Reeves to go public with another romance when he found love again with artist Alexandra Grant. But could he have found happiness with a certain former co-star had the two actually dated?
Keanu Reeves even crushed on this former co-star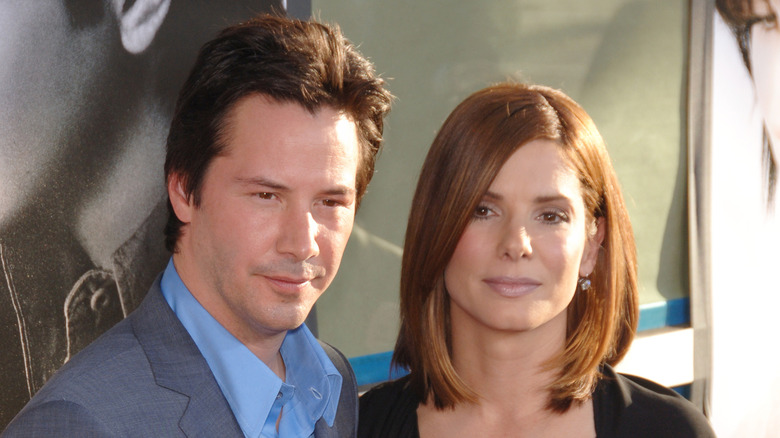 Featureflash Photo Agency/Shutterstock
A Nicki Swift survey of 565 people revealed that 37.17% of respondents want to see Keanu Reeves and Sandra Bullock date. Second place was captured by Kate Winslet and Leonardo DiCaprio, whose "Titanic" pairing prompted almost 30% of those surveyed to choose them. Jennifer Aniston and David Schwimmer's on-screen "Friends" romance resonated with about 18%, and "Bridget Jones's Diary" co-stars Renee Zellweger and Colin Firth pulled in a respectable 15%.
What is it that makes Reeves and Bullock such a clear winner? They shared great on-screen chemistry in 1994's "Speed" and have always remained friends. In addition, it turns out they crushed on one another while filming "Speed." During an "The Ellen DeGeneres Show," appearance, Bullock described Reeves as sweet and handsome, as she admitted she frequently giggled in his presence. In a separate "The Ellen DeGeneres Show" appearance, DeGeneres asked Reeves if he'd known while filming "Speed" that Bullock had a crush on him. He said he didn't, and added, "She obviously didn't know I had a crush on her, either."
Another time, Bullock told Esquire she once mentioned to Reeves she'd never had Champagne and truffles. A few days later, Reeves showed up to drop off Champagne and truffles for her. The two worked together again for 2006's "The Lake House," but alas, a real-life romance again failed to materialize. Both Reeves and Bullock moved on to other relationships, but fans seemingly still love the idea of the two getting romantically involved.