This Is Really Why Britney Spears Split With Kevin Federline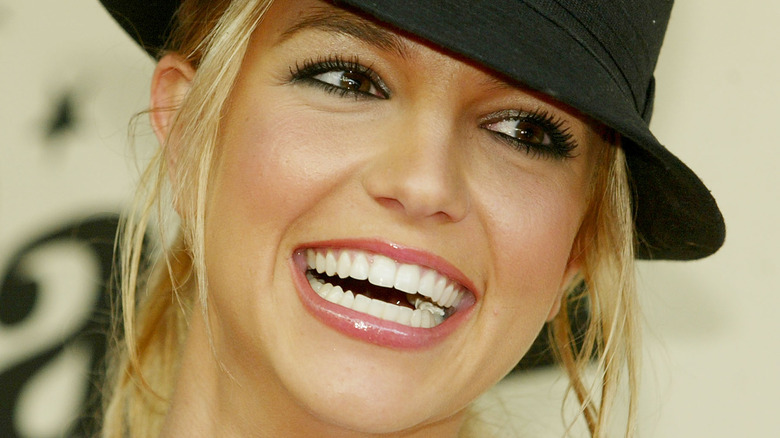 Kevin Winter/Getty Images
Britney Spears has been making headlines ever since she stepped on to the scene in the early 2000s. The pop star's incredible success in the music industry has also caused a great deal of interest in her dating life, which has always been front page news. From Justin Timberlake to Sam Asghari, Spears' boyfriends — and husbands — have been widely reported on over the years. One of her most talked about relationships was with Kevin Federline. The two met at a club in 2004 and their chemistry was instant. "Our eyes met and that was it. We just hit it off right away. I was madly in love with her. Everything just seemed so right," Federline told People magazine in 2008.
Spears was just about to head out on tour at the time, and she decided to invite Federline along. The two ended up getting really close, and fell in a deep love that they decided to document and share with the world. Spears and Federline used a video camera to capture some of the first few months of their romance. A lot of the footage was used for their five-episode reality show called "Chaotic." Within weeks, Spears and Federline got engaged — after she asked him to marry her, MTV reported. 
Their whirlwind romance led to a surprise wedding, two babies, and a divorce that nearly broke the "Piece of Me" singer.
Britney Spears & Kevin Federline had a surprise wedding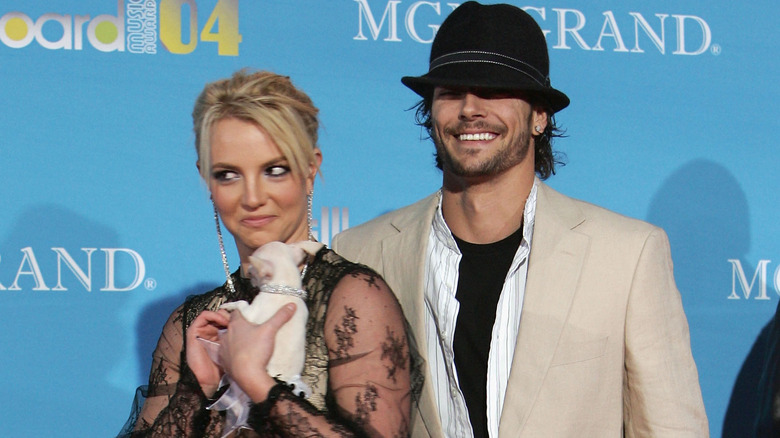 Frazer Harrison/Getty Images
Britney Spears and Kevin Federline fell hard and fast for each other, and they simply didn't want to wait to get married. "I just thought it would be too much if we had done it when we were supposed to. It became this huge thing and I was like, 'What are we waiting for? We know this is the real thing, why not just do it now?'" Spears told People magazine at the time. Spears knew that she would have to really take the time to plan out the logistics as to not tip off the paparazzi, so that's exactly what she did. She invited family and friends over for an engagement party, but surprised them by getting married instead — and the whole thing was documented for "Chaotic." 
"Surprise! It is with much love that we welcome you to our wedding ceremony tonight," read an invitation that was given to guests as they arrived, according to Us Weekly. Spears and Federline exchanged vows on October 6, 2004, and a baby announcement followed six months later. "The time has finally come to share our wonderful news that we are expecting our first child together," a message on Spears' website read at the time, according to MTV. The couple welcomed son Sean Preston in September 2005, and another son, Jayden James, in September 2006. However, two months later, Spears filed for divorce. According to People magazine, she cited "irreconcilable differences" in her court docs. 
So, what really went wrong?
The reason Britney Spears left Kevin Federline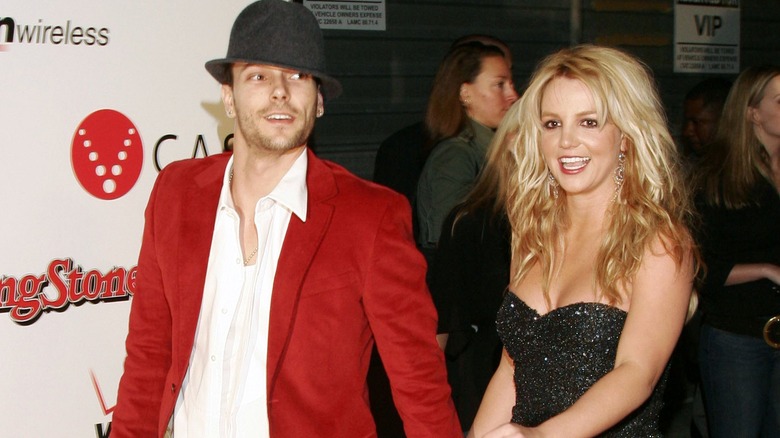 Matthew Simmons/Getty Images
Britney Spears decided to file for divorce from Kevin Federline when their kids were very young. From what sources have said, Federline wasn't ready to give up his partying ways, and was often out with his boys, leaving his wife home with the then-couple's two sons. According to People magazine, Federline took a trip to Vegas with his pals to celebrate the 1-year-anniversary of the opening of Tao, and that was the "last straw" for Spears. "He said, 'I have to go to Vegas.' He didn't have to go to Vegas. He uses any excuse to party. She said, 'I've had enough,'" a source told the outlet. 
After filing from divorce, Spears found herself in a dark place. In 2007, Spears had been diagnosed with postpartum depression, according to TMZ. In 2008, she was placed under a conservatorship, and her father was given full control of nearly every aspect of her life, The New York Times reported. Spears was soon forced to make more music, ink a deal for a Las Vegas residency, and get on with her life. This was revealed when she spoke candidly about her conservatorship for the first time in open court in June 2021, according to CNN. In November 2021, a judge ruled to end the conservatorship.
In April 2022, Spears took to Instagram to announce that she was pregnant with her third child. In a statement to NBC News, Federline's attorney said that his client is happy for his ex and "wishes her the best."