Travis Barker Has A Bizarre Clapback Over Kourtney Kardashian PDA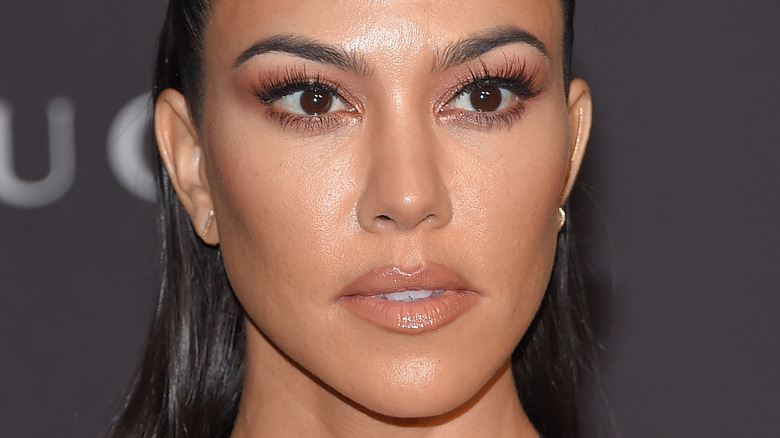 DFree/Shutterstock
Travis Barker and Kourtney Kardashian were one of the more unlikely couples to come out of 2021. The pair — who were longtime family friends before things turned romantic — quickly made up for lost time with a slew of Instagram photos advertising their *love* for one another. Case in point: this April 2021 post, where Kardashian and Barker passionately made out, as the latter declared he "f**king [loves her]." Or, how about this August 2021 post, where Kardashian cuddled up to her boyfriend and captioned it, "yummy"? As Cosmopolitan UK reported, fans were a little confused by all the PDA, since Kardashian wasn't as explicitly affectionate with her former partner and the father of her three children, Scott Disick. "Who the hell is standing there taking these awkward a** pictures?" one fan hilariously commented, per the outlet.
Disick received major backlash in 2021 after he critiqued Kardashian's loved-up pictures with Barker. Per the Daily Mail, Younes Bendjima, another one of Kardashian's exes, leaked direct messages from Disick, who slammed the Poosh founder for her PDA with Travis. "Yo is this chick ok!????" the message allegedly read. Following the incident, a source told Life & Style that Disick was unhappy with Kardashian and Barker's lovey-dovey snaps, and suggested that his ex should "tone it down." For her part, Kardashian appeared to be over Disick's bad behavior, and branded his actions "despicable" during the premiere episode of the family's new Hulu show.
However, that whole scandal wasn't the only time that Kravis has been criticized for their PDA.
Travis Barker won't put up with criticism of his fiancee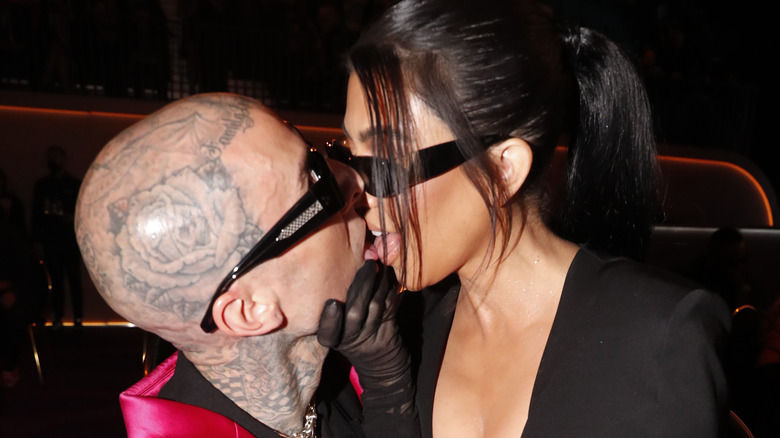 Johnny Nunez/Getty Images
When a fan slammed Travis Barker and Kourtney Kardashian for their overly affectionate social media posts, Barker was quick to shut down the commentary. In response to an April 16 post that showed him working out, one user wrote (via Page Six), "No Kardashian finger up the a**, tongue, intestines, nudity, pda, etc etc anymore? Slacking." Barker wasted no time in clapping back, writing, "Still got my finger up the a**, and my intestines were totally nude and full pda with my fiancée," according to Page Six. As if his comment wasn't already crystal clear, he ended his message with a middle finger emoji. Message received!
Barker's harsh reply notwithstanding, the fan does have a point that it's become relatively rare to see a solo photo of Kardashian and Barker, or one where they're not all over each other. Earlier in April, matriarch Kris Jenner appeared on "The Ellen DeGeneres Show" to tease Kravis' storyline on the family's new Hulu reality show, "The Kardashians." "Well, [the PDA] is 98% of the new show," Jenner joked. "Is that wrong? It's crazy." For her part, DeGeneres corroborated the momager's report, acknowledging that Kardashian and Barker engaged in some pretty hands-on PDA. "Travis and Kourtney for real make out nonstop," the talk show host said, per E! News. "That's all they do. You had to interrupt them to tell them Kim Kardashian is on 'Saturday Night Live' because they were making out."
Based on Barker's recent retort, it's unlikely these two will tone it down anytime soon.