New Video Sheds Light On Liza Minnelli's Oscars Appearance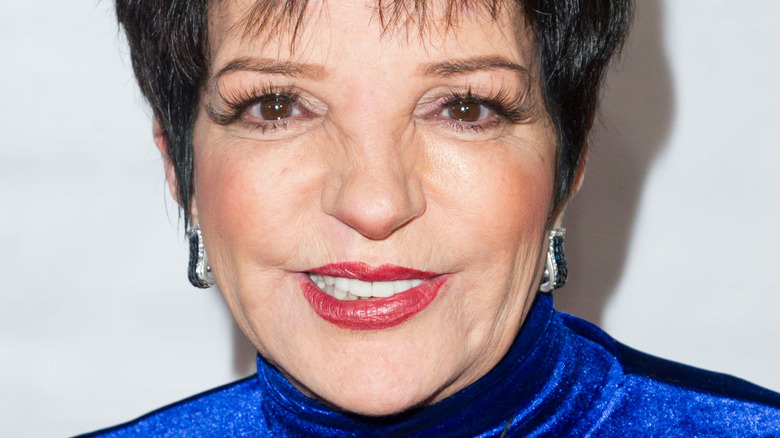 Ben Hider/Getty Images
Liza Minnelli's appearance at the 2022 Academy Awards triggered mass concern for the Hollywood icon's health, but a new video has confirmed what Minnelli's friends have been claiming all along. That is, her appearance on the Oscars stage was an act of sabotage.
The 2022 awards ceremony saw Minnelli present the best picture award alongside Lady Gaga. At the time, the actor was wheelchair-bound, and appeared somewhat flustered. Shortly after, a close friend of hers explained why. In an episode of "The Jess Cagle Show," pianist Michael Feinstein revealed that Minnelli had been "sabotaged" on the night. "She only agreed to appear on the Oscars if she would be in a director's chair," he explained. However, "literally, five minutes before she went on ... the stage manager said, 'Well, she has to be in a wheelchair.' And Liza pleaded. She said, 'No, I will not be seen in a wheelchair in front of everybody' ... and they said, 'Well, it's either that, or nothing.'" Feinstein went on to add that Minnelli ended up coming across as though she was "out of it," but that it was simply a response to her ill-treatment. "Can you imagine being suddenly forced to be seen by millions of people the way you don't want to be seen?"
Feinstein has since doubled down on his claims — but not with words alone. This time, he's shared a video of Minnelli ahead of the Oscars to Facebook, showing the legend in a completely different light.
Hours ahead of the Oscars, Liza was in high spirits
The video Michael Feinstein posted to Facebook shows Liza Minnelli belting a song in the back of a car, clearly excited about being on the Oscars stage. The actor is bubbly and confident — a far cry from what the world would see just hours later.
This isn't the first time Feinstein has highlighted Minnelli's vivaciousness. A week prior to sharing the video, he posted a picture to Instagram of himself on an outing with both Minnelli and Joan Collins. It's also worth noting that weeks ahead of the Oscars, Minnelli herself gave a spritely interview to The Hollywood Reporter. In it, she joked that even if winning an Oscar "more meaningful" when she won for her part in "Cabaret" 50 years ago, "I wouldn't mind winning another one!"
At the time of writing, Minnelli has yet to comment on the Oscars situation. However, she previously addressed public speculation concerning her health in a 2021 Facebook post. "They always quote an anonymous 'close friend' but never ever actually quote any of my real friends by name ... because they might get the truth. Please look at my recent Instagram/Facebook posts and tell me if you think I'm in bad shape, or not well, or isolated from my friends." Well, based on Feinstein's post, it appears Minnelli is living her best life — even if an Oscars stage manager thinks she oughtn't!