What Does Honest By Justin Bieber And Don Toliver Really Mean? Here's What We Think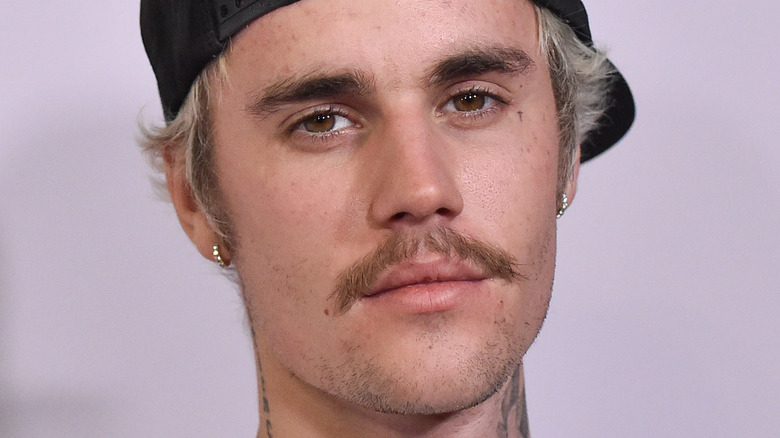 DFree/Shutterstock
When you think of iconic pop stars of the 2010s, chances are Justin Bieber comes to mind. Since making his debut in 2009, the Canadian talent has released an array of singles that have made a lasting impact in the music sphere. From "Baby" to "Peaches," the singer has given fans an array of tracks that have spanned across genres. Alongside his expansive catalogue, Bieber has also broken countless world records and earned numerous awards, including two Grammys.
In 2021, the "Yummy" singer continued to solidify his legacy with his sixth album, "Justice." The record, which received positive reviews from critics, showcased the singer exploring a more R&B-inspired sound. In an Instagram post, the singer said his goal for the album was to bring comfort. "Suffering, injustice and pain can leave people feeling helpless. Music can be a way to relate to one another and connect with one another," he said. Since the release of Justice, the singer has wasted no time in releasing new music.
On April 27, Bieber released a short video titled "I Feel Funny" that featured him rapping silly lyrics alongside hip-hop artist Don Toliver. At the end of the visual, it was revealed that Bieber's official single "Honest" was "coming very very very soon." A day after uploading the comedic short, Bieber finally released the highly-anticipated single alongside an accompanying music video for "Honest" — the lyrics of which explore one of Bieber's biggest inspirations.
Justin Bieber channels his real-life love on Honest
Like many of his tracks, Justin Bieber's flirtatious swagger shines throughout his latest record, "Honest." At the start of the song, he praises his partner for being "honest" and "modest." "Find you in the cut, I copped it / Honest, uh / You kept it real with me from the jump," he sings. Bieber's adoration for his lover continues throughout the track's infectious chorus with lyrics like, "You the sun in my morning," and "You're my safe haven I needed all along."
Although Bieber is not a stranger to romantic lyrics, the singer recently revealed that "Honest" reflects his real love for his wife, Hailey Bieber. In an interview with SiriusXM, the Canadian artist said that his love life inspired the track's lyrics. "Love is kind of like the foundation of life," he explained. "It's important to me that I'm singing about kind of what I'm living." As the song progresses, Bieber continues to showcase his love for his model muse with witty bars like, "You get spicy / I like that cajun on you," and "I like that hazel on you / I look straight in your eyes, holy matrimony." 
The "Honest" music video brings to life JB's flirtatious lyrics as Bieber and the track's featured artist Don Toliver strut their stuff on the ski slopes.
Justin Bieber and Don Toliver team up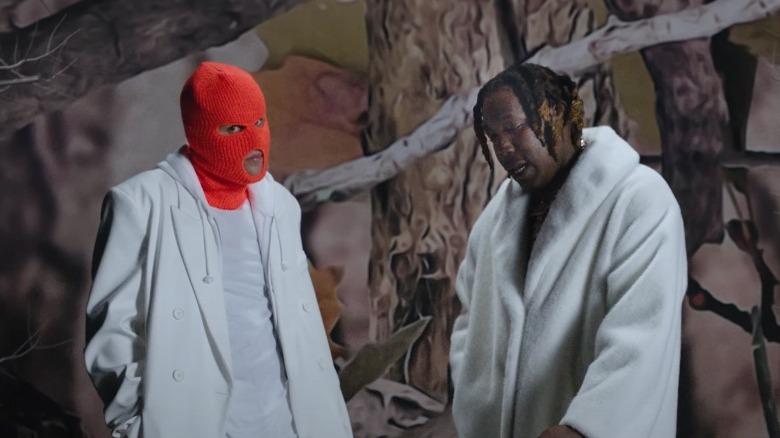 UMG/YouTube
Since Justin Bieber released "Honest", fans have swarmed to Twitter to praise the singer for his new track. Not only are Beliebers digging the pop singer, but featured artist Don Toliver also made an impression. "Don Toliver Slid On His Honest Verse," a fan tweeted. On "Honest," Toliver cooly raps, "It's twenty-three when you get dunked / Me and JB, we smokin' strong." 
The "Purpose" artist seemed to echo fan's sentiments about Toliver in an Audacy Music interview. During the sit-down, Bieber gave insight into how he stumbled upon Toliver before the two recorded their duet. "I actually heard of him through Travis Scott," he revealed. "He was like, 'You got to check out this new artist. His name is Don Toliver.'" Bieber went on to say that he organically met Toliver through Skrillex, which set the tone for the two making music with each other. "It's been really nice, I'm a huge fan," Bieber added.
Even though "Honest" has just hit streaming platforms, Bieber revealed that he's working on more new music. "We're done working on a project right now. We're almost done, and we're gonna figure out a good release date, but yeah, I've been working on music," he told SiriusXM. Only time will tell when Bieber will release his next album!