Katy Perry Took An Embarrassing Tumble On American Idol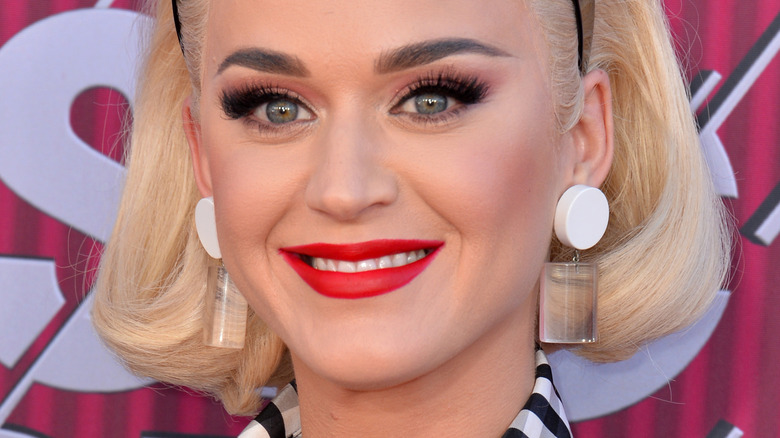 Featureflash Photo Agency/Shutterstock
It's a good thing Katy Perry has a great sense of humor. She's certainly had her fair share of viral moments, whether fierce, embarrassing, awkward, or some weird combination them all. (Left Shark anyone?) And she now has another to add to her viral hall of fame.
Perry joined the long-running singing competition "American Idol" on its move from Fox to ABC in 2017, per Variety, turning down offers from similar shows, like "The X Factor." She began judging during Season 16 alongside fellow musicians Lionel Richie and Luke Bryan. The trio, along with host Ryan Seacrest, have stayed with the show throughout its five years on ABC, and are now celebrating its historic 20th Season. Perry brings her expertise, flare, fashion, and fun to the competition as she "continue[s] to create superstars," she told The Hollywood Reporter. "Name one person that's come off of another competition show. Can you name any other contestant and/or remember any of them?" she said, when asked about the staying power of "American Idol." "And I think we can name almost 10 bona fide stars who are household names who are in the industry, creating change and [getting] nominations and Oscars and Grammys."
As Perry teaches the world about these music industry newcomers, she still makes headlines of her own — even if it's not necessarily for the most flattering reasons. One such moment happened on the May 1 episode of "Idol." But at least everyone got a laugh about it, including Perry herself.
Katy Perry went tails up while dressed as the Little Mermaid
Katy Perry was never one to shy away from outrageous outfits and high fashion, and her 2022 Met Gala outfit likely won't disappoint, either. But with risk-taking fashion comes potential wardrobe malfunctions — much like the one she just experienced.
Perry went all out for the May 1 Disney Night episode of "American Idol," dressing up as Ariel from "The Little Mermaid" in a purple seashell top and bright aquamarine fins — yes, fins. On her head, she wore a red, plastic wig that looked like Ariel's wind-swept hair. The outfit proved challenging from the start, requiring a team of helpers to dress her, and the fins were impossible to walk in — Perry had to be rolled onto the stage on a dolly, as she showed in behind-the-scenes photos posted on Instagram. (The lengths we go to for fashion.)
While seated at the judges table beside her colleagues Luke Bryan and Lionel Richie, Perry held up her prop fork, or dinglehopper, as it's known. But, while the camera was on host Ryan Seacrest, a huge thud and gasps happened off-screen, and as the camera panned, all that could be seen were Perry's giant fins in the air. While Richie immediately jumped into action to set Perry upright, Bryan took a less-chivalrous route: he pointed and laughed. Fortunately, Perry laughed about it, too. She shared the moment on Instagram, quoting Ariel herself: "Flipping your fins you don't get too far." Ah, live TV. You never know what'll happen!