Katy Perry Suffered An Embarrassing Wardrobe Malfunction On American Idol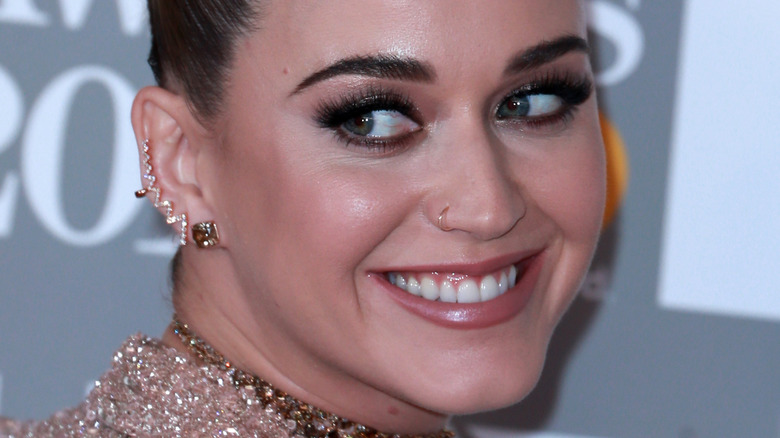 Cubankite/Shutterstock
Singer Katy Perry has been an exceptionally busy woman as of late. Between her Las Vegas residency and raising her infant daughter with her fiance Orlando Bloom, Perry says that she barely has time to shave her legs!
Despite her full schedule, Perry is back on the judging panel of "American Idol" Season 20 alongside costars Lionel Richie and Luke Bryan. The singer has been a judge since "American Idol" Season 16, and audiences have seen Perry wear many whacky outfits over the years. For example, in Season 19, Perry wore a fabulous cow-print Christian Siriano ensemble that she could rip off a piece of to make the look functional for breastfeeding, per Page Six Style. Although that outfit had a purposeful reveal of her body, Perry is certainly no stranger to unplanned wardrobe malfunctions. Back in Season 16, Perry was just sitting at the judging panel when she realized that her pants had ripped. "I just split my pants!" a shocked Perry shouted through her laughter.
It seems that the singer has now come full circle with yet another "American Idol" wardrobe slip up.
Katy Perry drops it too low
On the March 28 episode of "American Idol," the iconic Hollywood Week was underway, which is the last challenge for the show's contestants to face before the judges make their final cuts. This week is oftentimes extremely competitive, tense, and stress-inducing. So, judge Luke Bryan began a singalong amongst the crowd to loosen up the contestants with Katy Perry's biggest hits.
In a clip Perry posted to her Twitter, she dons a leopard print bustier with bright red leather pants as she joins in to sing her smash-hit, "Teenage Dream." When she belts the line "Ima get your heart racing in my skin-tight jeans," Perry decides to drop it low. It was at this moment that Perry's pants split (once again). "They busted!" Bryan exclaimed in laughter.
Like the professional she is, Perry took the malfunction in stride and showed no sign of embarrassment. She simply asked the "Idol" crew, "Can I get some tape?" And after some help from production, large pieces of yellow gaffer tape were strategically placed to mend Perry's pants, which Bryan gave a supportive pat on the bum. Thanks to the close relationship between the "American Idol" judges, the stars of the show know how to roll with the punches. "Over the years now, we trust each other to the point of, we kind of know what we're thinking," Lionel Richie said on Good Morning America in February. As they say, the show must go on!