Would Kim Kardashian Really Get Married A Fourth Time?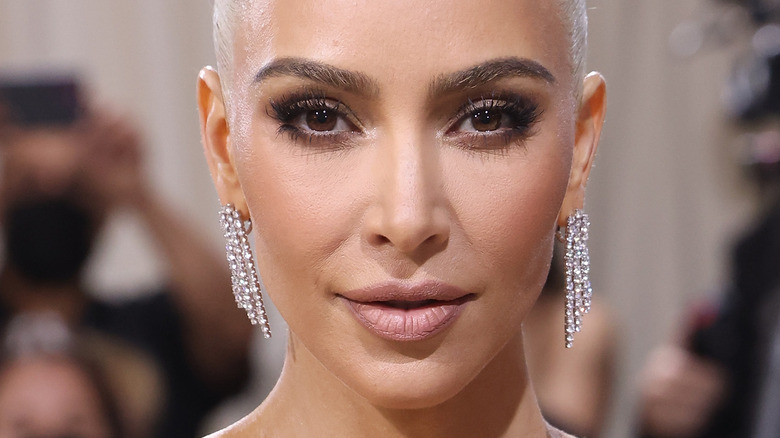 Taylor Hill/Getty Images
Always a bride, never a bridesmaid? Wait, huh?
While many say that the third time is the charm, we're willing to bet that thrice-married Kim Kardashian would respectfully disagree. As you may recall, Kardashian is currently in the throes of a highly tumultuous divorce with rapper Kanye "Ye" West. Prior to that, however, Kardashian was also married to music producer Damon Thomas and professional basketball player Kris Humphries, per Page Six. "I just thought, 'Holy s―, I'm 30 years old, I better get this together. I better get married,'" Kardashian later confessed to "Watch What Happens Live" host Andy Cohen about the brief 72-day union. "I think a lot of girls do go through that where they freak out thinking they're getting old and have to figure it out, all their friends are having kids. It was more of that situation," she continued.
But does she have any qualms about donning another veil and sashaying down the aisle one more time? The answer just might surprise you...
Kim Kardashian said 'the fourth time is the charm'
While the iconic Elizabeth Taylor had a whopping eight marriages under her belt, Kim Kardashian believes four should do it for her!
During a sneak peek for the May 5 episode of "The Kardashians," the reality star turned media mogul revealed that she has plans to get married just one more time. "I believe in love," she declared emphatically. "That's why, hopefully, there will be just one more wedding for me. Fourth time's the charm!" she added. 
While Kardashian didn't specifically reference her current beau Pete Davidson in the bombshell on-camera revelation, it doesn't take too much to connect the dots. Recently, Kardashian has not been shy about her newfound happiness with the "Saturday Night Live" comedian. "I went for it, and I took my time, and I found it, and it feels so good, and I want to hold onto that forever," she gushed to television host Ellen DeGeneres about finding happiness later in life. The keyword here, folks? Forever. Are you keeping up??!!!