What Happened Between Ryan Seacrest And Teri Hatcher?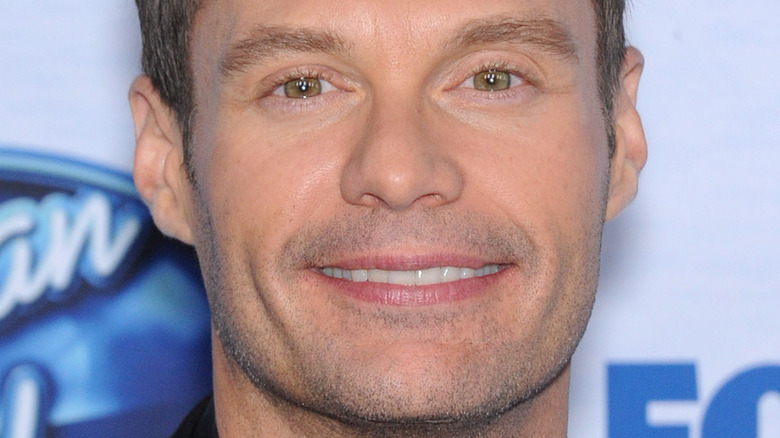 DFree/Shutterstock
It turns out Ryan Seacrest and Teri Hatcher were once a thing. Who knew!? This one all went down after Hatcher got back into the dating game following her 2003 divorce from Jon Tenney (she was also married to Marcus Leithold from 1988 to 1989) while starring on ABC's megahit drama "Desperate Housewives," and Seacrest was showing millions upon millions of viewers the biggest talent America had to offer week after week during "American Idol"'s heyday on Fox.
Hatcher has been pretty open about her dating life over the years, admitting that she's happily single while challenging the idea that a woman who isn't married isn't living her best life. "There is a difference between being lonely and being alone. I have been single for a very long time but there is nothing lonely about my life," she told People in 2019. "Many women who get divorced will not get remarried. That kind of sounds depressing but it doesn't have to be. Many women are not just surviving alone, they're thriving. They're empowered, they're making money, they're being healthy, they're traveling. You are allowed to be proud of your life when you're not part of a couple," she continued. You go, girl!
So, from that, we know that things with the "Live with Kelly and Ryan" host didn't exactly work out, but what really did happen between noughties TV's could have been golden couple?
Ryan Seacrest and Teri Hatcher's blind date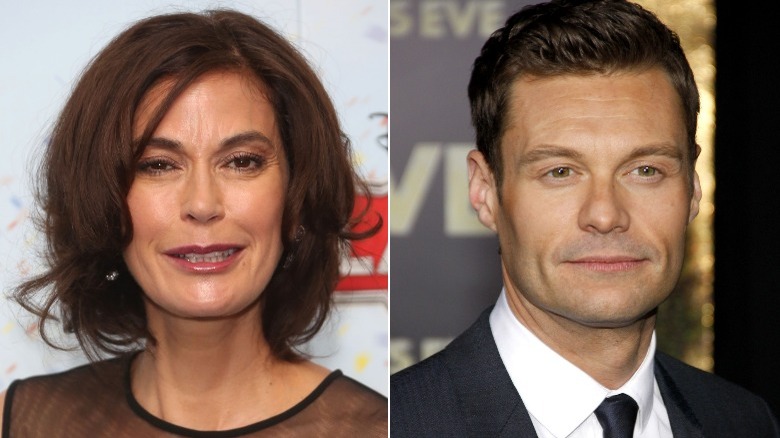 Featureflash Photo Agency & Tinseltown/Shutterstock
It turns out even the most stunning and successful of celebrities have to turn to a blind date sometimes, as that's how things started out for Ryan Seacrest and Teri Hatcher in 2005. The "Desperate Housewives" alumni dished on the beginnings of their relationship during a 2010 appearance on "The Wendy Williams Show," sharing, "We got set up on a blind date by a friend who's now off the blind date list. It was years ago. It's fine. He's fine. He's great." She added that they headed out on a "rainy-ish" day, before gushing over Seacrest, "He's a smart guy, an interesting guy or whatever" while clarifying that saying they dated would be a bit of a stretch. She added that photographers got snaps of them together and they shared "a peck" at the end of the evening.
But what really happened between these two after we hear you ask? Well, let's just say things didn't work out. Hatcher revealed on "The Oprah Winfrey Show" in 2006 that they went on three dates, with only the last one being the two of them, which is when they were snapped kissing on the beach. She claimed that Seacrest called her an hour after that and told her, "I don't think I can do this with you," but had no idea why he didn't want to see her again. She joked maybe she "ate too much lobster," telling Winfrey, "You'd have to ask him."
Teri Hatcher's paparazzi questions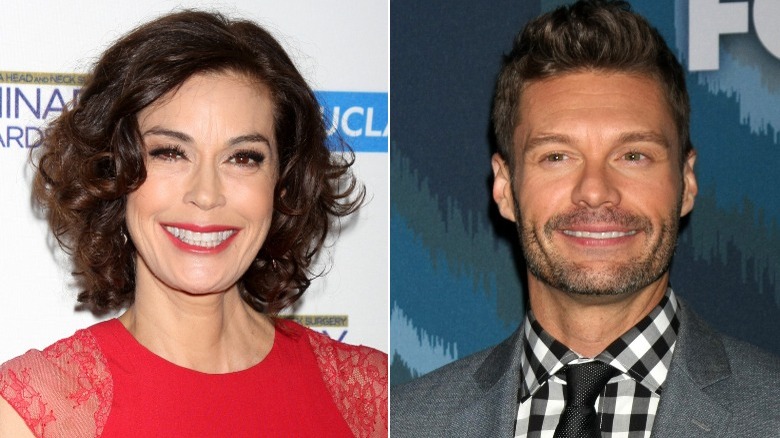 Kathy Hutchins & Kathy Hutchins/Shutterstock
Teri Hatcher admitted on "The Oprah Winfrey Show" that she had no idea how the paparazzi found them at the beach several miles outside of Los Angeles on the day of their final date, but noted during the 2006 interview that she hadn't seen Seacrest since as she raised her eyebrows. A little shade towards her kind of ex? Maybe!
As for what Seacrest had to say about it all? Well, he told The New York Times in 2006 that it was a classic case of it's not you, it's me. "She's clever. She's self-deprecating. She's successful. She can pay for dinner," Seacrest explained. "What's wrong? It is strange, but I don't think it was a Teri Hatcher issue. It's a Ryan Seacrest issue."
Seacrest went on to have a few high-profile romances following his dalliance with the "Supergirl" star, including romancing Julianne Hough from 2010 until 2013 before being on and off with model Shayna Taylor. As for Hatcher, she was rumored to be dating "Sex and The City" star Jason Lewis later that year, but appears to have kept her dating life a little more on the down low since then. After having to talk about a romance that never was on at least two talk shows, who could blame her?