Wynonna Judd's Mother's Day Tribute To Naomi Will Bring You To Tears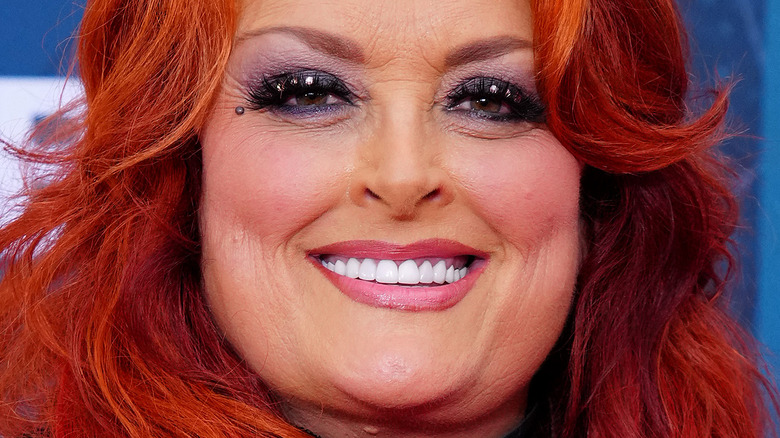 Jeff Kravitz/Getty Images
The world lost a legend in country music when superstar Naomi Judd died. In late April, Naomi's daughter, actor Ashley Judd, shocked the world with news of her mother's death. "We lost our beautiful mother to the disease of mental illness," she tweeted, adding that she and her sister, Wynonna Judd, "are shattered." The day after Naomi's death, Ashley and Wynonna, bravely took the stage to honor their mother during her induction into the Country Music Hall of Fame. A visibly upset Wynonna shared just a few words. "It's a strange dynamic to be this broken and this blessed ... But though my heart is broken, I will continue to sing," she told the audience.
When she was alive, Naomi was open about her struggles with depression and mental health issues, which peaked when she wasn't touring with her daughter, Wynonna. "I would come home and not leave the house for three weeks, and not get out of my pajamas, and not practice normal hygiene," she told Robin Roberts on "Good Morning America" in 2016, adding that things were "really bad."
According to Wynonna's Instagram feed, she and her mother were set to tour for the first time in over a decade next Fall. Now, a source tells People, that the Judd family is trying to figure out how to move forward and see "if it can proceed in an obviously different incarnation" without Naomi on tour. Meanwhile, Naomi's girls are keeping her memory alive in a heartbreaking way.
Wynonna Judd shares touching throwback on Mother's Day
Wynonna Judd is remembering her late mother, Naomi Judd, on Mother's Day. The singer took to Instagram on May 8 to share a sweet throwback shot. A young Wynonna is seen in the photo standing beside her mother, while Naomi wrapped her arm around Wynonna's shoulder with one hand, and held her other daughter, Ashley Judd, in her other arm. Ashley pressed her cheek against her mom's and the two smiled big for the camera.
Wynonna kept her caption short, but it's enough to bring you to tears. "I miss her," she wrote. Fans flocked to the comments section to send love and support to Wynonna during this difficult time. "Sending all my love and prayers to y'all. Your mother was such an inspiration and was loved and will continue to be loved by so many," one follower commented. "My heart breaks for you Wy. I can not imagine how your [sic] feeling. Sending you all my love today and everyday," another wrote.
This marks the first Instagram post that Wynonna has shared following her mother's death. In the weeks before Naomi's death, the mother-daughter duo appeared to have a good time at the CMA's. Wynonna posted a photo of herself and Naomi dressed to the nines as she gushed over what a great time they had. "What a celebration last night was!" she wrote. Naomi may be gone, but her memory lives on through her daughters.