Alec And Hilaria Baldwin Share A Big Announcement About Baby No. 7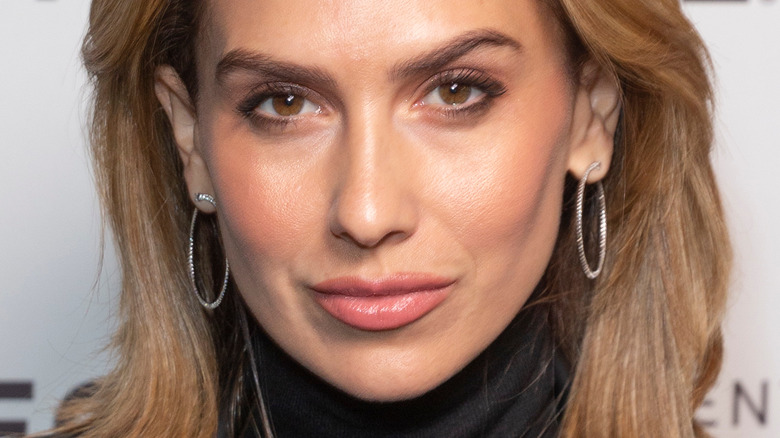 lev radin/Shutterstock
It's hard to believe that Alec and Hilaria Baldwin are already the proud parents of six young kiddos. Let's also not forget that Alec shares a daughter — model Ireland Basinger Baldwin — with his ex-wife Kim Basinger. Yet, while Alec tends to be more private on social media, Hilaria uses Instagram feed to share photos and videos of their children, keeping fans updated on their daily activities and milestones.
In March, Hilaria announced the exciting news that she and Alec are expecting their seventh child together. "After many ups and downs over the past few years, we have an exciting up and a huge surprise: another Baldwinito is coming this fall," she wrote on Instagram. Hilaria included a video of herself and Alec telling their brood there's another baby on board. "A blessing and a gift during such uncertain times," Hilaria added, seeming to perhaps hint at the "Rust" shooting scandal that her husband found himself at the center of in 2021. The mother of six also said that she was "looking forward to continuing with you this wild journey that we call 'life.'"
Up until recently, the pair has remained tight-lipped on the sex of the baby on the way. In an Instagram Story in early April (via People), Hilaria explained that they knew its sex, but weren't quite ready to share it. Now, the timing seems right.
Alec and Hilaria Baldwin are expecting a girl
Baby will make seven for Alec Baldwin and his wife, Hilaria Baldwin. The yoga enthusiast took to her Instagram to share a little more information about the impending arrival of their little bundle of joy in mid-May. Hilaria shared a video that featured herself, her kids, and Alec sharing their thoughts on welcoming a new life in an encouraging video. At the end of the clip, Hilaria notes that she's excited to meet her daughter, while her kids gush over their future baby sister.
"It's always been both fun and meaningful for me to find out what is the sex of my baby, yet, as I grow and learn, I want to do it a bit differently this time around," she wrote. "What will make our baby a loving, whole person? What matters? What will make them feel seen, free, and proud?" Hilaria asked, stating that the answer was "perhaps nothing that we can define." The mother of six continued by sharing that each being will "discover their own, unique self." She ended by cooing over her current six and how much they mean to her.
There's no doubt that Hilaria has her hands full with her children, and in April, she informed fans that her son, Rafa, broke his arm while he was at the park. "This is a part of being a parent that is so heartbreaking," she wrote. It's tough work!