Kendrick Lamar's New Video Has Everyone Talking About Will Smith And Kanye West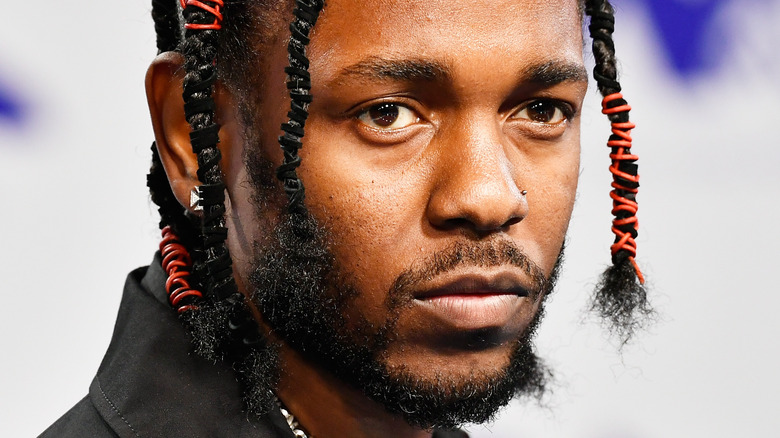 Frazer Harrison/Getty Images
Kendrick Lamar is far from an ordinary hip-hop star. The artist is as renowned for his take on social commentary as he is for his stellar writing, producing, and powerful live performance skills. "[Lamar is] indisputably the most acclaimed rap artist of his generation," music critic Andy Kellman raved, per Spotify. He lauds Lamar's "unmatched mix of inventive wordplay and compelling conceptual narratives, examining internal conflict, flaunting success, and uplifting his community."
Over his career to date, Lamar's scored 14 Grammy Awards and his fourth studio album "DAMN." even won him the Pulitzer Prize for music in 2018, which is a nod to the 34-year-old Compton rapper's lyrical creativity. As music critic Chris Richards wrote of the rapper's GOAT status for The Washington Post, "There's always more to listen for in Lamar's music." And indeed there is, with Lamar's unique take on social justice and inequality, current events, news, and pop culture. Plus, there's always more to watch, too, as he translates his musical skills and commentary into cutting-edge visuals — which is why Kendrick Lamar's new video has everyone talking about Will Smith and Kanye West.
Kendrick Lamar morphs into controversial figures
UMG/YouTube
The music video for Kendrick Lamar's new single, "The Heart Part 5," is currently trending on YouTube and it's not hard to understand why. In the video, the "King Kunta" hitmaker's face morphs into a number of high-profile pop culture figures who have been caught up in a controversy, including Jussie Smollett and O.J. Simpson.
Two stars that Lamar morphs into are fellow rappers Kanye "Ye" West and Will Smith. West is no stranger to venting his feelings and causing a stir in the media, while Smith made headlines for slapping Chris Rock at the Oscars. After morphing into Smith, Lamar raps, "In the land where hurt people hurt more people." Meanwhile, as Lamar raps, "Friends bipolar, grab you by your pockets," he transforms into Ye, an artistic move fans seem to think is Lamar commenting on Ye's public struggle with his mental health.
Lamar's embodiment of controversial stars made a big impression on fans."Watching Kendrick Lamar turn into Kanye messed with my soul," one user tweeted. "If you really listen to what Kendrick was saying, you see why he deep faked Will Smith. It's spot on lol," another wrote. Though there's a lot to unpack in Lamar's latest visual, the rapper hinted at its meaning in the video title card shared on Instagram with a quote from his alter ego Oklama, "I am. All of us."