What's The Meaning Behind Kendrick Lamar's The Heart Part 5? Here's What We Think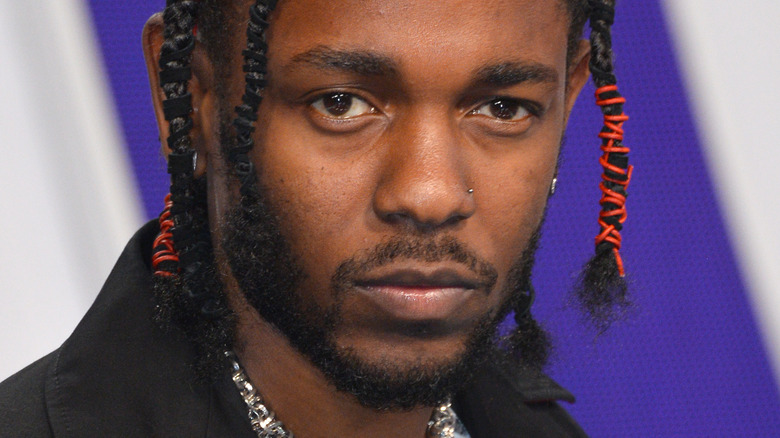 Featureflash Photo Agency/Shutterstock
Kendrick Lamar's much anticipated "Mr. Morale & The Big Steppers" finally dropped on May 13, 2022. It's the rapper's fifth studio album and first in five years. The extended wait wasn't to make fans thirsty — the album's musical mastery clarifies why it'd need half a decade to create. Plus, Lamar raps about suffering "writer's block for two years, nothing moved me" during its third track, "Worldwide Steppers." And not to mention, the album also addresses the trauma that's caused by growing up in Compton, South Central L.A. during its most volatile and violent period. 
The same day the album dropped, the Pulitzer-Prize winner announced he's kicking off a world tour in July. A week before, he'd released a pre-album track, "The Heart Part 5." Its accompanying "deep-fake" video and Lamar's inevitable on-point rapping and lyrical mad skills immediately caused a stir and had fans raving. "Kendrick is like the smell grandma's food cooking in the kitchen. You wait a long time but the wait was definitely worth it," one fan commented. "THE G.O.A.T.," another succinctly stated. Fans also unanimously lauded the track as a "masterpiece." So, what's the meaning behind Kendrick Lamar's "The Heart Part 5?"
Kendrick Lamar's The Heart Part 5 calls for unity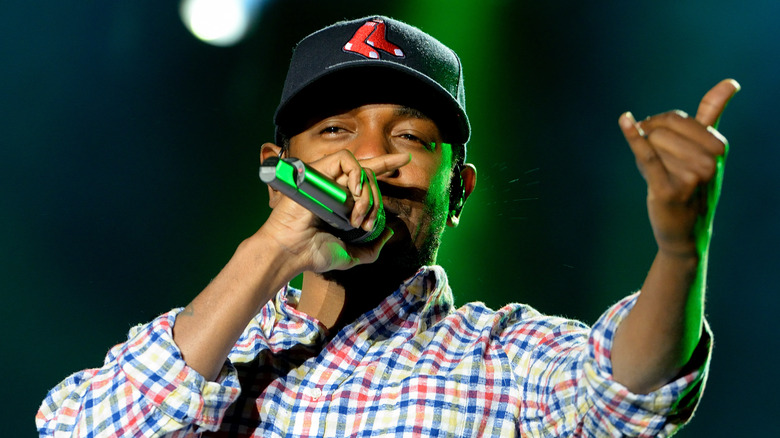 Christian Bertrand/Shutterstock
"I am. All of us. Oklama," the video intro for Kendrick Lamar's "The Heart Part 5" reads. Per Dissect Podcast, "Oklama" stems from the Choctaw Native Americans, who lived in what is now Mississippi and Alabama. "Okla ... means 'people' in Choctaw," host Carl Cuchna explained. "The Choctaw definition for 'ma' is a marker used when addressing someone, like 'my lord.' So oklama translates to 'my people.'"
The statement is a clear signal of the track's meaning and intention — for all of Lamar's listeners to unite as one. "The Heart Part 5" offers listeners insight into Lamar's life journey, intertwined with commentary on societal harms and injustices. Lamar notes, "I wasn't perfect, the skin I was in had truly suffered" and commented on how slavery and treatment of Black people before him have led to poverty, injustice, and violence. "I come from a generation of pain where murder is minor," he raps, detailing the reality of life in Compton.
Lamar also laments the despair and hopelessness that accompanies living in an impoverished, ignored, and deprived area. But regardless of such, Lamar's heart remains full in the face of struggle, telling listeners, "I can't stress how I love y'all." The track includes Lamar's usual spiritual undertone. He beseeches people to come together and calls for love over anger and murder.
Kendrick Lamar channels the pain of prominent Black performers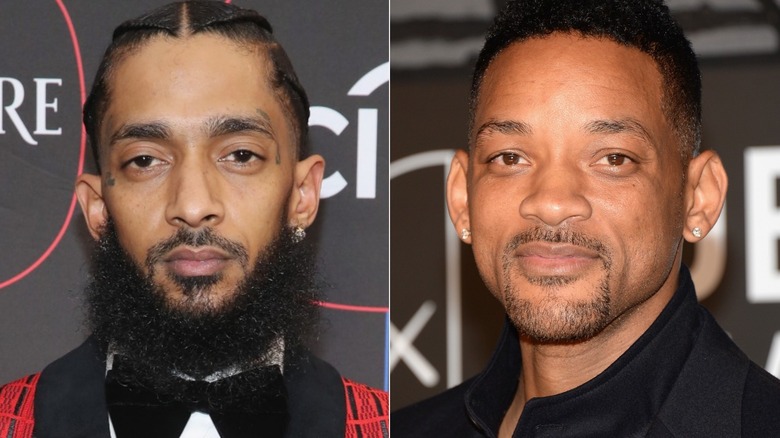 Jamie Mccarthy & Randy Shropshire/Getty
In standard Kendrick Lamar form, the music video for "The Heart Part 5" is rife with symbolism and meaning. Seemingly done in one shot, the music video features Lamar rapping to the tune while morphing into "deep-fakes" of prominent Black names, including Will Smith and the late Nipsey Hussle.
Donned as Will, Lamar raps, "In the land where hurt people hurt more people" and "Look what I done for you." It's perhaps a thinly-veiled commentary on the infamous slap from Smith to Chris Rock at the Oscars. Lamar humanizes Will in this context, citing his "hurt" and how that trauma often gets passed from one to another (in that case, to Rock). The latter bar perhaps reflects Will's inner conflict of having to defend wife Jada Pinkett Smith at the expense of his media perception.
Furthermore, Lamar assumes the role of Hussle, who was tragically gunned down in 2019. Hussle, who came up through gang culture, noted he was "more focused on giving solutions and inspiration" to his community. In turn, he opened up the Marathon Clothing store in the middle of Crenshaw (where he was eventually killed) to give back. As Hussle, Lamar says, "And I can't blame the hood the day that I was killed ... And though my physical won't reap the benefits / The energy that carry on emits still" — a salient note that, despite Hussle's death, the late rapper's (and Emmett Till's) presence still lives on.