Sam Asghari Shows How He's Putting Britney Spears Over His Career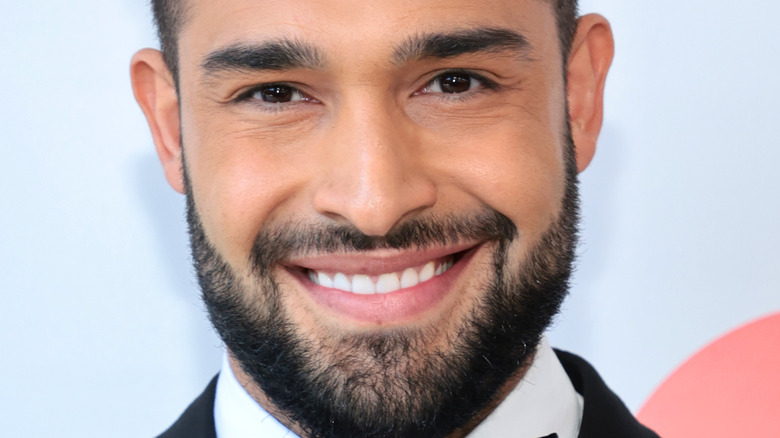 Jamie Mccarthy/Getty Images
Britney Spears and Sam Asghari have been through a lot during their time together. According to People, the couple first met on the music video set for the song "Slumber Party" in 2016, and they hit it off immediately. Spears shared plenty of photos of her man on social media (much to the delight of her fans), and the same was true with Asghari. On September 12, 2021, Spears revealed the happy news that she and Asghari were engaged. The singer posted a short video on her Instagram account as she flashed her massive sparkler for the camera. The pop princess included a caption that read, "I can't f**king believe it."
Asghari has stuck by Spears' side during her long and highly-publicized conservatorship battle with dad, Jamie. Once Spears came out on top, Asghari spoke with Variety at the "House of Gucci" premiere to share his thoughts on what the win meant. "I am so happy for her, and I've been a backbone for her as much as I could, but this is all on her," he told the outlet. "She's been a rock. She inspires me ... All the fans and her effort kind of make this become, you know, possible. So I'm happy for her." Asghari also noted that it was "amazing" to see how much support Spears received from fans.
Now, Asghari is showing his support for Spears during another challenging time in the couple's lives.
Sam Asghari skips out on Cannes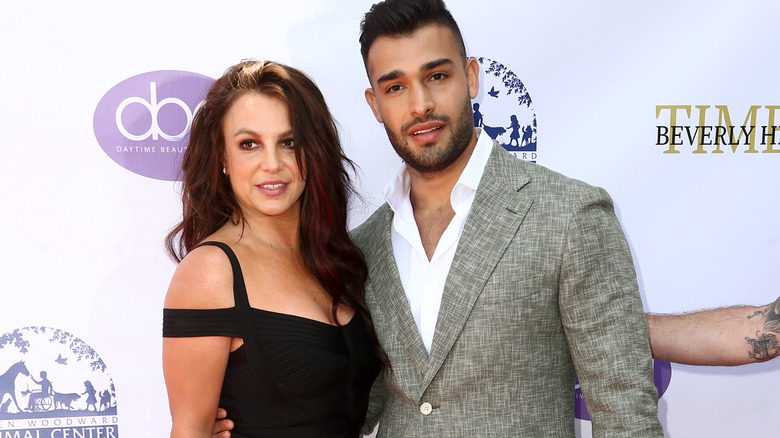 Tommaso Boddi/Getty Images
Sam Asghari and Britney Spears have been dealing with a lot since the news of Spears' miscarriage broke. But, Asghari seems to be taking the reins and doing all he can to be there for his fiancee, even if it means skipping out on important events. On May 18, the model took to his Instagram Stories to inform fans that he would be missing an important event. "Couldn't make it to Cannes Film Festival this year," Asghari wrote. "Personal life and family come first, always. See you next year."
Asghari shared another Instagram Story earlier in the week, detailing how he and Spears were doing amid the loss "We have felt your support. We are taking things positively and moving forward with our future," he wrote on May 16 (via Page Six). "It's hard, but we are not alone. Thank you for respecting our privacy. We will be expanding our family soon."
Spears first announced her pregnancy on social media on April 11 in a lengthy post. The star wondered why she gained weight after vacation, so she took a pregnancy test and got a positive result. Only about a month later, on May 14, Spears and Asghari took to Instagram to share that they had lost their "miracle baby." The couple said they should have probably waited to share the news, but their excitement got in the way. Despite the hard news, Spears and Asghari still made it clear they want to expand their family.