How Many Times Has Britney Spears' Ex Jason Alexander Been Arrested?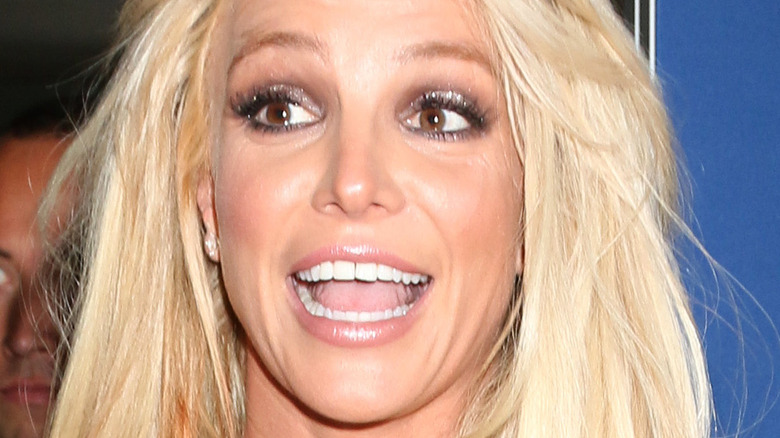 Kathy Hutchins/Shutterstock
Pop icon Britney Spears has dealt with relentless stalking and obsession from much of the media over the years, especially in the early years of her fame. Anyone following the tabloids in the early 2000s will remember a mentally unwell Spears shaving her head, attacking a paparazzi car with an umbrella, and getting married to her childhood friend Jason Allen Alexander in a shotgun wedding in Las Vegas. However, this marriage — which took place in 2004, when the two were only 22 — was later called a "joke too far" by spokespeople for Spears. It was annulled only two days later. 
Despite being married to one of the most foremost pop stars in the world for over two days at the height of her popularity, not much is known about Alexander himself, or his personal life, apart from his problematic history with the law. Following his brief marriage to Spears in 2004, Alexander has been arrested multiple times, including on some serious domestic abuse charges, meaning that the singer likely dodged a massive bullet with their annulment.
Jason Allen Alexander is facing his third arrest in a year
Kypros/Getty Images
According to TMZ, Britney Spears' ex, Jason Allen Alexander, faced his third arrest in just a year in January 2022 on charges of stalking an unidentified woman. The 40-year-old pled guilty and was shortly thereafter sentenced to a little over 11 months probation. Before that, he was arrested for an alleged security violation at Nashville airport in August 2021, according to Page Six, charged with a misdemeanor and released on bail. In addition, Alexander was arrested the previous January for driving under the influence, as well as possession of illicit drugs, per Page Six.
It also came to light in 2016 that Alexander spent almost four months in jail for domestic abuse against his unidentified partner in 2015. Per Daily Mail, court documents stated he grabbed her by the hair and "dragged her down the steps ... along the sidewalk and threw her into the bushes," causing "great bodily injury." Alexander was put on three years' probation, and forced to undergo certain court-mandated activities, for this charge.
In addition, Radar Online reported in 2019 Alexander was arrested in Louisiana in 2016 for driving under the influence, as well as reckless driving. He was sentenced to probation, community service, and other court-mandated activities. This was his second DUI; his first being in 2006. He was then arrested again in 2008 for probation violation. So, how many times has Spears' ex-husband been arrested? Well, at least seven that we know about. But that's not the only trouble he's found himself in.
Jason Allen Alexander was part of the January 6 protesters
Though Britney Spears' ex husband, Jason Allen Alexander, has been arrested for an assortment of crimes over the years, perhaps his most noteworthy — and notorious — moment since his marriage to Spears came in January 2021. He was spotted at the January 6 protests outside the Capitol. The protests famously turned into a riot, whose members stormed Capitol Hill in what was widely described as an attempted coup later that day. Alexander, however, likely never entered the building, as he was never arrested on charges of trespassing or insurrection, as many others that day have been. Given his priors, Alexander likely would have received a hefty sentence for his actions that day. 
As if that wasn't enough to make headlines, Alexander was even spotted at a #FreeBritney rally in August 2020, protesting against his ex-wife's conservatorship. According to TMZ, Alexander reportedly got back in touch with Spears around that time after not speaking to her for about 10 years, and even hoped there could be a chance to rekindle his relationship with the famous pop icon. "Jason even admits he's there with the hope of rekindling things with Britney," TMZ reported, "and he's down for a do-over." 
Well, given Alexander's dubious background of arrests and domestic abuse, and Spears' now-happy partnership with Sam Asghari, with whom she is engaged to be married and trying to have a child, Alexander's hopes for a rekindling of romance are likely futile.