Ashley Graham Opens Up About Her Experience Giving Birth To Twins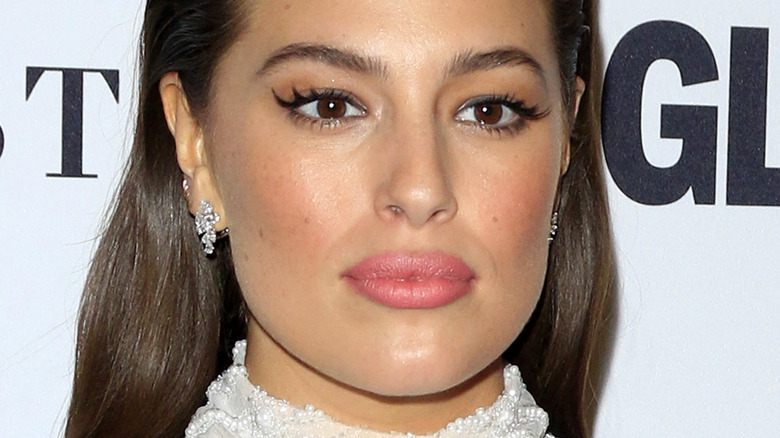 Kathy Hutchins/Shutterstock
Model Ashley Graham has always been known for her fierce body positivity — but just like the rest of us, she sometimes has trouble with her own body image, especially after she became a mother. Graham is best known for being the first-ever plus-sized model to pose on the cover of Sports Illustrated's swimsuit issue in 2016, per Forbes. Amidst her illustrious career of being the face of several brands, working the runway, and becoming a television personality, Graham decided to start a family with her husband, cinematographer Justin Ervin.
In 2020, Graham gave birth to her first son, Isaac, and she has since been lauded for her relatable motherly advice. "I hate that there's a huge onus on women bouncing back and what they're supposed to look like," Graham voiced to Byrdie in 2021. "Plus, there's this misconception that every body is the same. But, every pregnancy even in your own body is different."
Graham then became pregnant with twins and gave birth to them earlier this year! Although it was a joyous occasion, Graham is now opening up about the traumatic difficulties she experienced during labor.
Ashley Graham was dangerously close to dying after giving birth
Just as she had with her firstborn son Isaac, Ashley Graham decided to do a home birth for her second pregnancy with her twins. In an essay she wrote for Glamour, Graham details how she suffered a hemorrhage after giving birth to her sons, which caused her to "[lose] liters of blood" and lose consciousness. Thankfully, her midwives were able to administer Pitocin (a synthetic counterpart to Oxytocin used to induce labor, per Healthline), control the bleeding, and effectively save Graham's life. Graham writes that she was unable to walk for a week after the birth and "didn't leave [her] house for nearly two months."
Graham says that she is recounting this traumatic and scary story publicly so other women won't be scared themselves to discuss what they've gone through. "Like so many women, what I went through with childbirth has reshaped my relationship with my body," Graham noted. "Even as a body advocate, I've learned it's okay if the journey to love the skin you're in is more complex than you could ever have imagined."
Since making a full recovery from her hemorrhage, Graham has returned to modeling and has a new collaboration with the brand Knix on an all-inclusive lingerie line. Even after struggling with accepting her new stretch marks from her pregnancy, Graham continues to be an advocate and an inspiration to women and mothers who have experienced the same things that she has.