Whats The Real Meaning Of Dua Lipa By Jack Harlow? Here's What We Think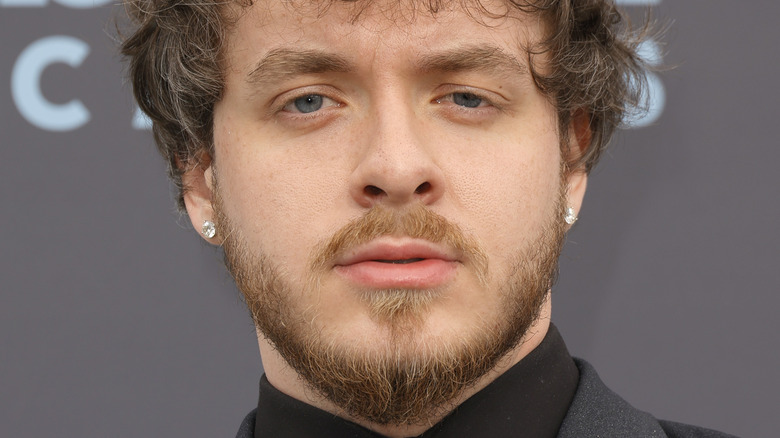 Frazer Harrison/Getty Images
Every few years, the internet develops a collective crush on a star and awards them the coveted Internet Boyfriend title. It happened with Timothee Chalamet, Noah Centineo, and Michael B. Jordan. There are really no clear criteria that fans follow to consider someone the season's Internet Boyfriend, but it looks like the crushes were deemed as wholesome in one way or another. 
But in Jack Harlow's case, fans say it's because he seems attainable. "You know that one goofy guy in high school who you would always try and find reasons to hate on? And then you end up making out with him in a bathroom one night at a random party? And five years later he's rich, hot and famous?" a Harlow fan explained of the rapper's appeal to Vice. Even Harlow himself can't believe how he seemingly got popular overnight and acknowledges that it's probably not because of his music. "Once you become actually famous, it's only half about the music," he told Variety. "They're just showing up to see you in the flesh, put you on their Snap[chat], throw some panties at you, whether they know a single lyric or not."
Still, even though his music has only become secondary as to why people adore him, it doesn't mean that he hasn't got some hits. His latest tracks have soared the charts, including "First Class" and "Nail Tech." But there are also some songs that had fans scratching their heads, particularly his track titled "Dua Lipa."
Dua Lipa is about Jack Harlow's crush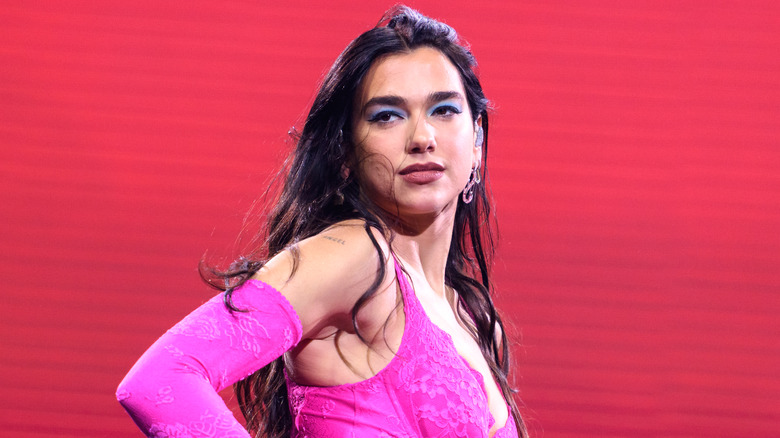 Dimitri Hakke/Getty Images
The internet crush has an internet crush, and on the receiving end of Jack Harlow's adoration is none other than Dua Lipa. On his latest album, "Come Home the Kids Miss You," Harlow included a song named after the "Levitating" singer, and based on the lyrics, it looks like it's about his enormous crush on the star.
"Dua Lipa, I'm tryna do more with her than do a feature (Do it)," the lyrics read, per Genius, which may imply that he wants more than just a collab. "I checked the web, they out here chewin' me up ... / Fadeaway, I lift that Luka knee up, bucket," the chorus continued, and it may be about Harlow trying to shoot his shot with Lipa. After all, reports say that Dua Lipa is single, having broken up with Anwar Hadid in 2021. 
Harlow goes on to name-drop Kanye "Ye" West, who is apparently a Harlow fan, at one point on "Dua Lipa." "I told Yeezus that I got a confession / We 'bout to be somethin', they gon' have to catch up." Elsewhere in the song, Harlow flexes his newfound success. "I sold them basements out, let's do arenas, crushin'," he rapped.
Dua Lipa supposes Jack Harlow's song is okay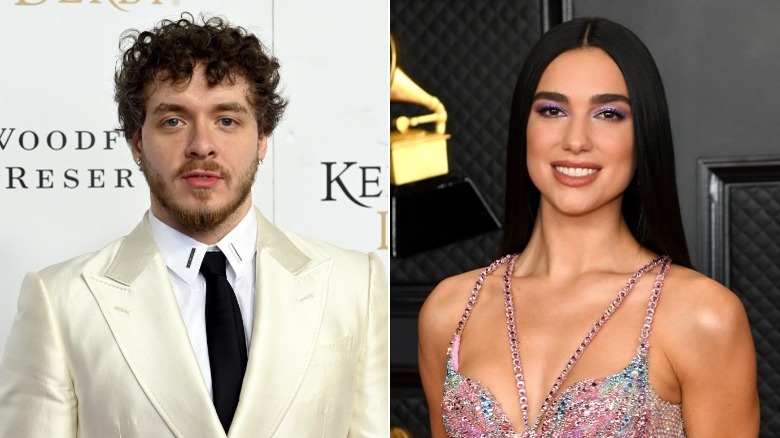 Stephen J. Cohen & Kevin Mazur/Getty
Jack Harlow probably didn't want to start a whole Kanye West-Taylor Swift-esque drama, so he made sure to contact Dua Lipa about his song way before he dropped the album. In an interview with "The Breakfast Club," Harlow said that he didn't want the "New Rules" singer to feel shocked upon the release of the song, so he called her and asked for permission.
"I didn't want her to be blindsided by that or feel like creeped out or anything," he said. Harlow apparently played her the song, but her reaction was pretty vague. "She was like, 'Oh, I mean it's not my song. I suppose it's okay.' She was just kinda thrown off and she just kinda let it go," he explained. Harlow also made it clear that he wouldn't have released the song without Lipa giving him the green light.
And while Lipa's reaction wasn't exactly what he was initially hoping for, he was confident that she'd like it once she give it a few more listens. "I admire her... We'll see how the record does. I think when the song comes out, she'll grow to appreciate it even more." Host Charlamagne Tha God joked, "Not if it flops. If it flops, you don't stand a chance with her, buddy." And well, with millions of streams and counting, it's pretty clear that the song didn't flop.