Why Didn't Addison Rae Go To Kourtney Kardashian's Wedding?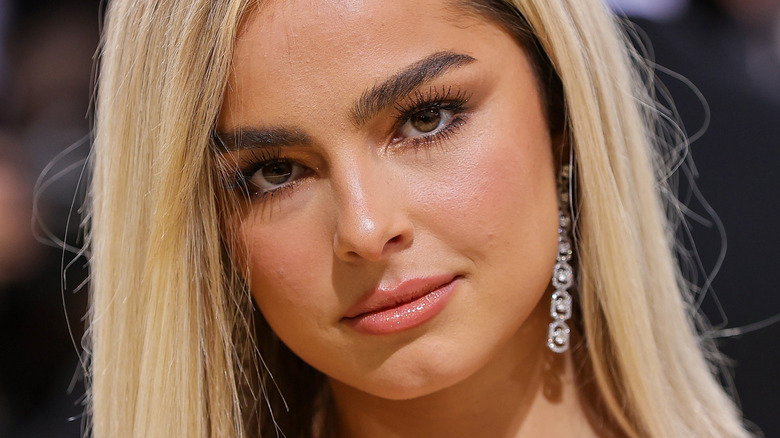 Theo Wargo/Getty Images
It seemed like everyone who is anyone in the Kardashian family's inner circle was at Kourtney Kardashian and Travis Barker's wedding in Italy. But a lot of eagle-eyed fans couldn't help but notice that there was one Kardashian friend who either missed her flight to Italy or was otherwise held back from attending the reality television wedding of the year: Addison Rae. 
Back in 2020, it seemed like Rae was slowly but surely turning into another Kardashian family member because a week didn't go by that she wasn't with Kardashian. From dancing in TikTok videos to swimming in their pajamas, Kardashian and Rae's friendship was everywhere. In 2021, Rae even admitted that she was "obsessed" with Kravis. In an interview with Rollercoaster magazine (via the Daily Mail), she said, "I love Kourtney and I love Travis, they're both amazing people and I wish them the best, they're so cute."
And while Rae has every reason to be happy that her friend has found her Prince Charming, she wasn't there to witness their wedding ceremony in person or better yet, share behind-the-scenes pics and clips for her social media followers. Of course, this has prompted a lot of fans to wonder why Kardashian's new bestie wasn't celebrating with the rest of the family.
Addison Rae was too busy working
Apparently, Addison Rae couldn't get her approved time off in order to attend Kourtney Kardashian and Travis Barker's star-studded wedding in Italy. The TikTok personality posted a photo of herself on her Instagram Story attending a promotional event at the Westfield Century City mall over the weekend, per Cosmopolitan. Rae seemed to put her work obligations first, as she is currently busy promoting her new line, Item Beauty.
Now, whether or not Rae was actually on the guest list, no one knows. However, it seemed like Rae wasn't the only Kardashian family friend who was forced to skip out on the wedding festivities in Italy. According to Us Weekly, Kim Kardashian's beau Pete Davidson had to stay behind for the "Saturday Night Live" finale on May 21. The outlet reported that Kim's estranged husband Kanye "Ye" West, meanwhile, was spotted at a fashion show in New York City, and Kylie Jenner's partner Travis Scott showed he was working on his music at a recording studio on Instagram. 
But seeing how the Kardashians love throwing a good party, there's a very good chance that they might celebrate Kourtney and Barker's love again stateside. And when they do, here's hoping there will be more RSVP's from more famous faces.