What Addison Rae Really Thinks About Kourtney Kardashian Dating Travis Barker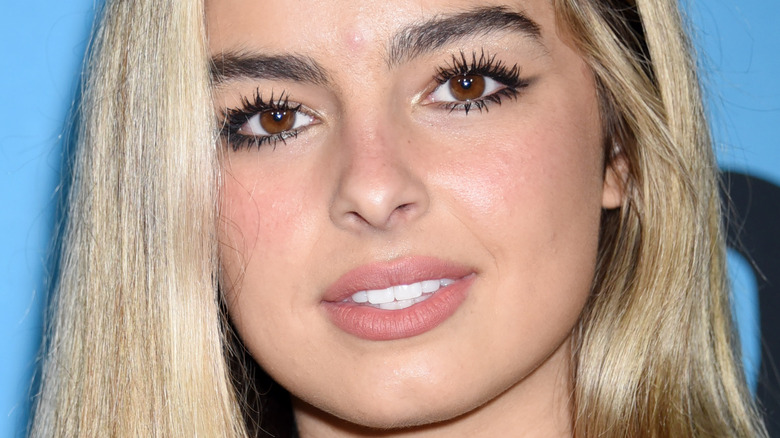 Shutterstock
Addison Rae is opening up about Kourtney Kardashian and Travis Barker's very public romance. As fans will know, Rae is notoriously close to Kourtney, and the two's friendship has raised a few eyebrows since they started sharing insights into their quality time together on social media.
Their age gap (there's 21 years between them) had some fans talking, and there were even rumors at one point that the two could have been more than friends — which even Kourtney's sisters started to believe. "Honestly, at the beginning, we were like, 'Wait are they hooking up?' If it was, like, that kind of relationship," Kim Kardashian told Rae during an episode of "Keeping Up with the Kardashians" in April (per Glamour). Rae was quick to shut down the speculation though, clarifying, "No, we're not but it's just very weird that that's what the impression was."
Kourtney also explained to Khloé Kardashian during the same episode of the E! reality series that her and Rae's "energies align," noting, "I feel like I have a young heart and an old soul." Kourtney later went on to call the TikTok star her "favourite person in the world" (via Cosmopolitan).
So, it's no surprise then that Kardashian fans are curious to know what Rae really makes of Kourtney's very high-profile relationship with the Blink-182 drummer. Read on to find out her true thoughts.
Addison Rae is 'obsessed' with Kourtney Kardashian and Travis Barker
Addison Rae was asked about Kourtney Kardashian's PDA-filled relationship with Travis Barker for the Spring/Summer 2021 issue of "Rollacoaster" magazine. Apparently, Rae — who's no stranger to some major PDA herself — is "obsessed" with the two (so much she said it twice) as she admitted (via Daily Mail), "I love Kourtney and I love Travis, they're both amazing people and I wish them the best, they're so cute." The social media star also gushed about her friendship with the mom of three, noting that Kim Kardashian's older sister has "included [her] in so much and has given [her] great support in navigating through some of the new experiences [she's] having."
Kourtney and Barker certainly haven't been shy about their romance and have showed off their love for one another multiple times across social media. Per People, after being friends for several years, the two seemed to make their relationship romantic around November 2020 time. Things became public when fans noticed they began posting Instagram updates from the same location, and an insider claimed that Barker had "liked her for a while."
Since then, the two have kept fans very much updated with their romance, with Kourtney even sharing a revealing photo to Instagram of herself being held up by Barker while straddling him in a nude bikini. "Just Like Heaven," she captioned the April upload.
Seems like this romance is A-OK with Rae!