Jason Momoa Speaks Out Amid Concerns About His Health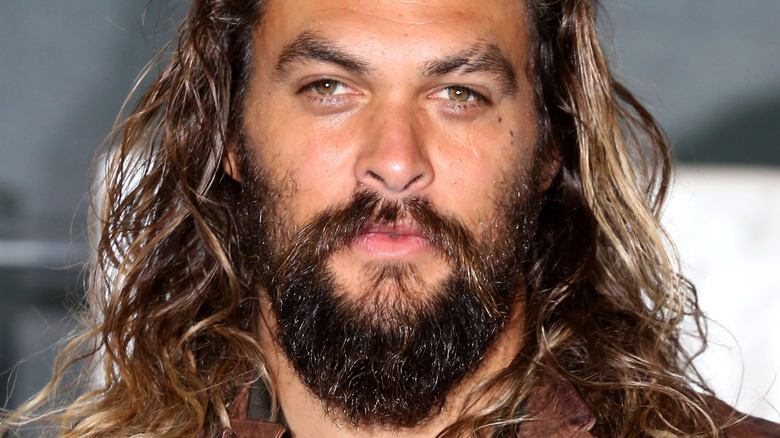 Cubankite/Shutterstock
Jason Momoa has had a very busy year in the headlines. Momoa and Lisa Bonet split after nearly 17 years together in January. The couple was speculated to have gotten back together, but Momoa broke everyone's hearts all over again after squashing those rumors. 
And while there have been reports that say he's moved on with Eiza Gonzalez, Momoa's name has also been thrown in the headlines for Johnny Depp's defamation case against his ex-wife Amber Heard. That's because Momoa reportedly pushed for Heard's role to remain in the "Aquaman 2" sequel despite some pushback from the film's upper powers. If that weren't enough, Warner Bros. executive Walter Hamada suggested that there wasn't enough spark between Heard and Momoa for Heard's character to stay in the film. According to Deadline, he said, "You know it when you see it, and the chemistry wasn't there."
And because Momoa can't seem to catch a break from all of the attention he's been getting lately — for better or for worse — it seems like fans have yet another reason to wonder what's going on with the actor. This time around though, it's about his health.
Jason Momoa is feeling 'thankful'
Jason Momoa is keeping a positive attitude after sparking fan concern online. Taking to Instagram on May 22, Momoa's picture shows him getting an MRI on his head. Without revealing too many details, Momoa captioned his shirtless pic, "You got to break some eggs to make an omelette. aloha j. thankful for my ohana and friends." A source told People that the scan was done as a "precaution." That word, however, doesn't seem to be in Momoa's vocabulary when filming.
In October, when discussing his injuries from filming "Aquaman 2," he told Ellen DeGeneres, "I'm getting old ... I messed up my eyes. I just got something in it that kinda cut it up, and then I've got to get surgery, I have a hernia, I've got ribs out. I'm just getting beat up," Momoa also echoed similar sentiments about his age back in March. Speaking to Extra at the time, Momoa revealed that he underwent a major operation just one day before hitting the red carpet for the 2022 Oscars. "I had a hernia surgery yesterday. Throwing bodies around. I'm getting old, bro."
But regardless of how Momoa feels about his age, if there's one thing that his fans are certain of, it's that he's unstoppable — both in his DC Comics films and in real life.