Jon Hamm Recalls The Anxiety Leading Up To His Red Carpet Meetup With William And Kate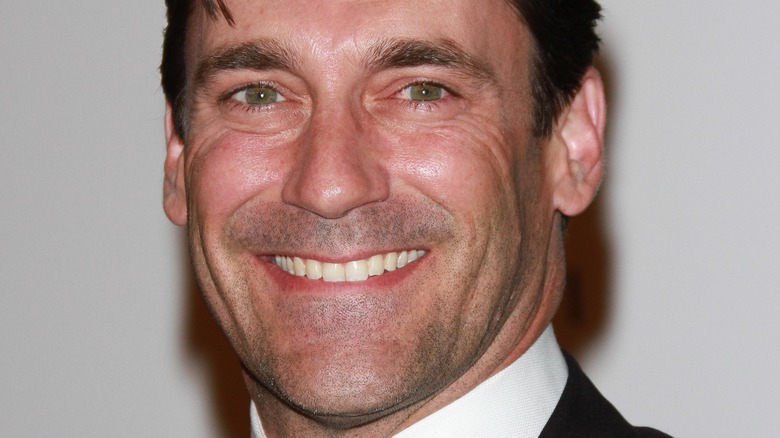 s_bukley/Shutterstock
When it comes to red carpets, A-listers are well aware of what to do, where to pose, and how to behave. However, if there's one thing with the potential to throw even a seasoned pro into a tailspin, it's sharing that red carpet with a royal.
Over the years, Britain's royal family has made appearances at many a red carpet event. Prince William and Kate Middleton may have disappointed BAFTAs organizers by not appearing in-person at this year's awards, but they are a regular fixture at the ceremony. Plus, who can forget the duchess' stunning red carpet look at the James Bond "No Time To Die" premiere in 2021? As Town & Country pointed out, several royals have also been known to walk the red carpet of the Met Gala in the past.
The most recent royal red carpet appearance saw The Duke and Duchess of Cambridge at the London premiere of "Top Gun: Maverick." Taking to their official Twitter account, the couple wrote that it was "wonderful to join @TomCruise, cast, crew and fans" at the event. The Cambridges had already seen the film prior to the official premiere, as Tom Cruise surprised William and Kate with the gift of an advanced screening. In light of that, their second viewing only added to the excitement surrounding the film. However, it also added a touch of anxiety to its stars. At least, it did for Jon Hamm.
Jon Hamm was terrified of saying this to the royals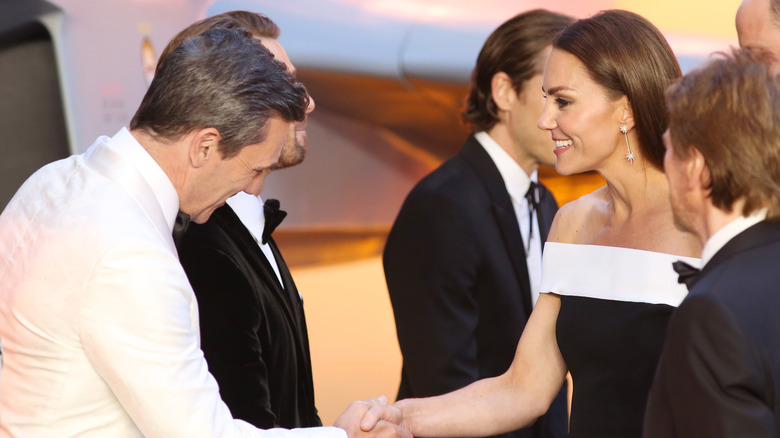 Lia Toby/Getty Images
While many A-listers have been deemed Hollywood royalty in the past, there are strict rules even celebrities must follow when they meet actual royals. That's something "Top Gun: Maverick" star, Jon Hamm was aware of, and he's the first to admit it gave him some jitters.
Speaking on "Live with Kelly and Ryan," Hamm described the rules and protocols as "a little bit anxiety-producing." From not extending a hand to Kate Middleton until she'd done so first, to bowing — "but you can't bow too low" — there was a ton to keep in mind ahead of meeting the duke and duchess. Asked by Ryan Seacrest if he felt "panicked leading up" to everything, Hamm didn't need to think twice. "For sure!" he exclaimed. "You're like, 'Oh, God, don't say your royal harmess, harmless ... hamster." Hamm also reminisced about the experience on "The Tonight Show with Jimmy Fallon." Speaking to Fallon, the actor joked that his "Top Gun: Maverick" castmate Miles Teller had been blown away by just how blue Prince William's eyes were. On that, Hamm joked that he hadn't even dared to look. "I didn't think we were allowed to look him in the eye!" 
Jitters aside, based on the duke and duchess' social media posts, it seems the premiere went off without a hitch. Jon Hamm, it's time to breathe a sigh of relief.