The Truth About George Clooney And Russell Crowe's Feud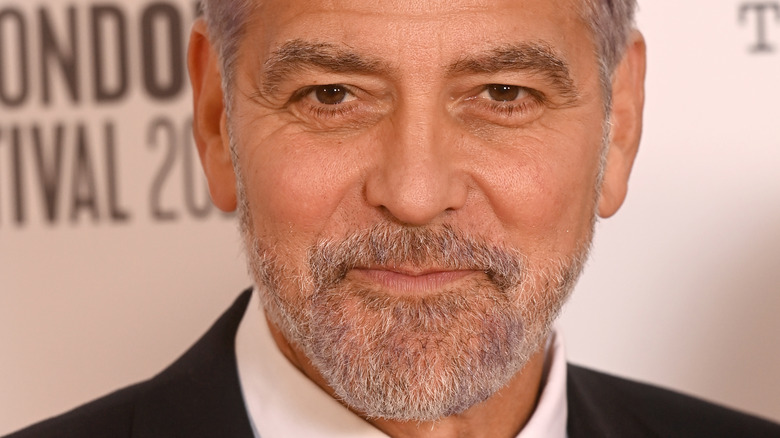 Dave J Hogan/Getty Images
One could say that George Clooney's known for his friendships as much as he's known for his roles in blockbuster Hollywood films and, of course, his personal life, too. He has a close personal and working relationship with his business partner Rande Gerber and Gerber's wife, supermodel Cindy Crawford. Matt Damon calls him "Georgie," per Interview, while Clooney and Julia Roberts have a friendship that dates back several decades, according to Entertainment Tonight. But it's Clooney's friendship with Brad Pitt that has probably gotten the most attention, thanks to all of the practical jokes they've played on one another over the years. Back in 2012, Clooney hinted that pranking Pitt is probably just as important to him as making movies. During an appearance on "Inside the Actor's Studio," Clooney said (via HuffPost), "I'm working on [a prank] right now for Brad Pitt. It might end his career. I've been working on it for two years. I'm not going to tell you what it is, but just know, I got it."
And, while Clooney's friendship with Pitt is still intact (luckily), it's his supposed feud with Russell Crowe that has raised a lot of eyebrows over the years.
Russell Crowe slammed George Clooney for being a sellout
DFree & Tinseltown/Shutterstock & undefined
There aren't a lot of people that would publicly say they can't stand George Clooney, but there are some who clearly aren't on his best friends list. Even though Russell Crowe is someone who has plenty of blockbusters, accolades, and acclaim to his name, just like the "Ocean's 11" star, there are some aspects about their Hollywood jobs that they simply don't see eye-to-eye about. In fact, Crowe suggested in his interview with The Guardian back in 2005 that actors like Clooney and Brad Pitt are doing themselves a disservice by moonlighting as product ambassadors with their multi-million dollar advertisement deals. Crowe told the publication at the time, "I don't do ads for suits in Spain like George Clooney or cigarettes in Japan like Harrison [Ford]. I mean, Robert De Niro advertising American Express. Gee whiz, it's not the first time he's disappointed me."
And, while someone like Joey Tribbiani would beg to differ — remember his 'ichiban lipstick for men' commercial? — Crowe apparently tried to backtrack on his comments, but it didn't come out in the way that he had hoped.
Russell Crowe's commercial past has been unearthed, too
Denis Makarenko/Shutterstock
In an interview with Esquire, George Clooney admitted that Russell Crowe kind of, sort of, and maybe almost tried to apologize for his comments by sending him a book of poems, of all things. Clooney said, "He picked a fight with me. He started it for no reason at all," adding, "And I put out a statement saying, 'He's probably right. And I'm glad he told us, 'cause Bob and Harrison and I were also thinking about starting a band, which would also fall under the heading of bad use of celebrity.'" Clooney was referencing Crowe's Australian rock band 30 Odd Foot of Grunts, which he was a part of from 1992 to 2005 — and which he didn't seem to be much of a fan of, either.
Then again, Crowe did star in television commercials back in the day, such as one for Coca-Cola in 1987, and another for Australia's State Bank, per the Daily Mail. Crowe might no longer be doing commercials or belting out rock songs like he used to, but few doubt that he wouldn't grab a freshly brewed cup of Nespresso if he were offered one. Coffee always tastes great for the right price, right?