Mandy Moore Opens Up About Engagement To Taylor Goldsmith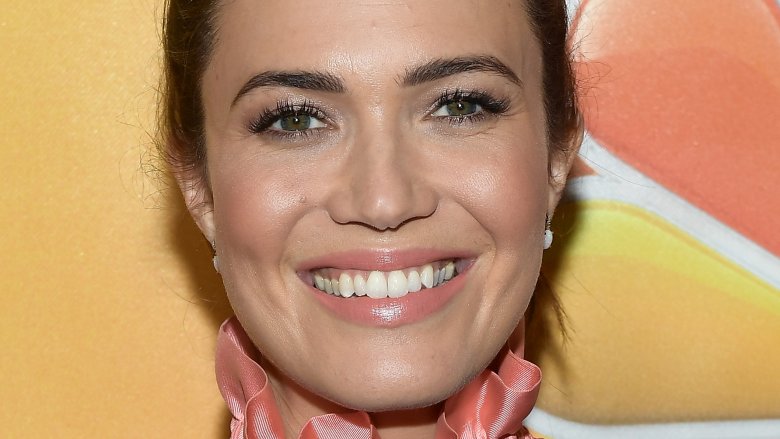 Getty Images
Mandy Moore isn't making a big deal out of her recent engagement news.
"This is my second go-round," the This Is Us star told Us Weekly on Tuesday, Sept. 26, 2017, at her hit show's second season premiere in Hollywood. "I feel like I eloped before and I think I'll probably keep it very small again. I've never been the girl that wanted to wear a white dress. No judgement, but it's not for me. I think it'll be just as small with family and friends. Quiet, no bridal magazines for me."
But being engaged "doesn't feel any different," the 33-year-old, who recently announced her return to music, continued. "People are asking me more about my relationship than before. But it feels the same, which I guess is how it should be." 
Over the summer, the Tangled actress shared a cute snapshot of herself with her husband-to-be, musician Taylor Goldsmith, on Instagram. "The best 2 years," she wrote in the sweet caption. "Never not smiling with you, T."
As Nicki Swift previously reported, the "Candy" singer sparked engagement rumors earlier this month when she was spotted wearing a diamond ring. Her TV costars, Chris Sullivan and Jon Huertas, later confirmed the happy news on Entertainment Tonight on Wednesday, Sept. 13.
"She just sent out an alert over our family text chain, so I can't wait to hear about it," Sullivan revealed. "She just sent a photo and just wanted us all to know that this just happened." And Huertas couldn't be happier for his on-screen wife. "I think it's amazing. Good for her. I'm happy for her," he said, "Taylor is an amazing guy. I love him so much. I love Mandy so much. I'm really happy that they're going to be joining the club!" 
Moore was previously married to singer Ryan Adams, 41. After seven years together, they finalized their divorce in June 2016.
While we wait for more wedding news from the former pop princess, catch up on what Mandy Moore's been up to lately.