Who Are Colton Underwood's Parents?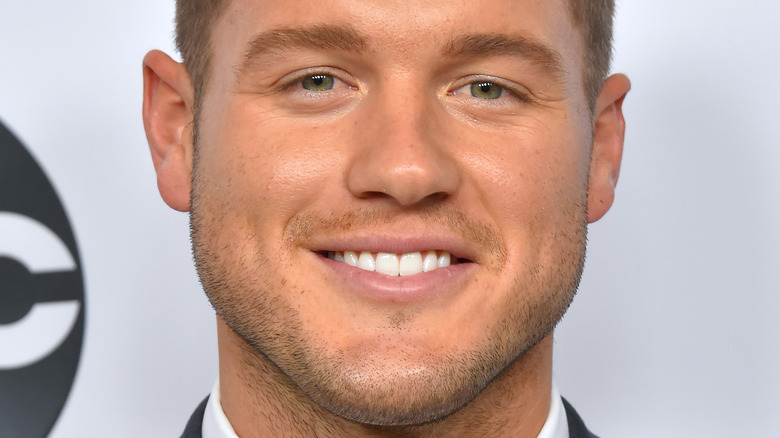 DFree/Shutterstock
Since joining "The Bachelor" franchise back in 2018, Colton Underwood's life in the public eye has been nothing short of a rollercoaster ride. Becoming a household name. A split from a co-star so acrimonious it resulted in a restraining order filed against him by Cassie Randolph. Coming out as a gay in a Good Morning America interview. Landing his own Netflix documentary about the coming out experience. One thing is clear: to say Underwood has had a ton going on over the past few years would be the understatement of the century!
However, through all the ups and downs, one thing has never wavered in Underwood's life. That is, the love and support of his family and his parents, Donna Burkard and Scott Underwood.
In fact, even though Underwood told Us Weekly his parents were "a little skeptical" ahead of his starring role on "The Bachelor" (his third in the franchise, after "The Bachelorette" and "Bachelor in Paradise"), they've been incredibly supportive of him over the years. Underwood, in turn, has gushed over their relationship on social media on many occasions. Scott has taken to Instagram to thank his mom not only for her love as a mother, but their "friendship." Likewise, he's posted about his gratitude to his father for "always loving me & having my back." So, just who are Colton Underwood's parents?
Colton's parents are divorced, but there's no animosity
As longtime "Bachelor Nation" fans will remember, viewers first met Colton Underwood's parents, Donna Burkard and Scott Underwood in a Season 14 episode of "The Bachelorette." The episode saw Becca Kufrin meet Underwood's family, and she was introduced to not just one, but two couples. Reason being, Underwood's parents are divorced and both have since remarried. His mother, a Colorado realtor, has gone on to wed Daniel Burkard. Meanwhile, Mr. Underwood, an insurance agent, has found love with his new wife, Leigh.
While the former couple is divorced, that's not to say there's any hostility between the two. Quite the contrary, if their appearance alongside each other on the show wasn't enough of an indication, and Underwood has often spoken about their amicable relationship. In an interview with Us Weekly, the reality star gushed over his parents' dynamic. "It's so cool to see how they've dealt with that adversity and how they've moved on, but they still remain friends." Underwood also revealed that it did him a world of good to see his parents "both remarried," and "so happy and in love, in a new part of their life."
According to Inquisitr, Underwood's parents first met at Illinois State University, where both were college athletes, in football and volleyball, respectively. Could shared school colors and a sporting background have paved the way for their continued friendship? We're not sure, but we are happy for their family!
The Underwoods are committed to family
Shared school aside, there can be no doubt that the biggest factor contributing to Colton Underwood's parents' amicability is their shared love and support for their children.
Underwood's opening up about his sexuality, and his parents' response to that, is just the most recent example of that supportiveness. In an emotional clip from "Coming Out Colton," his father reminded him that he was loved, no matter what. "Our love is never going to change for you," he urged. "How we feel about you is never going to change." The Underwood patriarch has since gushed about his son using his platform for good in an interview with Variety, sharing, "If it just helps a few young men and women come out and be proud of themselves and understand that all parents aren't going to be upset, it can save lives." Donna Burkard had a similar reaction in an interview with The New York Times. "We decided that if we could help a single family, and hopefully multiple families, by showing the love and support that I believe I displayed, other gay men and women in hiding could see a flicker of hope that their families are going to respond with open arms."
As an insurance agent and realtor, respectively, Colton Underwood's mom and dad lead relatively low-profile lives. However, thanks to the love they've shown their son, there's nothing low-key about the impact they'll make, or the light they're bringing into the world.