One Of Bob Saget's Final Interviews Reveals How Tragedy Shaped His Life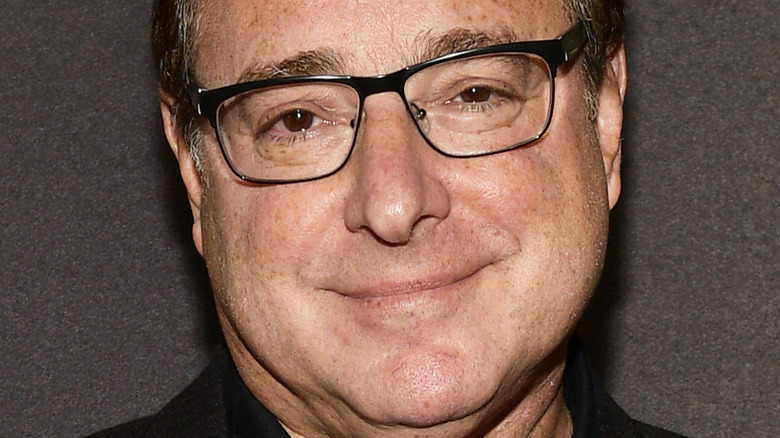 Matt Winkelmeyer/Getty Images
When beloved "Full House" star Bob Saget tragically died on January 9, 2022, it sent shockwaves across Hollywood. He had just performed in Jacksonville, Florida earlier that night as part of his stand-up comedy tour, TMZ reported at the time, and was seemingly in good health. Celebs and fellow actors who had the privilege of working with the 65-year-old over the years flooded social media with tributes to the late "America's Funniest Home Videos" host. 
"Full House" co-stars John Stamos, Candace Cameron Bure, Dave Coulier, and Mary Kate and Ashley Olsen all praised Saget and lamented his loss. "I am broken. I am gutted," Stamos tweeted upon learning the news. "Bob was one of the best humans beings I've ever known in my life. I loved him so much," Cameron Bure tweeted kind words, while Coulier echoed their sentiments with "My heart is broken." The Olsen twins released a statement that read, in part (via People), "We are deeply saddened that he is no longer with us, but know that he will continue to be by our side to guide us as gracefully as he always has."
By February, his cause of death was revealed to be trauma to the head, possibly by a fall, which he apparently shrugged off and went to bed, not realizing the severity of his injuries. Now, an interview with Saget, conducted eight months before his death, reveals that death was a major part of his life, and made him the man he became.
Bob Saget gave an eerie interview where he says death made him grow
In May 2021, Bob Saget gave an interview with Radio Rahim for the "'Til This Day" podcast, which is just now being released in three parts. In the first part, the "Full House" funnyman reveals that were it not for many instances of death in his life, he wouldn't have grown into the man he became. "I guess ... watching people pass away in the past few years, mortality, all that stuff has fortunately changed me," he said. "My kids tell me, 'Dad, you're different. It's so nice to watch you grow.'"
"I was nine, and we had so many deaths growing up," he continued and then shared that his father "buried four brothers and a sister in his life. He buried all his siblings." He also shared a sweet anecdote of helping his father write the eulogy for his uncle Joe when he passed at 78.
"[The deaths] started when I was seven and then every two years somebody died," he told Radio Rahim. "[I had] a cousin die — she died at 23 of cancer after giving birth to her child — and then a lot of cousins went through a lot of hardship, so I was like nine, 10, 11, 12, 14. It was a lot. And then I lost both my sisters."
This comes on the heels of the release of his last TV appearance, where he told Nikki Glaser on her show "Welcome Home Nikki Glaser" how he found love again with wife Kelly Rizzo.