Priyanka Chopra And Nick Jonas Have A Bigger Age Gap Than You May Think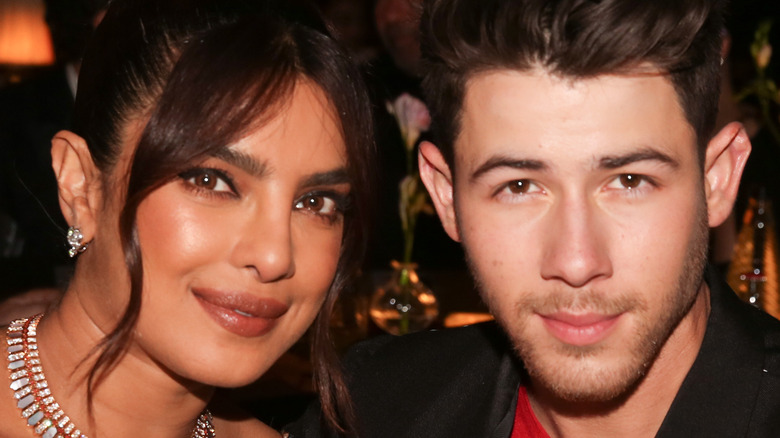 Lia Toby/bfc/Getty Images
Age is just a number when it comes to many relationships, but for Hollywood couples, huge age differences are often stigmatized — especially if the older party is a woman.
Barely anyone bats an eyelash whenever someone like Leonardo DiCaprio and Scott Disick date women half their age, but if a female celebrity is older than their partner, they tend to get judged. Take Heidi Klum and Tom Kaulitz, for instance. Klum was 48 years old when he got introduced to then-32-year-old Kaulitz, but according to the model, she finds no fault in being significantly older than her partner. "You have to just live a happy life without worrying too much about what people think because worrying is only going to give you more wrinkles," she told InStyle in 2018 (via E! News).
The same goes for Priyanka Chopra and Nick Jonas. The two are happily married and just welcomed their first child, but despite their huge age difference, they're fostering a happy relationship. But if you're curious as to how much older Chopra is than Jonas, the answer may surprise you.
Priyanka Chopra is older than Nick Jonas by a decade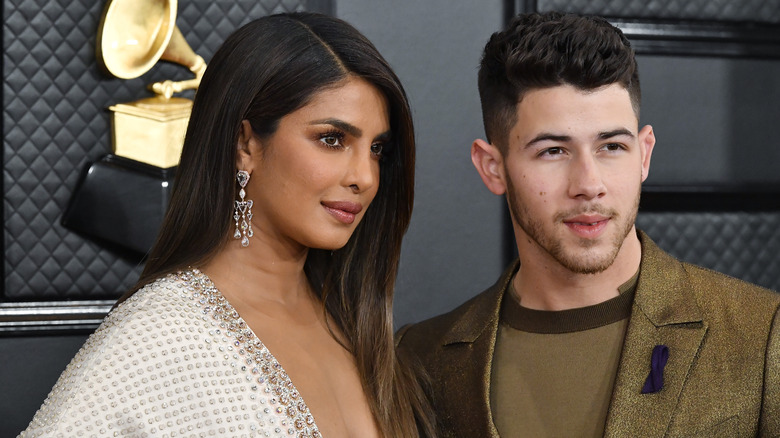 Frazer Harrison/Getty Images
Priyanka Chopra was born on July 18, 1982, while Nick Jonas was born on September 16, 1992, making the "Quantico" star ten years older than her husband. Some people may judge them for the significant gap, but the two have learned to live with the criticisms and take them in stride. They even joke about it sometimes.
"Nick and I have a 10-year age gap, we do," she said on Netflix's "Jonas Brothers Family Roast," per People. "There are many '90s pop culture references he doesn't understand, and I have to explain them to him. He teaches me how to use TikTok, for example, and I teach him what a successful acting career looks like." Ha! She added, "Nick has changed my life. I wouldn't want to babysit — I mean, be married to — anyone else, ever."
Clearly, if the couple is comfortable enough to make jokes about their apparent age difference, it shouldn't be a problem for anyone else!
Nick Jonas loves that Priyanka Chopra is older than him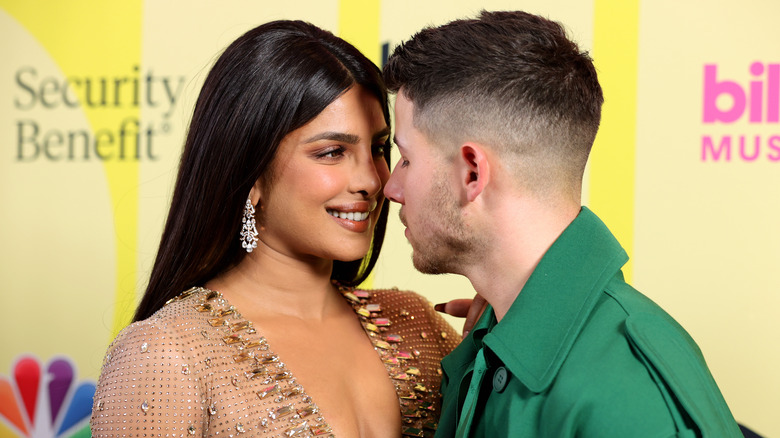 Rich Fury/Getty Images
Nick Jonas thinks it's an advantage that his wife Priyanka Chopra has a few years on him. The fact that she's older makes her even more appealing to him, as sources say that he prefers his partners to on the more "mature" side.
"The age difference is not a big deal to them whatsoever," a source close dished to People while they were courting in 2018. "Nick loves dating older women, and if anything it makes Priyanka even more attractive to him." He also adores her personality so much that he overlooks the age difference. "He obviously thinks she's beautiful, but he's also drawn to her intelligence," the source added. "She has this charisma and energy that draws you to her, and she's fit in so well with his friends and family."
In a 2021 interview with The Sunday Times, Chopra even said that the gap was never a problem in their relationship. It was not a "hurdle," she said, adding that they've also learned to embrace each other's cultural differences. "Nick took to India like a fish to water. But just like a normal couple, you have to understand each other's habits and what each other likes. So it's more of an adventure than trying to figure out hurdles. None of it was really that hard."