Nick Cannon And Ryan Reynolds' Unexpected Team Up Has Fans Talking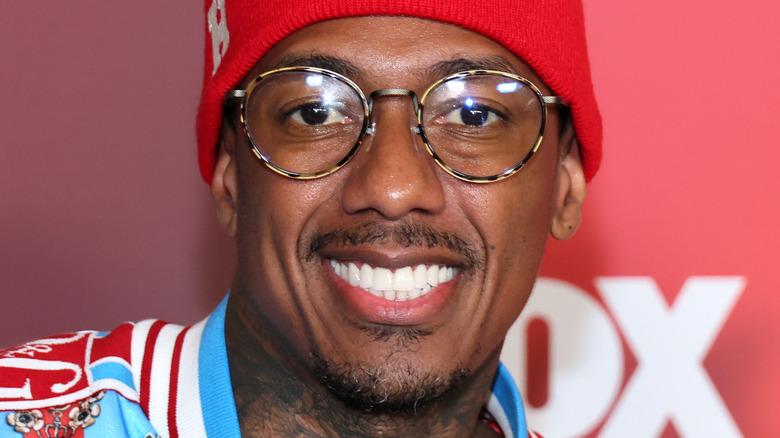 Dia Dipasupil/Getty Images
Move over, Jim Bob — there's another proliferating patriarch in town. Nick Cannon has seemingly carved a career out of being a new father, most notably, announcing the arrival of three children in the span of mere months. That brought the overall total to seven kids with four women, including twins Moroccan and Monroe with ex-wife Mariah Carey. However, that still wasn't enough for the "Drumline" star. On May 7, Cannon took to Angela Yee's "Lip Service" podcast to announce more bundles of joy, saying, "The stork is on the way. If you thought the numbers I put up in 2021 was... wait 'til 2022! Y'know, there was a lot of kids last year."
The announcement comes after Cannon pledged celibacy last October. After the death of his 5-month-old son Zen to brain cancer in December 2021, he quickly broke the rule. "I was supposed to make it to the top of the year but, obviously, I started going through some stuff. I got depressed with the loss of my son," the host and rapper told Yee. As of January he's expecting his eighth child with Bre Tiesi, and in May, Abby de la Rosa, mother of Cannon's twins Zion and Zillion, took to Instagram to announce yet another pregnancy. That brings Cannon's total to nine children with five women... basically a nine-to-five job.
While Cannon's busy schedule has made him the butt of countless jokes, a new ad with Ryan Reynolds shows he's able to laugh at himself.
Nick Cannon and Ryan Reynolds craft the 'Vasectomy'
A new commercial for Aviation American Gin shows Nick Cannon making the "Vasectomy," a cocktail first made popular by the brand's owner, Ryan Reynolds, which consists of gin, tonic, and cranberry juice. Before Cannon makes the drink, he says, "Lord knows I need one," referencing the drink's name. Reynolds appears at the end of the ad to take the drink from Cannon, saying, "I have three kids," but Cannon quickly upstages him by saying, "I have eight." The reveal prompts Reynolds to spit his drink all over the place, before bringing Cannon in for a hug.
Even as Cannon's reproductive decisions have faced much criticism, many couldn't help but laugh along with the ad. One fan noted it was already outdated. "He needs one of these badly. The commercial is already outdated with Nick's baby #9 now on the way." Another person simply couldn't hold back their laughter. "OMG! That was the best one you have done yet!!!! I laughed so hard at this!" Yet another marveled at Aviation Gin's comedic approach: "I know this is always said but my goodness this is genius marketing."
Cannon recently revealed he had a real vasectomy consultation, but as it happened before the announcement of de la Rosa's newest pregnancy, it doesn't seem he went through with it. Given his outspokenness on the topic, we'll surely find out if/when he does.