The Truth About Matthew Broderick And Jennifer Grey's Relationship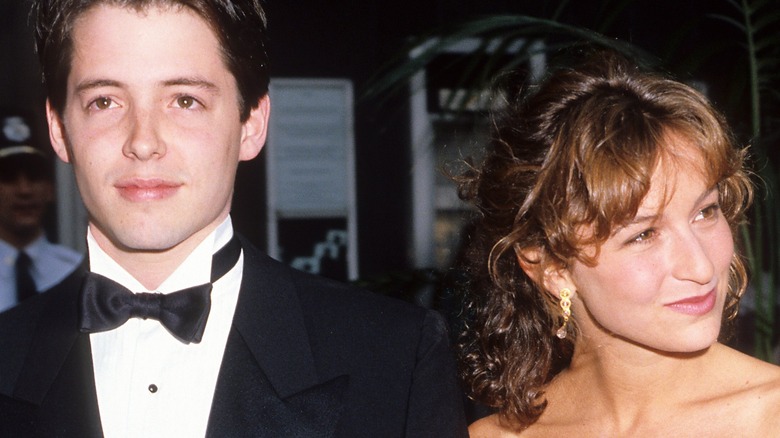 Donaldson Collection/Getty Images
Sarah Jessica Parker and Matthew Broderick have been married for over 20 years now, but back in the '80s, "The Producers" star tried to keep his then-girlfriend a secret from the media glare, as it was none other than his "Ferris Bueller's Day Off" co-star Jennifer Grey. The pair, who played acrimonious siblings in the cult classic John Hughes teen comedy, actually began their clandestine affair during the shooting of the movie, and later became engaged. 
The "Dirty Dancing" legend recalled her "clandestine set romance" and "secret rendezvous" in her memoir "Out of the Corner" (via the New York Post). "I was as surprised as anyone when our relationship morphed from on-screen sibling rivalry to off-screen illicit romance," she wrote. Mia Sara, who played Broderick's girlfriend Sloane in the movie, also said in the book that she too had a crush on the "Cable Guy" star, but he only had eyes for Grey. "I threw myself at him repeatedly, and he very wisely turned me down," she said (via New York Post). 
Broderick and Grey became engaged, all while trying to keep their relationship a secret, but behind the scenes, their relationship proved to be rather tense. 
Matthew told Jennifer there was no way she'd get the part of Baby in Dirty Dancing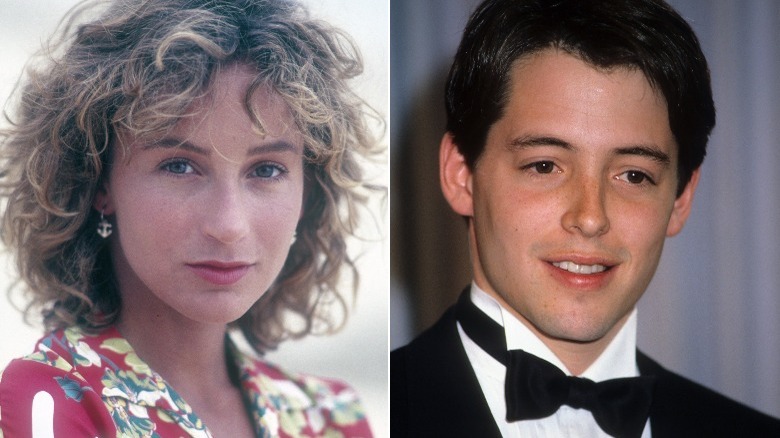 Donaldson Collection & Peter Carrette Archive/Getty
Hollywood romances might be the stuff of fairy tales, but at least for Jennifer Grey and Matthew Broderick, things weren't always as glamorous behind the scenes. When the "Ferris Bueller" co-stars began dating as they filmed their scenes in 1985, things quickly became competitive between their respective careers. Grey wrote in her memoir "Out Of The Corner" how she felt Broderick was moody and unsupportive of her career, especially when it came to the biggest highlight of Grey's career, "Dirty Dancing."
As she write in the memoir, he mumbled to himself that there was no way she would get the iconic role of Frances "Baby" Houseman alongside the late, great Patrick Swayze. "He said this odd thing, as if to reassure himself, like he wasn't aware he was using his 'out loud voice,'" she wrote (via the New York Post). "'I don't know what I'm worried about. There's no way you're gonna get it. I'm sure they're seeing everybody for this part,'" she recalled him saying. 
"He was a 24-year-old who could easily slip into the persona of a cranky old guy when it suited him," she later added. She also recalls in the book how she had to beg him to come out and spend time with her the night before her fateful audition. If these personality clashes weren't enough to sully the waters, then the tragic 1987 car crash the couple was involved in definitely put the nail in the coffin. 
Jennifer says she was engaged to Matthew and Johnny Depp in the same month
Nick Elgar & Kypros/Getty
In August 1987, Jennifer Grey and Matthew Broderick were still keeping their relationship a secret, but when they were involved in a fatal car crash in Northern Ireland, the secret was out. Speaking with ET in May, she revealed just how traumatic the crash was in her life, and also on their relationship. "The car accident in Ireland was, I would say, top three traumas of my life, maybe top one," she said. "It's very hard to describe when you have a near-death experience and are present for the death of other people." The New York Post reported that Margaret Doherty and Anna Gallagher were killed when the BMW Broderick was driving crossed the centre lane and hit their car, killing them instantly. Broderick was left injured and unconscious.
"It's just something that you just don't come back from in the same way," Grey told ET, and although her and Broderick got engaged in 1988, she said they broke it off. Later that very same month, Johnny Depp asked her to marry him. Appearing as a guest on "The Drew Barrymore Show" in May, Grey exclaimed, "It was really a sign that there was trouble afoot on my part. I mean, honestly, I just thought it was God rescuing me from one bad situation, and just lovingly plopping me into a Johnny Depp soufflé." 
Despite all her relationship turmoil, Grey went on to marry actor Clark Gregg in 2001, although in 2020 they announced their divorce after 19 years of marriage.