How Jodie Turner-Smith Proposed To Joshua Jackson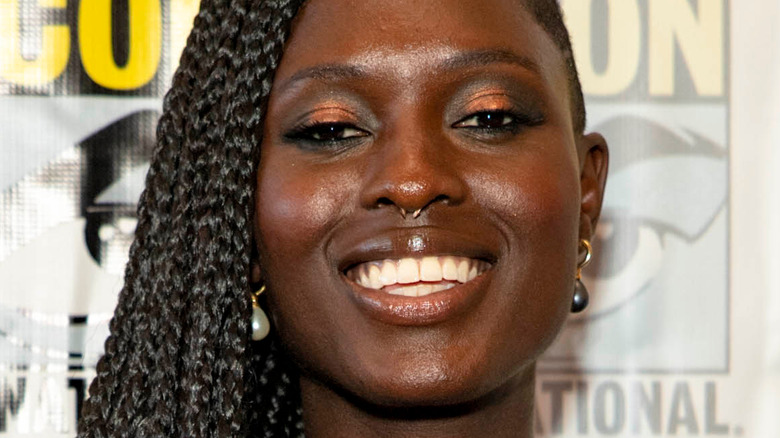 Eugene Powers/Shutterstock
Jodie Turner-Smith and Joshua Jackson are one of the top power couples in Hollywood. The pair's union began in 2018, Insider wrote in a July 2021 interview with Jackson. The two met at a party that year and "hit it off" when they first met, Jackson said. This resulted in "a three-night stand," which has evolved into a years-long relationship. "It was sealed with a kiss that night and then we didn't leave each other's sides for, well, three years now," Jackson recalled.
Turner-Smith later revealed that she first developed feelings for Jackson when she was a young teenager and watched him in one of his famous on-screen roles. "My first cinematic crush was Pacey from 'Dawson's Creek,'" Turner-Smith said to W Magazine in September 2020. In a December 2021 "Tonight Show" interview, host Jimmy Fallon displayed Turner-Smith's love for Jackson when he showed photos of her wearing a shirt adorned with her husband's "Dawson's Creek" character, as well as his jersey from another project he starred in, "The Mighty Ducks."
The "Queen & Slim" star's affection for Jackson eventually led to her presenting a major relationship question to him.
Jodie Turner-Smith and Joshua Jackson both proposed to each other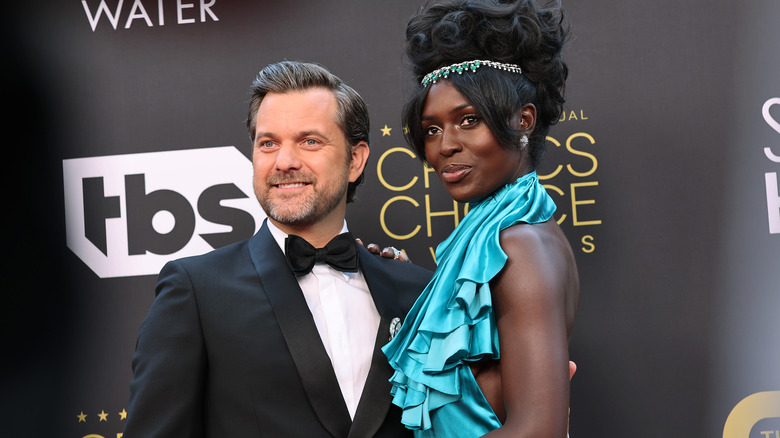 Amy Sussman/Getty Images
Jodie Turner-Smith and Joshua Jackson have a cute proposal story behind their epic Hollywood romance. When Jackson was a guest on "The Tonight Show Starring Jimmy Fallon" in July 2021, he was asked by Fallon if he knew that he and Turner-Smith would eventually get married. "I knew the moment she asked me," Jackson said in response. The "Little Fires Everywhere" actor then stated that Turner-Smith proposed to him on New Year's Eve while they were visiting Nicaragua. "It was very beautiful, incredibly romantic," Jackson said. "We're walking down the beach, and she asked me to marry her." Jackson also called marrying Turner-Smith "the best choice [he] ever made."
Jackson later clarified this statement in an August 2021 Refinery29 interview and revealed that two proposals actually took place. Before he and Turner-Smith became officially engaged, he asked Turner-Smith's dad and stepfather for permission to marry her. "[I said], 'You have to give me the opportunity to ask both of those men for your hand in marriage.' And then, 'I would like the opportunity to re-propose those to you and do it the old fashioned way down on bended knee.' So, that's actually how the story ended up," Jackson said. Following their engagement, the couple has gone on to wed and expand their family unit.
Jodie Turner-Smith and Joshua Jackson's engagement led to a bundle of joy
The unique engagement story of actors Jodie Turner-Smith and Joshua Jackson has resulted in a blissful family. People wrote in December 2019 that the pair officially tied the knot. Simultaneously, Us Weekly reported Turner-Smith was pregnant with her and Jackson's first child. By April 2020, People updated that Turner-Smith had given birth to a baby girl, with the pair's rep commenting, "Both mother and baby are happy and healthy." The child's name was confirmed to be Janie in an October 2020 interview that Turner-Smith did with Vogue.
Jackson celebrated Turner-Smith's dedication to motherhood on Instagram for Mother's Day in 2020. "On this most special of mothers days I want to thank you for the being the light that you are. For the passion with which you threw yourself into nurturing and protecting our child when she was in your womb," Jackson wrote, alongside a photo of Turner-Smith cradling their baby. In November 2021, Turner-Smith likewise took to Instagram to express her love for Jackson and Janie. The actor shared a photo of her daughter's foot next to Jackson's foot and captioned the image, "i'm most thankful for you."
Turner-Smith and Jackson have such a sweet love story with a whole new exciting chapter ahead as they take on the roles of parents to Janie!