What Really Happened Between Gisele Bündchen And Chris Evans?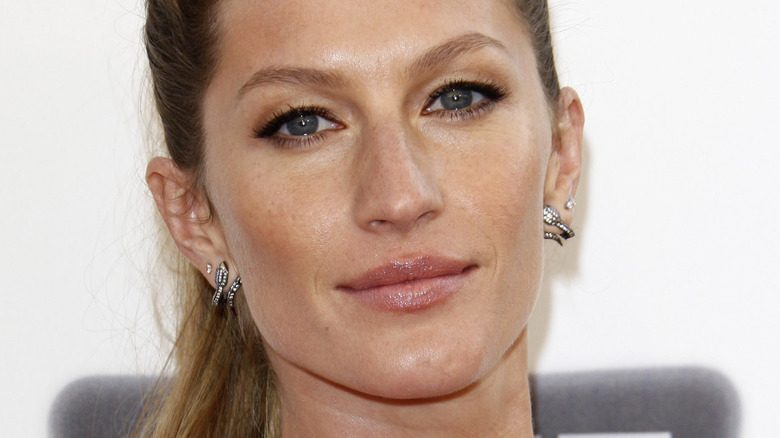 Joe Seer/Shutterstock
Gisele Bündchen seems to have it all. An amazing career, perfect marriage, and kids who think broccoli is dessert. Bündchen officially retired (not really) from modeling in 2015; per Celebrity Net Worth, her photogenic features earned her $400 million (as of this writing). Add Tom Brady's $250 million and you'll understand why Forbes once named them "The world's highest-paid celebrity couple."
Bündchen and Brady were introduced by a friend in 2006. She told Vanity Fair it was "love at first sight," but also made some eye-opening comments when she revealed to British Vogue their marriage hasn't always been a "fairy tale." "It takes work to be really in sync with someone, especially after you have kids," she said. She's also a stepmom to Brady and his ex-girlfriend, Bridget Moynahan's, child.
Bündchen was fresh out of a six-year relationship with Leonardo DiCaprio when she met her future husband. After breaking up and making up repeatedly, Bündchen decided to split for good after realizing she and DiCaprio weren't meant to be. "No longer numbing myself with smoking, drinking, and too much work, I was becoming more and more aware of things that I'd chosen not to look at," she told Porter magazine (via E!). However, Brady and DiCaprio aren't the only distinguished dudes Bündchen's dallied with. She's rumored to have once dated actor Chris Evans. So, is it true or just more fodder for tabloid gossip — what really happened between Gisele Bündchen and Chris Evans?
Gisele Bündchen and Chris Evans' magazine match-up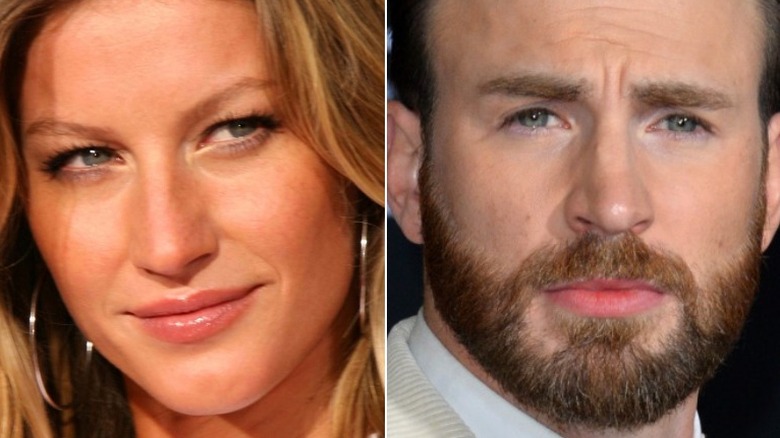 DFree/Shutterstock & George Pimentel/Getty
By all accounts, what really happened between Gisele Bündchen and Chris Evans is absolutely nothing. Despite rumors they dated for a hot minute in 2006, there's not one scrap of evidence. No photos exist of them together, no credible reports, and no confirmation from Bündchen nor Evans.
The actual closest (and only) link between the two appears to be a 2008 issue of Arena. Bündchen is the cover model in addition to having a 12-page photo shoot and interview inside the magazine, while Evans features in an 8-page fashion editorial. However, Bündchen shot down the hook-up hearsay during her accompanying interview.
"If everything that's written about me was true, I'd have about 10 kids, and I'd be married five times, one of them with some actor named Chris Evans, whose name I heard for the first time two hours ago," she told Arena (via PopSugar). If it were true, then Bündchen would have been pretty busy during her time between DiCaprio and Brady. And in addition to it being the peak of her modeling career, she's rumored to have also dated Josh Hartnett and pro-surfer Kelly Slater. 
Gisele Bündchen and Chris Evans are lucky in love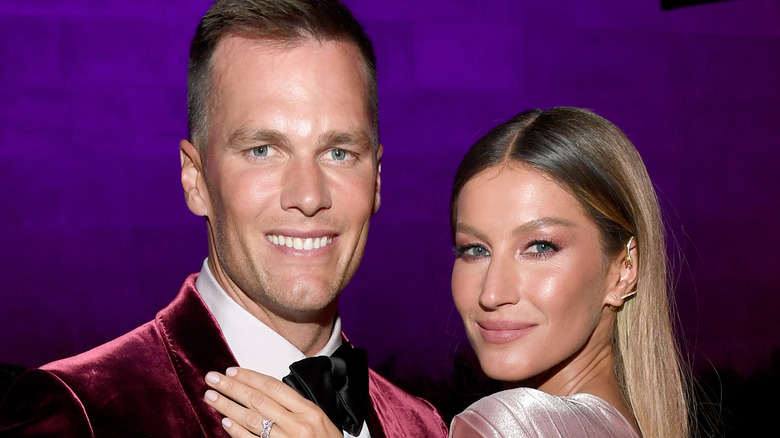 Kevin Mazur/MG19/Getty Images
Despite nothing having happened between Gisele Bündchen and Chris Evans, the two are doing just fine. Bündchen is married to her quarterback hubby, and judging by Tom Brady's sweet messages, their love is as strong as ever. In an interview with GQ, he talked about making their marriage work despite their busy and opposite careers. "You know, we find time to spend together ... But Gisele understands the job requirements," Brady shared.
However, he admitted the conversation can be somewhat lacking, depending on his playing. "After losses, I don't think much of anything other than the game," he admitted. Brady said he also tries to spend time in Bündchen's modeling world, despite it really not being his thing. "Fashion people, they always kind of shake your hand and look you up and down," he said. "I'm a fairly reserved person, and when I'm with her, most people like to talk about themselves."
Meanwhile, it seems Evans is rumored to be dating a new partner weekly, and it's a mammoth task just to try and keep up. If reports are to be believed, he's worked his way through at least half of Hollywood's hottest. Evans has reportedly dated Jessica Biel, Kate Bosworth, Emmy Rossum, Minka Kelly, Amy Smart, and Sandra Bullock, among many others. He's most recently been linked to the Portuguese actor Alba Baptista — basically because they began following each other on Instagram.