How Did Kristen Bell And Dax Shepard Meet?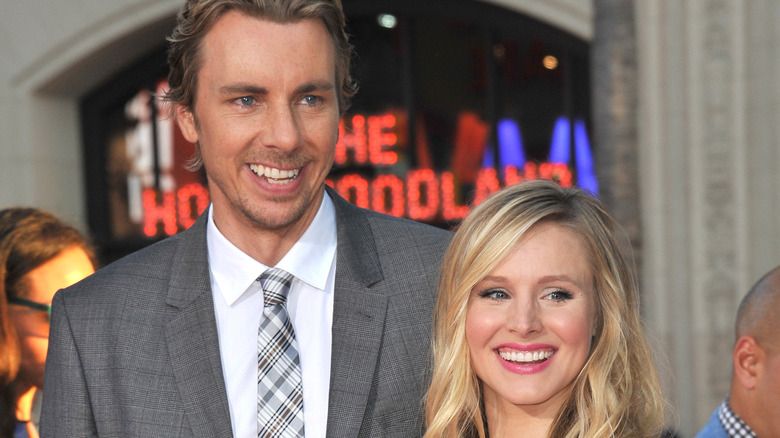 Jaguar PS/Shutterstock
Dax Shepard and Kristen Bell are so fun! The celebrity couple is cool, but on top of it all, they keep it real. In February, Bell shared her hilariously gross anecdote about family life, and Shepard spilled the unique way he gets their daughter to sleep in December. The host of the podcast "Armchair Expert" and "The Good Place" star have been together since 2007, but their relationship is still #goals.
In April, Bell gushed to Page Six about her husband, "Oh, he's the best. He's the best there ever was, 100 percent." The 41-year-old actor told Page Six Shepard is her "number one." Shepard is confident about their marriage and isn't afraid to let his wife have a crush, either.
He posted a photo of his wife with "Yellowstone" star Luke Grimes on Instagram, writing: "Well, that's a wrap on my marriage! I wish you both well, and I don't blame either of you. Fair play, @lukegrimes." Not to be outdone, Bell posted the photo with the "Yellowstone" star on her Instagram and quipped: "Sister wives? Nah, let's go with Brother husbands. @lukegrimes welcome to the family and @daxshepard, as usual, thank u for being so supportive." With such a strong marriage, it makes one wonder about their origin story. So how exactly did the cool celebrity duo meet?
Kristen Bell and Dax Shepard met in 2007 but no sparks flew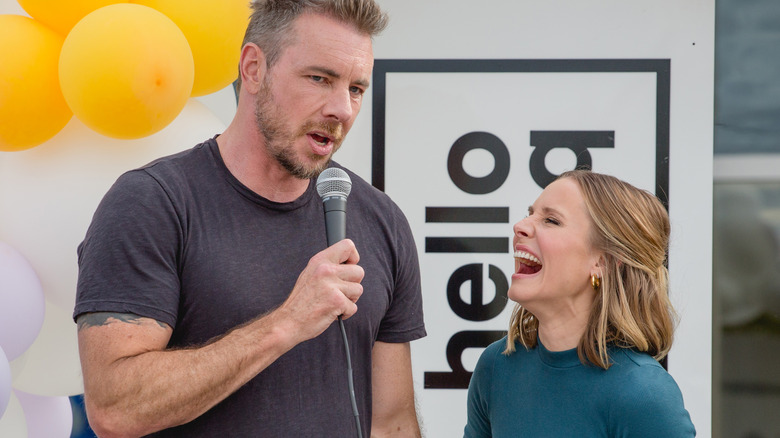 Rick Kern/Getty Images
Kristen Bell and Dax Shepard first met in 2007 at a friend's dinner party. In a 2019 interview, however, Bell revealed on "Today" that there were "no sparks whatsoever" when they met! Despite the lack of an instant spark, the couple met at a hockey game week later, then started dating shortly after. 
Still, Shepard thought it might be too good to be true. The "Parenthood" actor joked with Good Housekeeping, "When I met her and her friends, I was suspicious of their unbridled happiness. I thought, 'Something stinks here; they're in a cult.' But slowly I began to see her positive way of looking at the world. She gives people the benefit of the doubt." Bell added, "We're the Paula Abdul video 'Opposites Attract' personified."
Shepard proposed to Bell in 2009 after his friend Jason Bateman gave him an expletive-laden nudge (via Yahoo!). The couple welcomed daughter Lincoln in early 2013 and officially tied the knot on October 17, 2013. "We got married in a tiny room in the Beverly Hills courthouse, and it was still one of the best days of my life," Bell gushed to "CBS Sunday Morning" (via CNN). Interestingly enough, Shepard spilled on "Jimmy Kimmel Live!" that the whole wedding cost $142 ... including gas (via Entertainment Weekly). According to Brides, the celebrity couple welcomed their second daughter Delta in 2014.
How Kristen Bell and Dax Shepard make their relationship work
After Kristen Bell and Dax Shepard's dreamy $142 wedding and two kids, how does the couple make it work? In their Good Housekeeping interview, the couple credited therapy for helping their marriage work. Shepard revealed, "We have such different backgrounds ... Until I was 32, I thought the world was just wolves, that there was no way anyone was acting with any kind of benevolence."
The "Armchair Expert" continued, "There were hurdles, things she didn't trust about me, things I didn't trust about her. He further added that he "just kept going back to 'This person has the thing I want, and I have to figure out how we can exist peacefully.'" Bell noted that therapy helped her communicate with her husband, stating, "I thought I had this life thing down pat when I met Dax. I didn't realize that I needed a much bigger toolbox to have confrontations and disagreements with people."
Even during tough times, Bell continues to fall in love with her husband. "The Good Place" actor told People that watching Shepard homeschool their daughters during lockdown made her "fall much deeper in love with him." Bell told the outlet, "We were driving each other nuts, and we were fighting so much, but we worked it out like adults ... [but] even when we're fighting, we can still laugh at each other and at ourselves." A little therapy and laughter sound like good advice for any relationship!