What's The Real Meaning Behind Drake's Calling My Name? Here's What We Know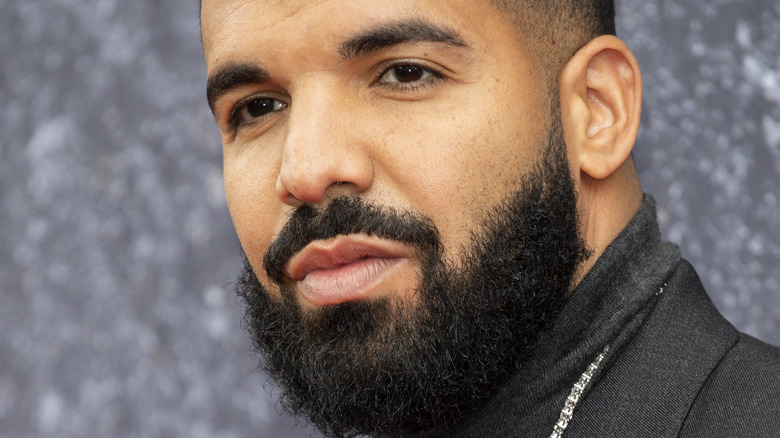 John Phillips/Getty Images
Drake is officially back with new music — and he's not holding back. The rapper is covering all sorts of topics on his June 17 release, "Honestly, Nevermind," which he surprise dropped that midnight. Drake first teased what was to come on Instagram on June 16, posting the cover art to his grid and telling his millions of followers, "7th studio album 'HONESTLY, NEVERMIND' out at midnight." The shock drop announcement was clearly a hit, raking in a whopping 3.6 million likes. Not bad!
Fans have been trying to decode all the lyrics on the album ever since. From the upbeat box-squeak sounds of "Currents," to the talk of the responsibility needed in relationships on "Liability," to a rebound romance on "Fall Back," Drake has certainly given us plenty to mull over on the surprise 14-track release.
One song that really has everyone talking, though? It has to be the NSFW beats of track six, "Calling My Name," for, well, reasons we'll very much get into. So, what's the song actually all about? And why exactly does it have everyone blushing?
Drake gets NSFW on 'Calling My Name'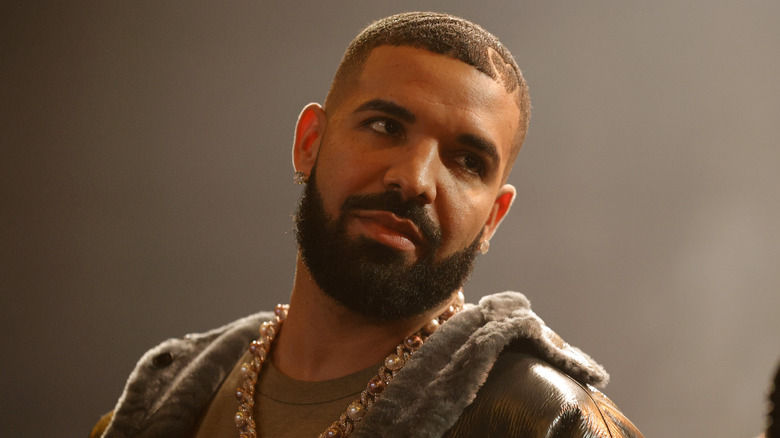 Amy Sussman/Getty Images
If you're not down with the adult content, look away now, because Drake gets, well, very candid on "Calling My Name." Drake's sultry track is all about the art of love making — and he has no problem letting someone know he's ready for some time alone. "Your p***y is calling my name/So come on, baby, let's stop playing games," he sings on the song we wouldn't recommend blasting in front of your grandparents, per Genius. But this isn't quite the straight forward time between the sheets song it may initially appear. Drake hints the person he wants to get close to is potentially an ex, and he still wants to take them into the bedroom even though he's seemingly dating someone else. "Why is it so hard giving you up?" he sings in the chorus, later adding, "Take off your clothes, relieve pressure/I need your touch when I'm with her/My heart, it beats different rhythm."
Just like "Currents," "Calling My Name" also features an uncredited sample, this time in the form of "Oye Ohene" by Ghanaian musician Obrafour, according to My Joy Online. Several fans noticed the sample and took to social media to urge Drake to credit Obrafour, including one Twitter user who encouraged him to get his lawyers involved with raked up more than 1,700 likes.
'Calling My Name' reactions went viral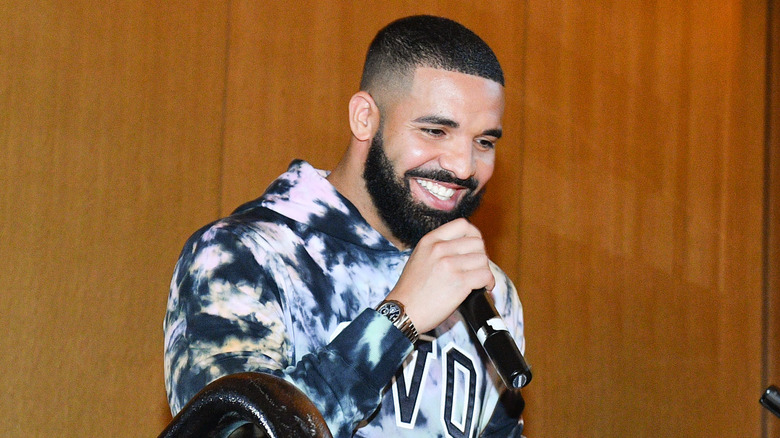 George Pimentel/Getty Images
It's safe to say the candid lyrics in Drake's "Calling My Name" have got people talking. The song quickly went viral on TikTok, with plenty of fans filming themselves reacting to those very naughty lyrics. One short reaction clip showed TikTok user @finest_janae.ee with their hand over their mouth as the song played, garnering more than 215,000 likes. Another showed TikToker @leandraaaa____ listening to the track and looking pretty disgusted by the NSFW remarks, with pulled in more than 65,000 likes.
But it wasn't just over on TikTok where fans were sharing their reactions by the musician's sexual candor. Fans also shared their opinions over on Twitter, where plenty of people joked about how they didn't feel they could listen to the explicit song in public. One Twitter user made a joke about having to listening to the track with their dad while stuck in the car, while another person quipped on the social media site, "I love listening to drake albums bc he always say some funny a*s s**t on his albums, bro really just said ya p***y is calling my name in techno." That he did. Risqué!