How Ana De Armas Prepared To Play Marilyn Monroe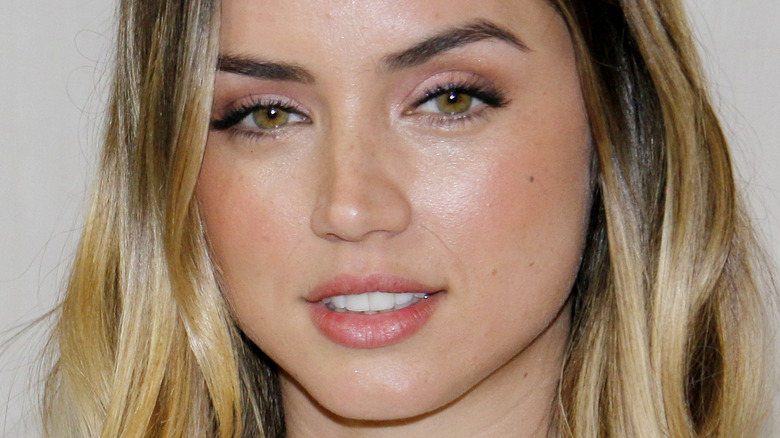 Tinseltown/Shutterstock
Actor Ana de Armas is preparing to portray Marilyn Monroe in the upcoming film, "Blonde."  It was first revealed that de Armas would play the iconic performer back in 2019, via IndieWire. The movie has received an NC-17 rating and draws inspiration from the 2000 novel about Monroe by Joyce Carol Oates. In a June 2022 Instagram post, de Armas wrote about how the director of the project, Andrew Dominik, led a film shoot that depicts a new side of Monroe's story.
"Andrew's ambitions were very clear from the start — to present a version of Marilyn Monroe's life through her lens," de Armas said. "He wanted the world to experience what it actually felt like to not only be Marilyn, but also Norma Jeane." The performer added in the caption that she believes "Blonde" to be "the most daring, unapologetic, and feminist take on [Monroe's] story that [she has] ever seen." In the post, the "Knives Out" star also showed photos of herself as Monroe on the set. In order to become Monroe for the film, de Armas had to take some pretty extreme measures.
Gearing up to play Marilyn Monroe was 'intense work'
In 2019, de Armas spoke to Entertainment Weekly about getting ready for the film "Blonde," which she stated required a full 12 months of preparation. "It was the most intense work I've ever done as an actress," de Armas said of playing Monroe. "It took me a year to prepare for that — research and accent and everything you can imagine."  She also described the complexities of her schedule, as she was also filming "Deep Water" with ex-boyfriend Ben Affleck and the James Bond film "No Time to Die." She said that it was difficult, "but it all worked out, and I was working with the best team possible, and they made it happen, so I'm happy with it," she told Entertainment Weekly. 
In addition, de Armas told Byrdie in March 2021 that her physical transformation into Monroe consisted of three and a half hours of makeup daily, as well as luscious wigs. "I had to go bald every day, because with the blonde wigs ... you can't have anything dark underneath, so we had to make a bald cap every single day from my forehead to [around] my whole head," she said. De Armas added that she feels "so proud" of the finished film, which is expected to be released in September 2022. Viewers have recently been able to see the results of de Armas' efforts in the "Blonde" trailer, released by Netflix.
Ana de Armas is impressing fans with her portrayal
The first trailer for the film, which will be out on September 23, was released by Netflix via YouTube on June 16 and now has over 4.6 million views. Clips from the one-minute sneak peek show de Armas portraying Monroe in numerous scenes, including sitting at her makeup vanity, the famous subway scene from "The Seven Year Itch," and being swarmed by photographers.
Fans were impressed by what they saw, as one user wrote, "What a perfect choice of Ana de Armas for the role!" Another said, "I can't wait to see Ana shine! Wow what a fantastic casting choice." In her 2021 interview with Byrdie, de Armas explained that, although it consisted of tiring moments, she believed "it was a gift" to play Monroe.
"It felt incredible, it felt... also very exhausting," de Armas said of the part. "It was a lot of hard work to play her in what I think was a really honest way of portraying her." After all of the effort she and the cast and crew of "Blonde" have put into the project, de Armas described the finished film as "stunning and very moving." "Blonde" sounds like it will be a special tribute to Monroe's story, so moviegoers have a lot to look forward to when it debuts in September!