Is Sophie Turner Close With Priyanka Chopra?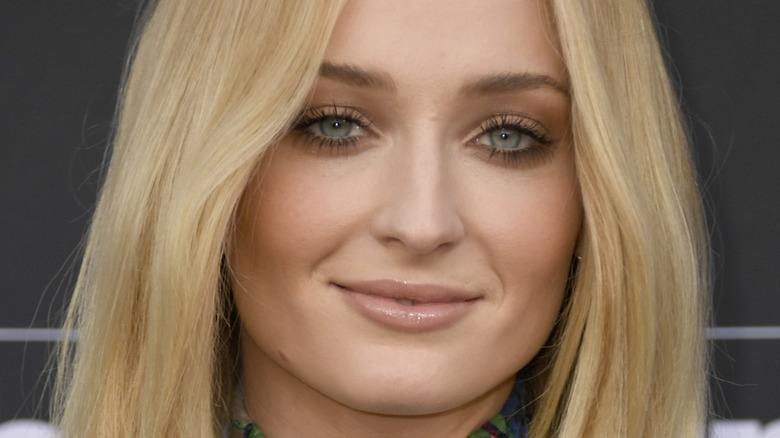 Frazer Harrison/Getty Images
The Jonas Brothers became household names after breaking out on the Disney Channel 2005 movie "Camp Rock." Kevin, Joe, and Nick Jonas are now all grown up with wives and families and are still performing. Fans even call their wives Danielle Jonas, Sophie Turner, and Priyanka Chopra, the "J Sisters." The "Game of Thrones" star told Elle in 2020 that her relationship with her sisters-in-law is "pretty great." Turner said it was "nice to have built-in girlfriends, who are actually really cool, who I can hang out with."
Turner pointed out that even though Danielle and Kevin were settled in New Jersey, "We see them all the time. It's like we're all one big family because the boys are best friends." In 2021, The J-Sisters went all-in on the Jonas Brothers Family Roast Netflix special. E Talk Canada said the three wives razzed the brothers in the best way. Chopra heckled Nick by saying, "He showed me how to use TikTok, and I showed him what a successful acting career looks like." Danielle joked when she met Kevin, "I basically ignored him the whole time, which he loved because he said it reminded him of his mom." Turner completely roasted Joe about his purity ring. She said, "Joe Jonas wasn't just sticking his fingers in some dumb metal rings. He was sticking his fingers in co-stars, actresses, and even a supermodel or two." The Jonas Sisters don't play!
However, some can't help but wonder: How close are Turner and Chopra specifically?
Sophie Turner and Priyanka Chopra are tight
While the J Sisters are close, Sophie Turner and Priyanka Chopra are especially tight. It makes sense, since they are both actors. In addition to sharing the same career, Turner and Chopra lived 10 minutes from each other in Los Angeles when they married into the Jonas family, per Elle. The "Game of Thrones" star admires her sister-in-law, telling Elle, "She's basically had a 20-year career in Bollywood already," Turner explained. "When we went there for her and Nick's wedding, we were treated like royalty. They worship her." It's a mutual admiration club between the "Quantico" star and Turner. In 2019, Chopra told Elle UK, "Sophie is super talented, super funny, and we have the most fun when we go out together. She's incredible."
Turner had her J Sister's back after haters criticized Chopra's short engagement to Nick Jonas. Turner leveraged her social media, posting a photo of the engaged couple, and she wrote on Instagram: "[S]uch [a] beautiful, inside and out, future sister-in-law. I'm so excited to welcome you into the family @priyankachopra . I love you both, @nickjonas." In 2019, when the "Game of Thrones" series finale turned into a worldwide event, Chopra took to Instagram to cheer her sister-in-law on, posting a snap of Turner's character Sansa Stark with the caption: "Good luck @sophiet you are a boss babe. And are very loved. #jsister #gameofthrones tonight." The two are still close; the Daily Mail reported that Turner and Joe Jonas joined Chopra to watch Nick play baseball in May.
Jonas Brothers (and Jonas Sisters) make extra effort to see each other
Back in February 2019, the Jonas Brothers got the band back together, and the siblings talked to People about their expanding family life. Nick Jonas told the outlet, "We all have families and live in different places. We're in a better spot now than we've ever been." As of June 2022, Nick and his wife Priyanka Chopra live in Los Angeles with their baby daughter Malti. Middle brother Joe Jonas and his wife Sophie Turner moved to Miami in 2022 with their toddler Willa, and they have another baby on the way. Danielle and Kevin Jonas have lived in New Jersey for years, along with daughters Alena and Valentina. Kevin said the brothers connect every day. He explained, "We catch each other up on what's going on at home and family stuff."
The youngest brother Frankie Jonas lives in Los Angeles and has broken out as a TikTok influencer. Kevin Jonas Sr. and his wife, Denise, are in Las Vegas right now after opening a new restaurant, Nellie's Southern Kitchen. Joe told People, "We try to bring in our own traditions for our extended families that we're starting to grow and grow and grow." For example, in 2018, the whole Jonas crew celebrated the holidays in England with Turner's family. Kevin said making the extra effort to get the family together is worth it: "Sophie and Pri have brought so much love and joy." Aww!