How Kirsten Dunst Caused Tension Between Tobey Maguire And James Franco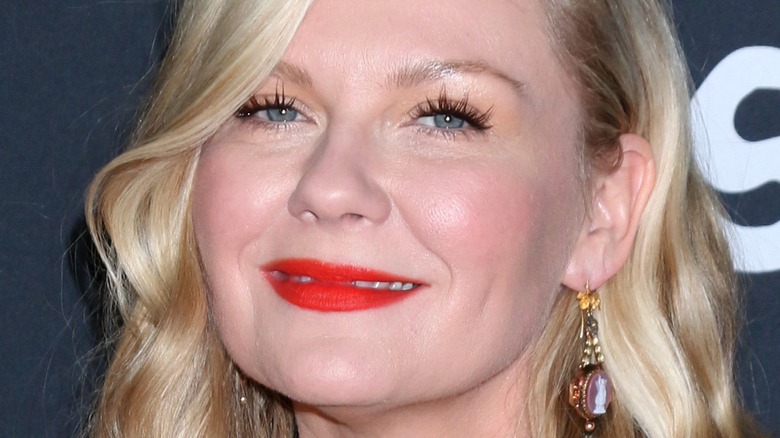 Kathy Hutchins/Shutterstock
Tobey Maguire shocked fans after he and Andrew Garfield joined Tom Holland in "Spider-Man: No Way Home." Deadline reported the Sony-Marvel film was number six on the all-time global box office list. Maguire was the first star in the "Spider-Man" franchise in the early 2000s, and fans are still talking about his upside-down kiss with Kirsten Dunst.
But Maguire told Entertainment Tonight in 2002 that shooting the iconic kissing scene took his breath away — literally. "I couldn't breathe. Rain was pouring up my nose and then she was kissing me," Maguire said, revealing that shooting the scene was not as "sexy" as it appeared on the big screen. The "Spider-Man" actor added, "The conditions weren't as sexy and sweet and romantic as it came off." Dunst told ET that shooting the memorable scene was "really awful."
Relations among the OG "Spider-Man" cast members weren't always sweet behind the scenes, either. In fact, Dunst was reportedly at the center of some tension between her "Spider-Man" co-stars Maguire and James Franco.
James Franco was crushing on Kirsten Dunst while she dated Tobey Maguire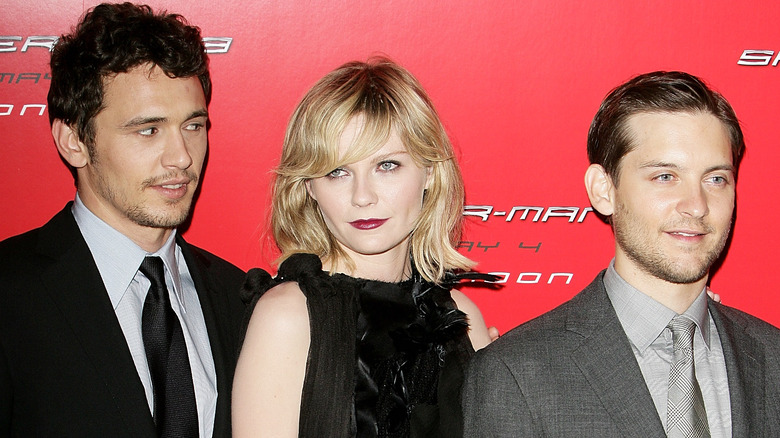 Dave Hogan/Getty Images
While filming "Spider-Man," Tobey Maguire and Kirsten Dunst started dating, and James Franco, who portrayed Maguire's frenemy Harry Osborn in the film series, also had a crush on Dunst. Apparently, Franco crushing on Dunst caused a quiet conflict between him and Macguire. "Tobey and Kristen became a couple around that time," Franco explained to Playboy (via Daily Star). "I had a crush on Kirsten, and I think I was upset about that as well ... Tobey was mad at me for a while. By the second film, we were cool."
The costarring couple kept their romance on the DL, and even their director didn't know they were dating! In a 2007 interview with the Sydney Morning Herald, director Sam Raimi said, "They apparently began dating with each other, I think, in the middle of the first movie ... although I didn't know it at the time," he explained. Dunst and Maguire broke up before the second "Spider-Man" movie was finished and worked together without a problem on the third movie. "I was concerned they wouldn't get the same chemistry back, but it was just me worrying," Raimi said of their split.
The Spider-Man co-stars moved on
James Franco was also jealous of Tobey Maguire during the filming of "Spider-Man" for a second reason. In addition to jealousy about Maguire dating Dunst, Franco was out of sorts about Maguire's attention from their director. Franco told "Spider-Man" director Sam Raimi in an interview with Playboy (via Daily Star) that Raimi ignored him in favor of the titular star. Franco told Raimi, "I felt you gave Tobey [Maguire] so much attention during 'Spider-Man' because of your feelings for his character ... that I didn't get as much of your love as he did."
Although Franco went on to find Hollywood acclaim of his own after "Spider-Man," the actor has since faced multiple allegations of sexual misconduct, leading the Oscar nominee to lay low in recent years.
After "Spider-Man" co-stars Tobey Maguire and Kirsten Dunst went their separate ways, Maguire and his wife Jennifer Meyer split in 2016 after 9 years of marriage. At the time, an inside source told People, "They haven't been happy together for a long time, but they are great parents, and they love their children." Meanwhile, Dunst remains happily married to actor Jesse Plemmons with fond memories of her "Spider-Man" days. In a 2017 interview with Marie Claire UK, Dunst stated Maguire's iteration of the superhero was the best among the "Spider-Man" flicks. On the reboots, Dunst said, "They're just milking that cow for money. It's so obvious."