Who Are Prince William's Best Friends?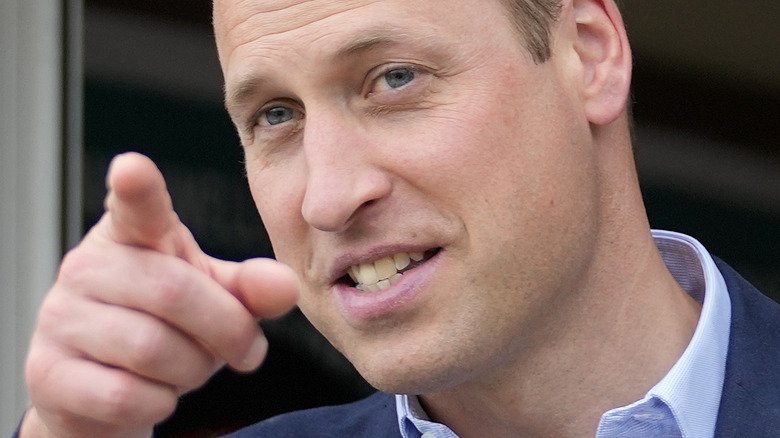 Wpa Pool/Getty Images
Ever since the advent of modern-day popular culture during the early years of Queen Elizabeth II's reign, the public, and the media have taken an extensive interest in the personal life of the British Royal Family. Unfortunately for them, it may be hard to catch a break from the public eye, which is surely what must make their friendships particularly special.
Prince William may be spending lots of his time doing global tours and attending spectacular jubilees in celebration of his grandmother's extensive reign, but he has certainly still enjoyed a private life surrounded by relatively ordinary people since early childhood. Indeed, his wife Kate Middleton made headlines around the time of their 2011 wedding for being the first "commoner" to become a future-royal consort (i.e. spouse to a monarch) in recent memory. 
And now with his only sibling, Prince Harry,' leaving the UK and stepping back from royal family duties, the two have apparently begun to endure a relatively fraught relationship that may last for some time (one where William's own friends say there is "little chance" of reconciliation). So who are the friends who have stuck by Prince William's side, through thick and thin? Well, while William may be close to both aristocrats and ordinary people, there is no doubt that he is quite close to all of them. Indeed, many have even become godparents to their children and vice versa. 
Prince William's best friend is William van Cutsem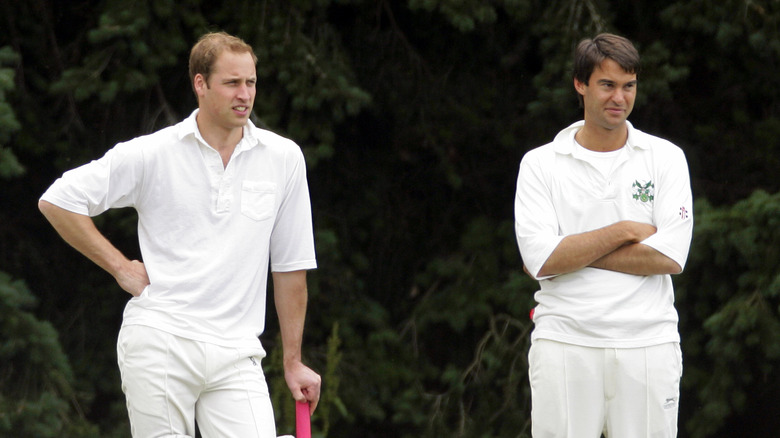 Max Mumby/indigo/Getty Images
According to Hello! Magazine, Prince William has many friends. But his best friend above all others is a fellow William: William van Cutsem, youngest son of the late landowner Hugh van Cutsem. The two Williams were born within three years of each other: Prince William was born in 1982, van Cutsam in 1979, and grew up together. The link between the Windsors and the Cutsems run deep: Hugh was a good friend of William's father, Prince Charles, up until his death in 2013. William van Cutsem is also one of many godparents to Prince William's eldest child and future king, Prince George. 
Others who follow the royals may remember William van Cutsem as the Prince's friend who made headlines in May for having his house raided, where he got frisked by police while in his pajamas. Van Cutsem was under suspicion of using illegal methods to kill wildlife, though no charges came from the incident. His brother Hugh, however — also a close friend of William's — was charged with speeding and reckless driving in March, to which he pled guilty, and faced the prospect of losing his license.
Another close friend to William is an elder figure in his life: Jamie Lowther-Pinkerton, another godfather to Prince George, was William and Harry's Private Secretary from 2005 to 2013, when he retired at the age of 53. His young son (also named William) was also a pageboy at William and Kate's wedding.
Prince William has a number of other royal and aristocratic friends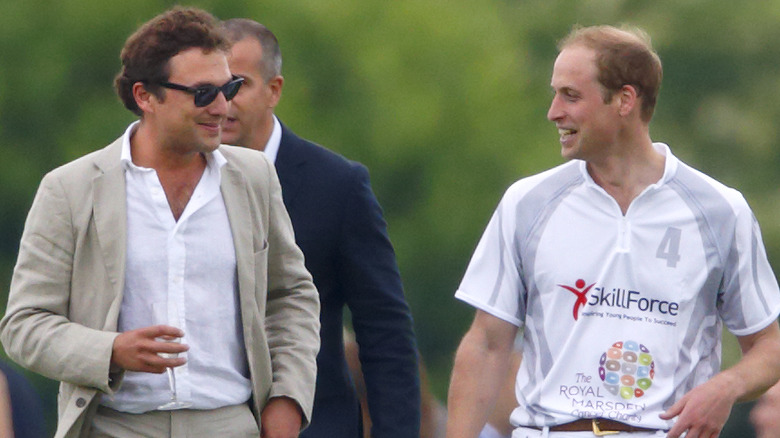 Max Mumby/indigo/Getty Images
It should come as no surprise that most of Prince William's closest friends come from his college and prep school days. Unlike his love, Kate Middleton, many of these people unsurprisingly come from wealthy, aristocratic, or otherwise prominent backgrounds. These people, according to Hello!, include James Meade — son of Olympic equestrian Richard Meade – who attended high school with William, and Guy Pelly, a well-known nightclub owner in London who was described by The Mirror as a "London aristocrat." Pelly is also a godfather to William's youngest child, Prince Louis. 
William is also close with Oliver Baker, a commoner who attended the University of St. Andrew's with him and Kate (who is also one of Prince George's godparents), and Thomas van Straubenzee, a close friend of his with whom he attended primary school at Ludgrove School. Many may remember van Straubenzee when The Telegraph reported that he was a part of William's secret bachelor party in 2011. At the time, he reportedly said to the press, "I'm very sorry but I have got to keep it a secret; I hope you understand."
Although William's brother Harry was his best man at his 2011 wedding, van Straubenzee, along with Meade, were the ushers who delivered the toast at the reception. In return, William served as an usher in Van Straubenzee's wedding in 2013. Van Straubenzee and Meade are also godfathers to the Prince's daughter, Princess Charlotte.