The Truth About Kelly Rizzo And Candace Cameron Bure's Friendship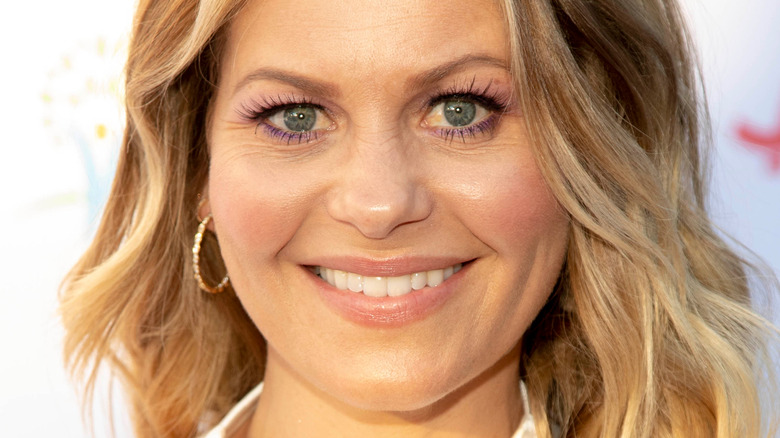 Eugene Powers/Shutterstock
The entertainment world was shaken by the tragic death of Bob Saget. The beloved standup comic and star of "Full House" and "America's Funniest Videos" died in his sleep on January 9 after apparently sustaining head injuries from a fall, per the autopsy report (via People). His family and friends, of course, are still devastated, especially Saget's wife, Kelly Rizzo, and his television family, including his eldest TV daughter, Candace Cameron Bure.
While Saget's sudden passing happened in early 2022, Rizzo said in a June 8 Instagram post that "It still doesn't feel real." Since his death, Rizzo has been upholding the comic's memory and legacy through appearances, tributes, and awards, in addition to continuing her work as a travel and food blogger at Eat Travel Rock. Bure has posted many tributes to Saget on her Instagram, writing the day after his death, "I love you sooooo much. I don't want to say goodbye. 35 years wasn't long enough." Bure expanded her feelings in a post the next day, writing, "We've always been so deeply connected since the day we met when I was 10 years old. You weren't just like a father, but one of my closest friends in life. This hurts like nothing I've ever felt before."
While it's clear that both women felt strong love for Saget, what's the relationship between Bure and Rizzo really like?
Candace Cameron Bure and Kelly Rizzo friendship has only gotten stronger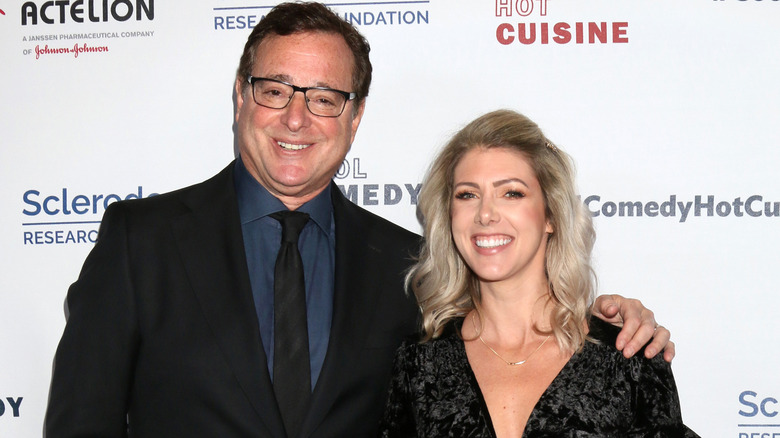 Kathy Hutchins/Shutterstock
Relationships often grow stronger after a tragedy, particularly the death of a loved one. That's certainly been the case for Bob Saget's widow, Kelly Rizzo, and his on-screen daughter Candace Cameron Bure. The U.S. Sun reported that Bure arrived at Rizzo's house the day after Saget's death to comfort her, while a source said Rizzo was "still numb" from the news of her husband's death. Bure's "Full House" co-star John Stamos also visited Rizzo's home, along with Rizzo's close friend, Aggie Merz, to comfort the widow. Even Saget's ex-wife Sherri Kramer arrived at Rizzo's house, per Radar, carrying a bouquet of white flowers. Saget and Kramer divorced in 1997 and had three adult daughters together.
A week after the February 9 release of Saget's official cause of death statement, Bure talked to Us Weekly about her relationship with Rizzo. "It's definitely brought me and Kelly closer," Bure said. "I love Kelly. She's a wonderful person, but now we're talking even more often than we did, which is wonderful." Bure also described Rizzo's situation at the time. "She has such a big support system around her, which is wonderful, and we are all there for her and she's taking it one day at a time, but she's a strong, strong woman." Bure also said Rizzo was doing "as well as she can be doing" after Saget's death.
Kelly Rizzo, Candace Cameron Bure, and other friends celebrate Bob Saget's birthday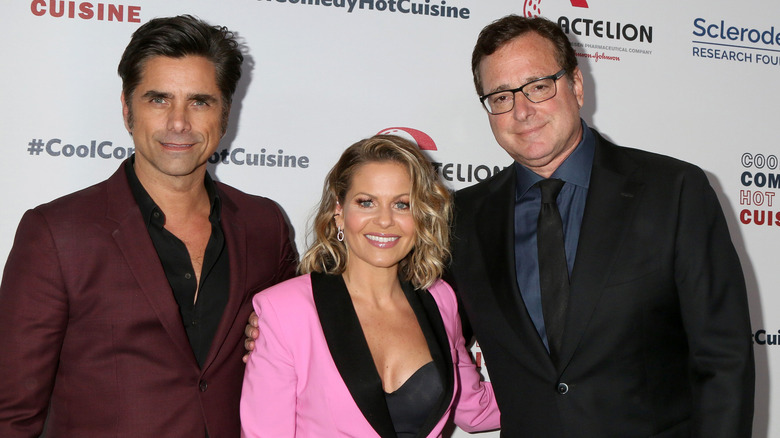 Kathy Hutchins/Shutterstock
For her latest outpouring of love, Candace Cameron Bure posted a sweet message for Bob Saget on what would have been his 66th birthday on May 17. "I miss you," she wrote on Instagram with a heartbreak emoji. "Do I still say happy birthday? I don't know how this works, but I'm celebrating you today however badly my heart hurts." Kelly Rizzo expressed Saget's feelings as well as her own in a comment saying, "I love you. And he did too, so damn much."
Rizzo also posted her own tribute, of course, which was likely even harder given her own birthday is only two days after her husband's. "We always celebrated our birthdays together with a trip. (His is the 17th and mine is 19th)," she wrote in a statement accompanying photos of their 2021 trip to Mexico. "This last trip was so special. We both celebrated each other so big. You never know when something is going to be 'the last' time. But I'm so grateful that he was showered with all of the love he deserves." She continued, "I love you more than anything and miss you every minute."
John Stamos also wrote a simple birthday tribute, per E! News, saying, "Happy Birthday Bobby. I miss you madly." Even former late night host Craig Ferguson, who shares his birthday with Saget, paid homage. "Bob Saget and I would always text each other on our shared birthday," he tweeted. "No text this year. Happy Birthday Bob wherever you are."