What Courteney Cox Was Doing Before Friends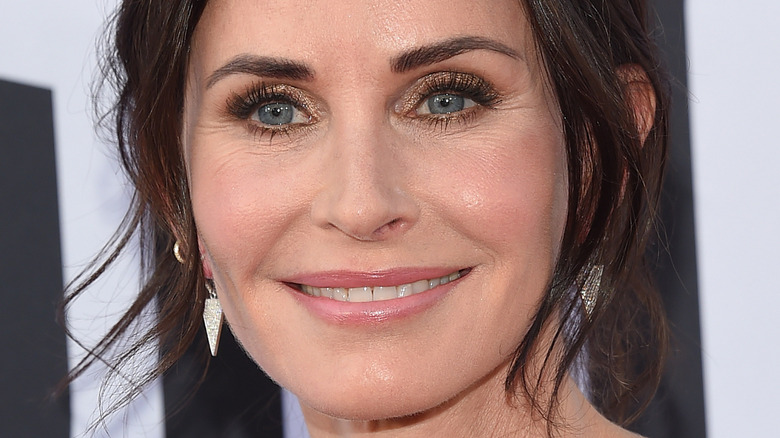 DFree/Shutterstock
"Friends" has endured as a beloved sitcom that launched its lead actors to international fame when it first aired from the '90s to '00s. One of the breakout stars of the show was Courteney Cox, who portrayed Monica Geller on the series. Her role in "Friends" was almost very different, however. As Mental Floss wrote in 2017, Cox was first asked to play Rachel Green before Jennifer Aniston scored this part. Cox reportedly favored that Monica was a "strong" character, which led to her saying no to playing Rachel and taking on this role instead.
When she sat down for an "Off Camera with Sam Jones" interview in 2017, Cox discussed her path leading up to "Friends." The performer studied acting and modeled for a time in New York City, then went to college in Washington, D.C. for a year before returning to New York the summer after her freshman year. During that time, she earned some acting gigs and subsequently made the choice to continue acting instead of attending school. "I was supposed to go back to college and I just thought, 'I can always go to college ... I'll take this ride,'" she said. After completing a series of film and TV acting gigs, Cox eventually found herself as a lead in "Friends."
Courteney Cox played many film and TV roles before Friends aired
Prior to her career-defining role as Monica Geller, Courteney Cox landed numerous parts in smaller television shows and movies, per IMDb. She scored an appearance in the 1984 Bruce Springsteen music video for "Dancing in the Dark," in which she played a fan who danced on stage with Springsteen. A few films Cox starred in during the late '80s and early '90s included "Roxanne: The Prize Pulitzer," "Blue Desert," and the cult hit "Ace Ventura: Pet Detective." In regards to her television roles, Cox was a regular in the '80s series "Misfits of Science," appeared in 19 episodes of "Family Ties" as Michael J. Fox character's love interest, Lauren Miller, and starred in the short-lived comedy series,"The Trouble with Larry," in 1993. 
Although the lattermost gig only lasted for a total of seven episodes, things ultimately worked out in Cox's favor. The actor later recognized how playing the character Gabriella Easden in the sitcom resulted in her being considered for a part in "Friends." "No one had ever seen me like that. I was mean and I was the funny one, and from that I was recommended for 'Friends,'" Cox later said, per the Mirror. The popularity of "Friends" then went on to soar, and Cox gained other noteworthy Hollywood parts, which she continues to do to this day.
Courteney Cox's success after Friends
When "Friends" aired on NBC in the mid-'90s, Courteney Cox and her fellow cast members quickly became household names. As noted by Express, the show debuted to 22 million viewers, and the series finale gathered over 50 million watchers. In a 2004 interview with journalist Barbara Walters, Cox stated her belief that the show's success relates to the bond of the "Friends" actors, in addition to having gifted crew members. "I think that we have an amazing group of writers. And there's a cast that really sticks together," Cox said.
Since playing Monica Geller in the sitcom, which ended in 2004, Cox's career has continued to thrive with several notable roles. While "Friends" was still on the air, she portrayed Gale Weathers in the "Scream" franchise. She has now starred in a total of five "Scream" films and will return for a sixth installment which will be released in 2023. 
Cox has also found television success after "Friends" with popular shows like "Cougar Town" and more recently, "Shining Vale." During a 2022 Variety interview, Cox explained that she oftentimes feels the sitcoms she's offered are "not challenging enough, or ... just not that funny anymore," but "Shining Vale" is a project that she felt positively about from the start. Fans of Cox's work can look forward to more of her on the horror-comedy show, as it was renewed for a second season in March, per Deadline.