Kylie Jenner Is Lashing Out At A TikToker's Claims About Her Family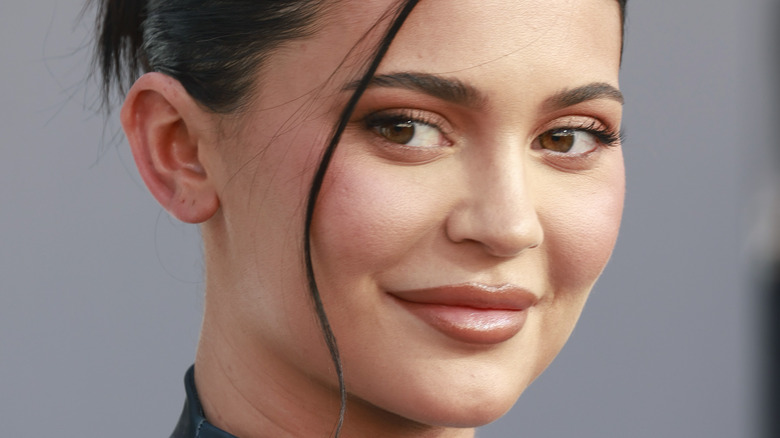 Frazer Harrison/Getty Images
Despite launching some new summer products through Kylie Cosmetics, Kylie Jenner isn't too busy to maintain her huge TikTok presence. Boasting nearly 42 million followers on the app, she often shares adorable moments with daughter Stormi Webster while still finding time to hype up her relatives. Even before her TikTok account took off, Jenner told Time in 2015, "I know how influential I am over my fans and followers. I feel like everything I do, my hair color, my makeup, I always start these huge trends, and I don't even realize what I'm capable of."
However, not everyone on the Gen Z platform looks up to Jenner and her controversial family. In 2020, a restaurant hostess put her on blast for supposedly being a bad tipper, claiming the influencer left $20 on a $500 bill. The TikToker also called out Jenner's sister Kendall, as well as family friend Hailey Baldwin, for having cold attitudes. While Baldwin quickly reached out and apologized, neither Jenner sister gave the accusations any attention.
After yet another TikTok call-out, Jenner is finding herself in hot water on the app once again. But unlike last time, she's responding to the source head-on and setting things straight.
Kylie Jenner blasts an Instacart shopper who took to TikTok
Tommaso Boddi/Getty Images
After an Instacart shopper posted a slightly thirsty TikTok about delivering pepperoni to Kylie Jenner's house, the reality star and entrepreneur shared her side of the story. The TikToker, named Pablo Tamayo, claimed he heard Jenner's infant son scream through the window and also said, "This b***h could have paid me more." Tamayo also claimed he was let through a gate to drop off the order and saw a river wrapping around the property.
Jenner soon posted a video showing off sandwiches she made, including the pepperoni supposedly delivered by Tamayo. In now-deleted comments under the video, she wrote, "no one comes through the gate. the river?? no river. the lying for attention rubs me the wrong way sorry. recipe coming soon lol." She followed it up with another comment, saying, "he WAS tipped through the app. lied too about seeing through my windows and hearing my son cry. ??"
Rather than continuing the back-and-forth, Tamayo's next TikTok actually expressed admiration for Jenner and boyfriend Travis Scott, who also ate the sandwiches. "Ur welcome Travis," he captioned the video, which included pictures of the sandwiches he helped make possible. No matter what you think of Kylie Jenner, a crying baby isn't exactly scalding hot tea. We're still waiting on that sandwich recipe!