What Really Happened Between Kim Kardashian And Bow Wow?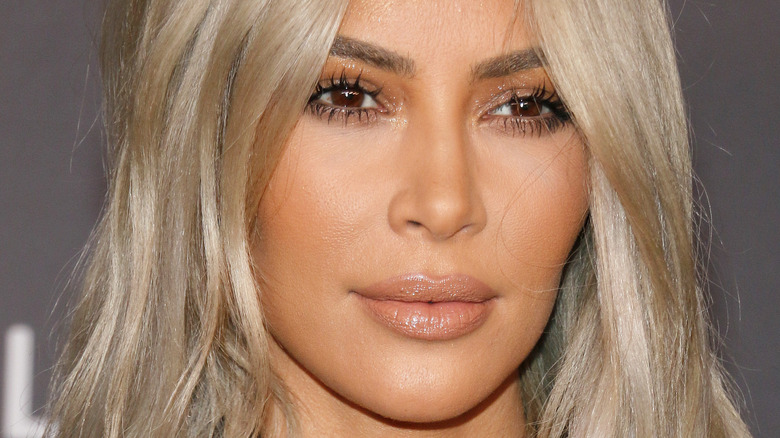 Tinseltown/Shutterstock
It's no secret that Kim Kardashian has had a few romances in her time. Kardashian has been married three times before, first tying the knot with Damon Thomas in 2000 (when she was only 19 years old, by the way) before they officially divorced four years later. Then came that notoriously short-lived marriage to basketball star Kris Humphries in 2011, which lasted a mere 72 days (though they weren't officially divorced until two years later in 2013). Then, in 2014, of course, she tied the knot with the father of her four children, Kanye West, though Kardashian and West split in 2021 after months of rumors their marriage was on the rocks.
In the middle of all that, she dated a few famous faces too. Kardashian has been romantically linked to the likes of Reggie Bush, Nick Cannon, Nick Lachey, Ray J, and Miles Austin, as well as her current beau, former "Saturday Night Live" star Pete Davidson, per Who's Dated Who. But did you know she's also rumored to have had a bit of a thing with rapper Bow Wow (aka Lil Bow Wow)? Yep, the "Let Me Hold You" hitmaker has dished on his alleged romance with "The Kardashians" star, as well as revealing why their apparant time together is so little known.
Why Bow Wow kept his apparent romance with Kim Kardashian private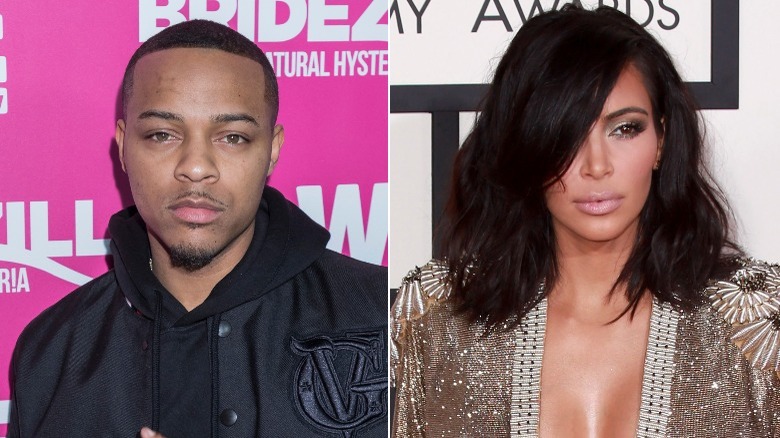 Sam Aronov & Kathy Hutchins/Shutterstock
Bow Wow revealed all about what he claims really went down with Kim Kardashian while chatting with "Hollywood Unlocked" in 2017, stating he first met Kardashian during her days partying with Paris Hilton. "She's super dope. How did I get her information, I don't know. We just kept crossing paths," he said of Kardashian, noting they got together before she met Reggie Bush. 
So why did it never make the gossip columns? "The reason nobody knew is because of how I move. I can get low, and nobody will know s**t. We kicked it hard,'" Bow Wow said, claiming he purposefully kept things on the down low because he hadn't dated anyone outside of his race before and didn't know what his fans would think. The rapper didn't confirm or deny if he ever, erm, got between the sheets with Kardashian (who was still married to Kanye West at the time of the interview) though, saying, "I respect 'Ye and all that, so therefore I ain't gonna say everything all the way 100. But, you know, like I said, if I'm f***ing with somebody, I'm f***ing with somebody."
Bow Wow shared a similar take with "Vlad TV" in August 2021, where he denied his relationship with Kardashian was ever anything serious. "We [were] young and everybody was just having fun," he clarified, before claiming his fling with the now mom of four "wasn't a big deal."
The internet's take on the Kim Kardashian and Bow Wow dating rumors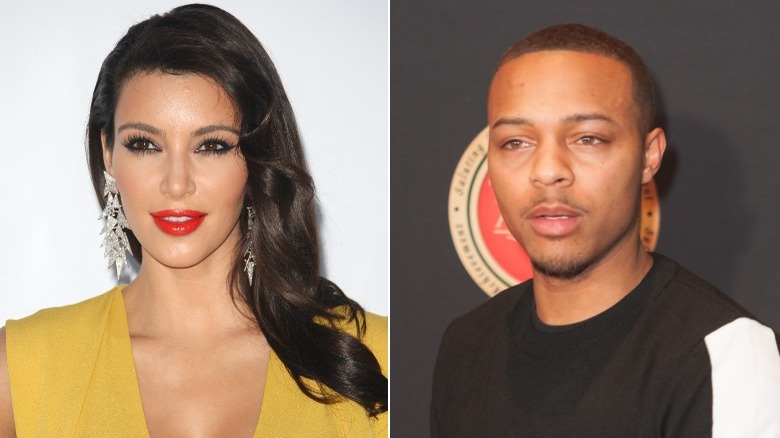 Featureflash Photo Agency & Jamie Lamor Thompson/Shutterstock
Not everyone believes Bow Wow's claims, though. Notably, Kim Kardashian has never confirmed anything happened with the rapper and Complex shed a little doubt on his story after he made the claims, a sentiment some social media users shared. Many flocked to Twitter to share their thoughts on Bow Wow's take, per Metro, and he didn't exactly convince everyone he once dated one of the most famous women in the world. But it wasn't all bad news for him, as plenty of Twitter users still had Bow Wow's back, per Hot New Hip Hop.
We're guessing Kardashian probably won't confirm or deny anything that may or may not have anytime soon though, as she seems pretty loved up with Pete Davidson right now. On July 11, Kardashian shared a series of sweet photos with her boyfriend on Instagram (revealing Davidson has a new tattoo for her in the process), around the same time Kardashian was filmed inviting her man to shower with her in a teaser trailer for Season 2 of Hulu's "The Kardashians." Steamy!