The Serious Medical Scare That Had A Lasting Effect On Jessica Chastain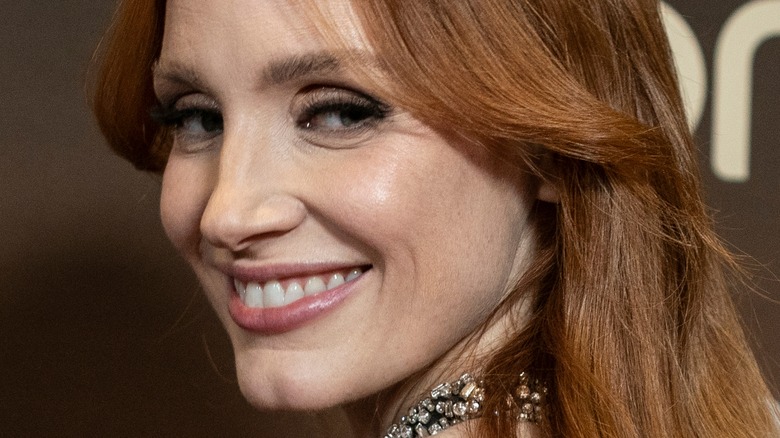 lev radin/Shutterstock
Oscar-winning actor Jessica Chastain is such a chameleon that she does not need to reveal much about her private life. We know Chastain had a tragic childhood, and we certainly know about her friendship with "Scenes From a Marriage" co-star Oscar Issac, particularly after they broke the internet in 2021. And we know she's very serious about her health.
An animal lover who supports "Adopt Don't Shop" (via Vogue Paris), Chastain became vegan for environmental, animal rights, and health reasons. "I've always had some problems, like my cholesterol was very high and the doctor wanted to put me on medicine," she told W about her 20s. "Immediately I just had more energy than I've ever had in my life," she said about eating vegan. Though Chastain tried eating fish the next night, she instantly felt ill again. "Being vegan was not anything I ever wanted to be. I just really was listening to what my body was telling me."
A healthy diet is also better for your skin, which "is where all your toxins live," she said, telling Shape, "I'm also really into food as medicine." She does a weekly green-juice fast, and exercises with her grandmother, doing Isaac Boots workouts and power yoga, because it gives her confidence. Starting a workout is difficult, she said, "But once I finish, I immediately feel like a superhero." But Chastain revealed something else about her medical history that had a huge influence on her life.
Jessica Chastain's medical scare was prominent during The Eyes of Tammy Faye
While working on "The Eyes of Tammy Faye," the 2021 biopic that earned Jessica Chastain her first Oscar win (after two previous nominations for "The Help" and "Zero Dark Thirty"), Chastain was concerned about a part of her medical history. The film follows infamous televangelists Jim and Tammy Faye Bakker, with Chastain putting a kinder spin on Tammy Faye, who's best known for the heavy makeup she wore. Thus, Chastain had to sit in a makeup chair donning huge amounts of cosmetics and prosthetics for hours at a time.
"The longest was actually 7 ½ hours," she told the Los Angeles Times. Being in all that makeup caused its own problems, from the heat and weight it packed on, to permanent damage to Chastain's skin, to restricting her ability to properly emote — not to mention lack of energy after sitting in a chair for so long. "It was like going on a long-distance flight every day," she said.
But more than that, Chastain worried about her circulation. "It was pretty anxiety-ridden for me," she admitted to L'Officiel. "I've had some health problems in the past: I had a pulmonary embolism, and when I get on an airplane I always think about how I have to be careful and not get blood clots. ... I would wear compression socks on my legs." While she made the best use of her time by watching videos of Tammy Faye and practicing, Chastain also admitted, "Honestly, I'm probably never going to do that again."
Jessica Chastain sustained a major injury while filming The 355
As if she didn't have enough concerns about her health before, Jessica Chastain experienced a potentially life-threatening injury on the set of one of her films.
Chastain served as both producer and actor on her 2022 film "The 355," which follows a group of female international intelligence agents on a mission. "The point of the movie is to celebrate women in espionage," Chastain told Shape in 2021. The low-budget movie was funded solely by the actors in the project, including Chastain, Penelope Cruz, Lupita Nyong'o, and Diane Kruger, who now own the film. Chastain also wanted her actors to do their own stunts if they chose. "There are some extensive fight scenes in the film, and I wanted the actors to have the opportunity to do it all," she said. "Sometimes we get typecast, and I felt it was important to show that this person can do this and this too."
Doing her own stunts led Chastain to sustain a serious head injury. "I was doing a fight scene and it was on a marble floor," Chastain told "The Late Late Show" host James Corden about her serious spill. "I had to, like, fall and hit my head [and] I misjudged the distance. I heard a crack. That might be why I am the way I am today," she joked. But even that wasn't enough to stop Chastain, ever the consummate professional. "I did a couple more takes because, you know, I don't give up easy, and then I went to the hospital."