Simone Biles Had An Absolutely Cringe-Worthy Interaction With A Flight Attendant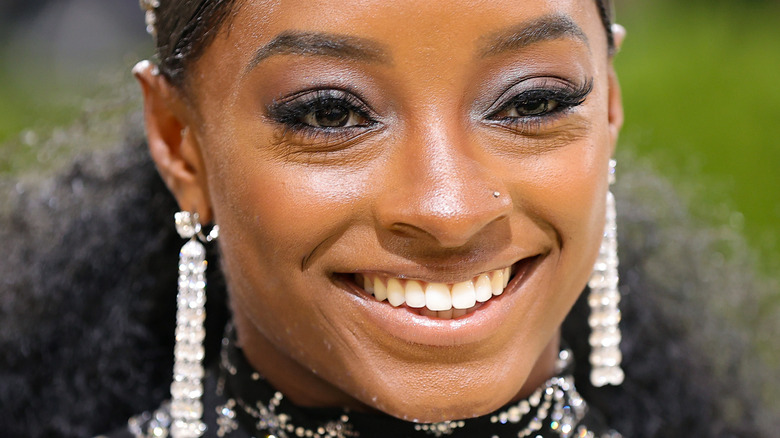 Theo Wargo/Getty Images
It's hard to believe there are people out there who don't recognize the pint-sized superpower that is Simone Biles. The star is one of the most famous athletes in the world, capturing the world's attention every time she shows off her mind-blowing gymnastics skills. Biles is widely known as the G.O.A.T (that's the greatest of all time, if you weren't sure) and is widely regarded as one of, if not the, greatest gymnasts of all time, with Vox bestowing that titled upon her in 2019. As for the stats? Biles is the proud owner of seven Olympic medals, including four golds, per Team USA, as well as being one of the most decorated World Championships competitors.
But while maybe you can be forgiven for not knowing her stats, it's hard to have missed all the media attention the star has gotten over the years. Of course, Biles hit the headlines in 2021 after getting candid about how difficult she found the Tokyo Olympics, while she also competed in "Dancing with the Stars" Season 24 in 2017. If that's not enough for you, she's also popped up on numerous TV shows over the years as herself on the likes of every talk show going (from "The Ellen DeGeneres Show" to "Live With Kelly and Ryan") as well as an actress on "Black-ish" per IMDb.
But it sounds all that just wasn't enough for one flight attendant who endured a seriously cringey moment with the Olympian.
Simone Biles was mistaken for a child
Cringe alert! Simone Biles took to Instagram Stories on July 9 to share the oh so awkward moment she had with a flight attendant. The star shared a selfie on the platform while sitting on a plane, revealing they thought she was a child. "Not the flight attendant trying to give me a coloring book when I board..... I said 'no I'm good I'm 25," Biles — who got engaged to NFL star Jonathan Owens in February — captioned the shot, which showed her looking half embarrassed and half unimpressed as she put her hand to her head.
Okay, so we can forgive the unfortunate employee for thinking the star might be a little younger (Biles is only 4 feet, 8 inches tall after all!) but not knowing you're in the presence of THE Simone Biles? Well, that's just downright unforgivable.
We're guessing Biles probably eventually saw the funny side of things in the end though, as she's not been afraid to poke a little fun at her height before. In February 2017, the star shared a photo on Twitter that quickly went viral as it showed her posing alongside none other than Shaquille O'Neal. Standing at a whopping 7 feet tall, the basketball star towered over the teenie gymnast, who simply captioned the dramatic height difference snap, "hey shaq" plus a waving hand emoji. We're guessing this may not be the first time someone has thought Biles is younger than she is!